When thinking of the world's best celebrity watch collectors, the likes of Ed Sheeran, John Mayer, and Mark Wahlberg immediately come to mind. However, while those storied collections reflect some of the best taste in the game, there's a new generation of celebrity horological enthusiasts making their way through the ranks, and Tom Holland is leading the charge. As Tom Holland watches his collection of timepieces grow in line with his talent and fame, we thought we'd take a look at some of the best watches he's collected so far.
Tom Holland's Watch Collection
Patek Philippe Aquanaut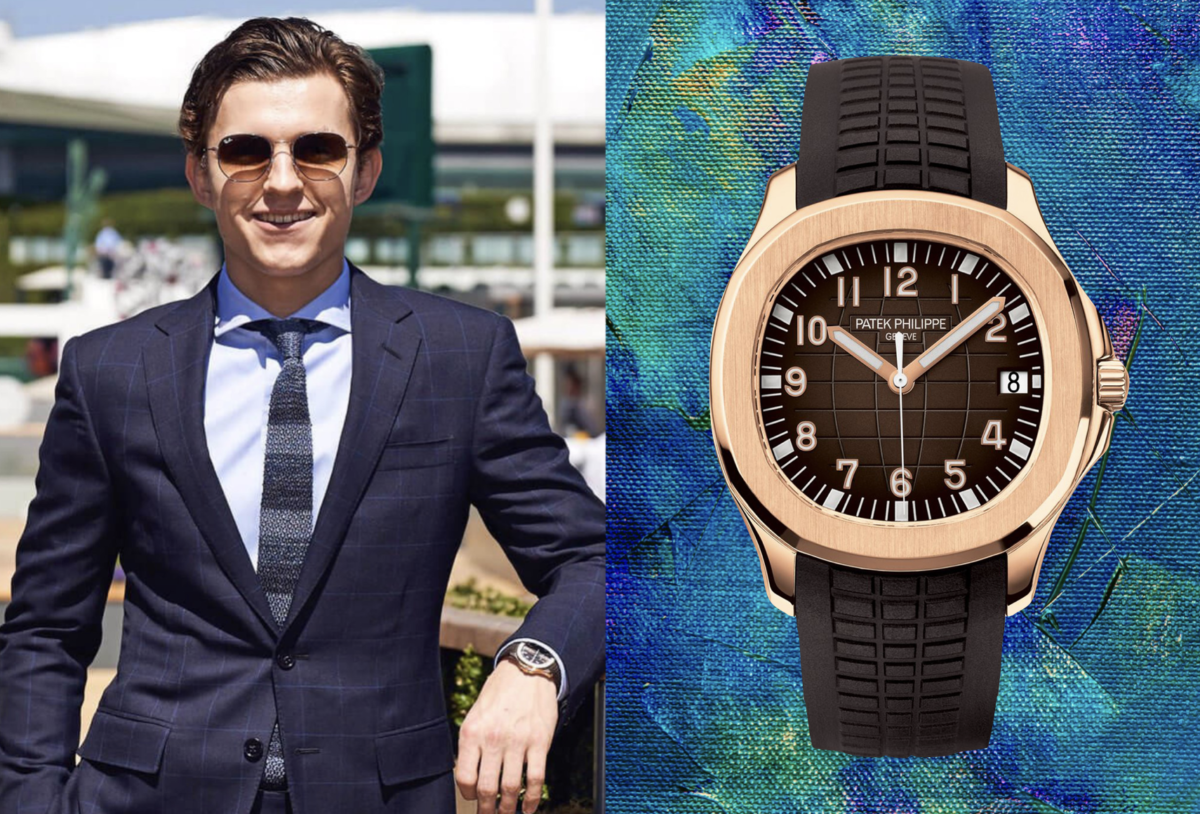 To kick things off, it's pretty fair to say that Tom Holland likes what Patek Philippe has done with the Aquanaut collection, as he owns at least two different references in the Aquanaut 5168G and Aquanaut 5167R. They both represent ideal everyday sports watches, arriving on comfortable rubber straps and offering a respectable 120m of water resistance.
Where the two Patek Philippe Aquanaut references differ is in their case metals, sizes, and colours. The ref. 5168G is the more understated of the two thanks to its 42.2mm case being made in white gold, with a gradient dark blue dial and matching navy blue rubber strap. In contrast, the ref. 5167R features a slightly smaller 40mm case, which catches the eye more easily thanks to its rose gold construction and chocolate brown dial and matching rubber strap.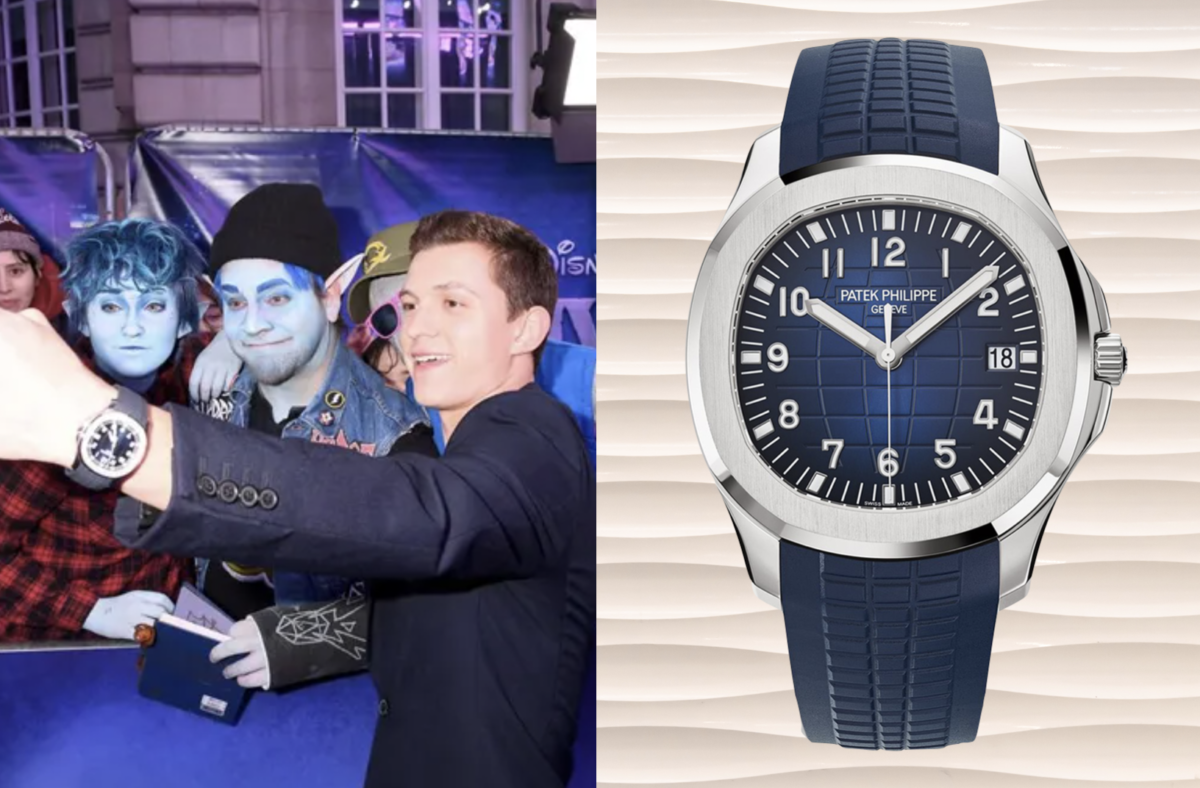 RELATED: WATCH: Tom Holland & Mark Wahlberg Bring The Action In 'Uncharted' Trailer
Read more: Viewengineresult
Both watches are powered by the Patek Philippe calibre 324 S C, and the 5168G comes with an RRP of $66,900, while the slightly smaller rose gold 5167R costs $61,850. In contrast, both the 5168G and 5167R are currently trading on the preowned market for between $180,000 and $250,000, making this pair of Patek Philippe Aquanaut references some of the most desirable watches on the planet right now.
Rolex Daytona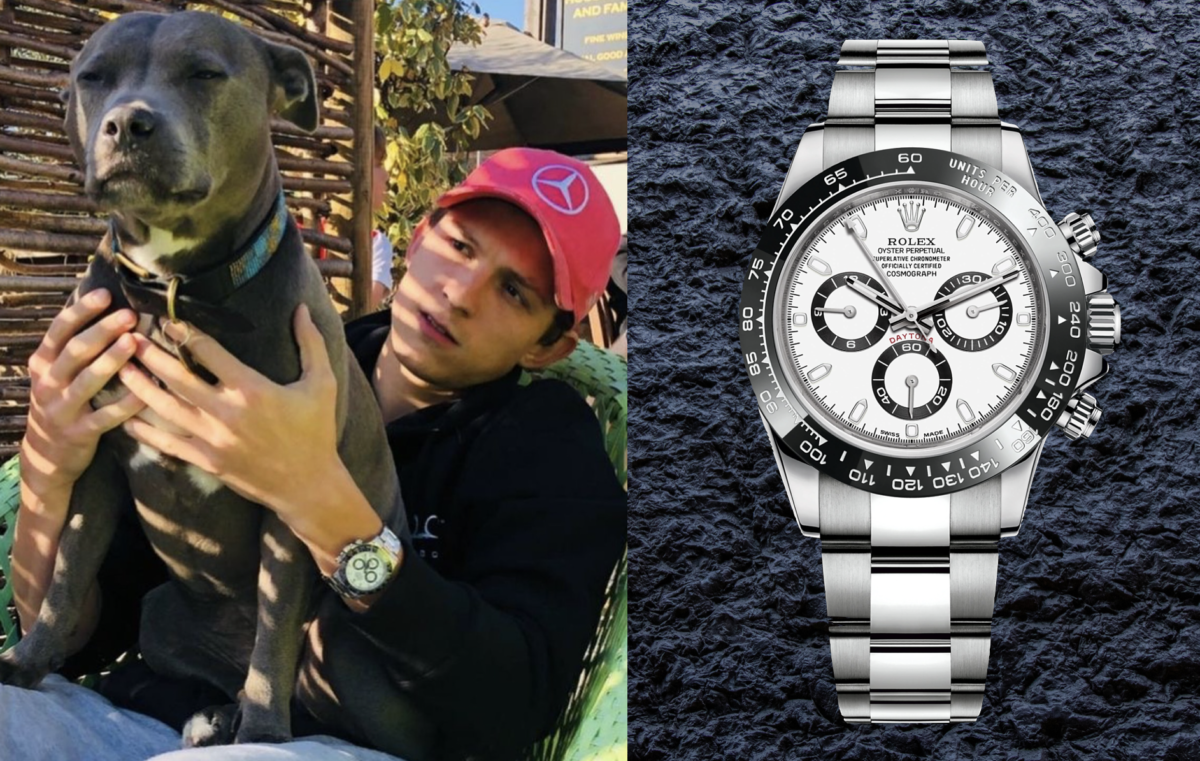 As the man of the moment, it makes sense for Tom Holland to own the watch of the moment in the Rolex Cosmograph Daytona ref. 116500LN. While the level of hype around the Daytona belongs in the Marvel cinematic universe, it's a fantastically well-made timepiece, just as you'd expect from the folks at Rolex.
With a universally wearable 40mm case, a comfortable steel bracelet and a black ceramic bezel, there're a lot of reasons why Tom Holland would love wearing his Daytona, especially with its crisp white dial (the more popular configuration than the black dial). As far as another watch to have in rotation as everyday wear, it's a great option thanks to its Manufacture Rolex 4130 calibre with 72 hours of power reserve, and 100m of water resistance.
As it currently stands, the Rolex Cosmograph Daytona ref. 116500LN has an RRP of $20,400, while it's another timepiece in incredibly high demand as it trades for between $70,000 and $90,000.
Cartier Santos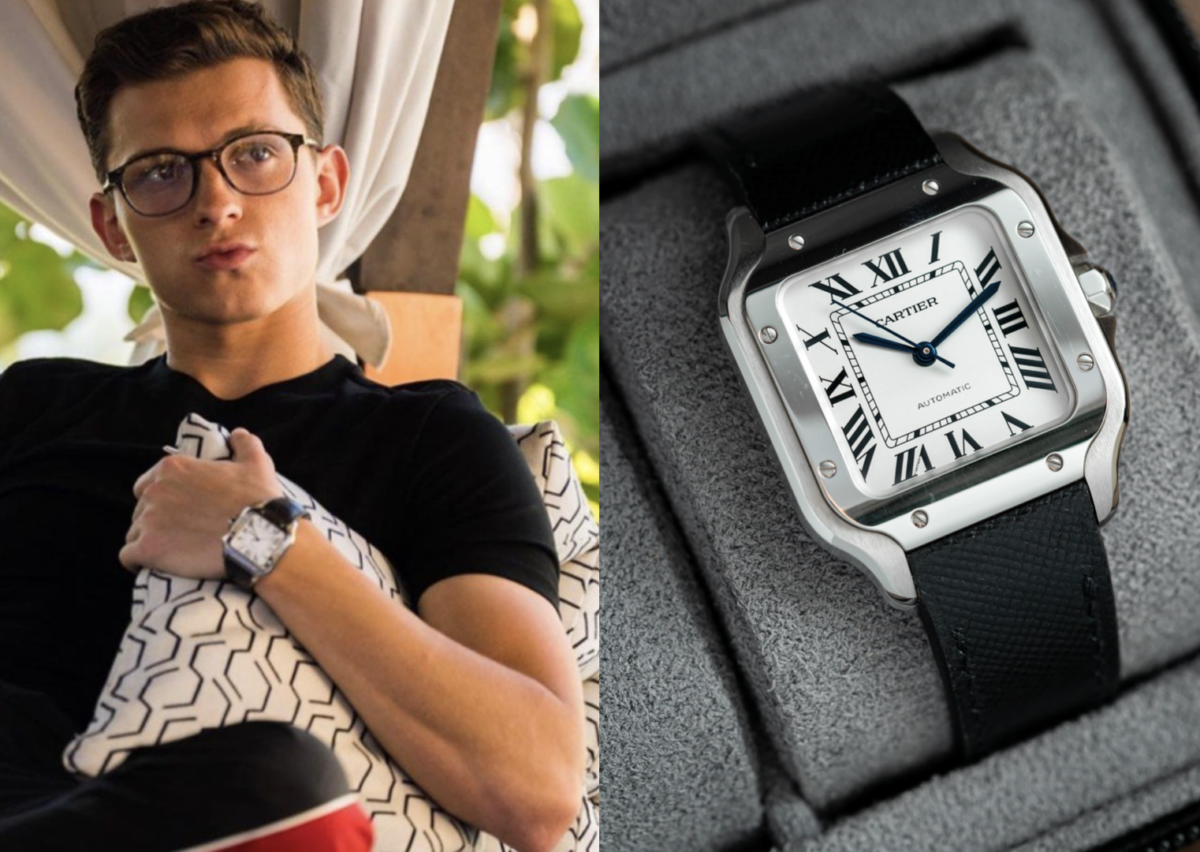 Like all folks with good taste, Tom Holland is a big fan of the work Cartier has been doing over the last couple of years, specifically with the Cartier Santos. In fact, while it hasn't been spotted in a couple of years, one of the first pieces in Tom Holland's watch collection was a Cartier Drive De Cartier Moon Phases. Elevated taste for a 21-year old, that's for sure.
Read more: Cat opoly game instructions
The specific reference that Holland has been spotted wearing is the Cartier Santos De Cartier, in the stainless steel medium model, which is one of the most well-loved references within the current catalogue. In fact, he owns the same reference as his Spider-Man co-star in Jake Gyllenhaal, which was one of Holland's recent big breaks as Peter Parker. He's also been spotted wearing a skeletonised Santos and a Cartier Tank Américaine, solidifying his love for the French-founded firm.
With its iconic square case, the Cartier Santos De Cartier is another great everyday watch thanks to its 100m of water resistance and easily interchangeable bracelet or black leather strap. With an RRP of $9,800 on the steel bracelet, it's also one of the more affordable pieces in Tom Holland's watch collection and a great entry point to Cartier more generally.
Piaget Altiplano Skeleton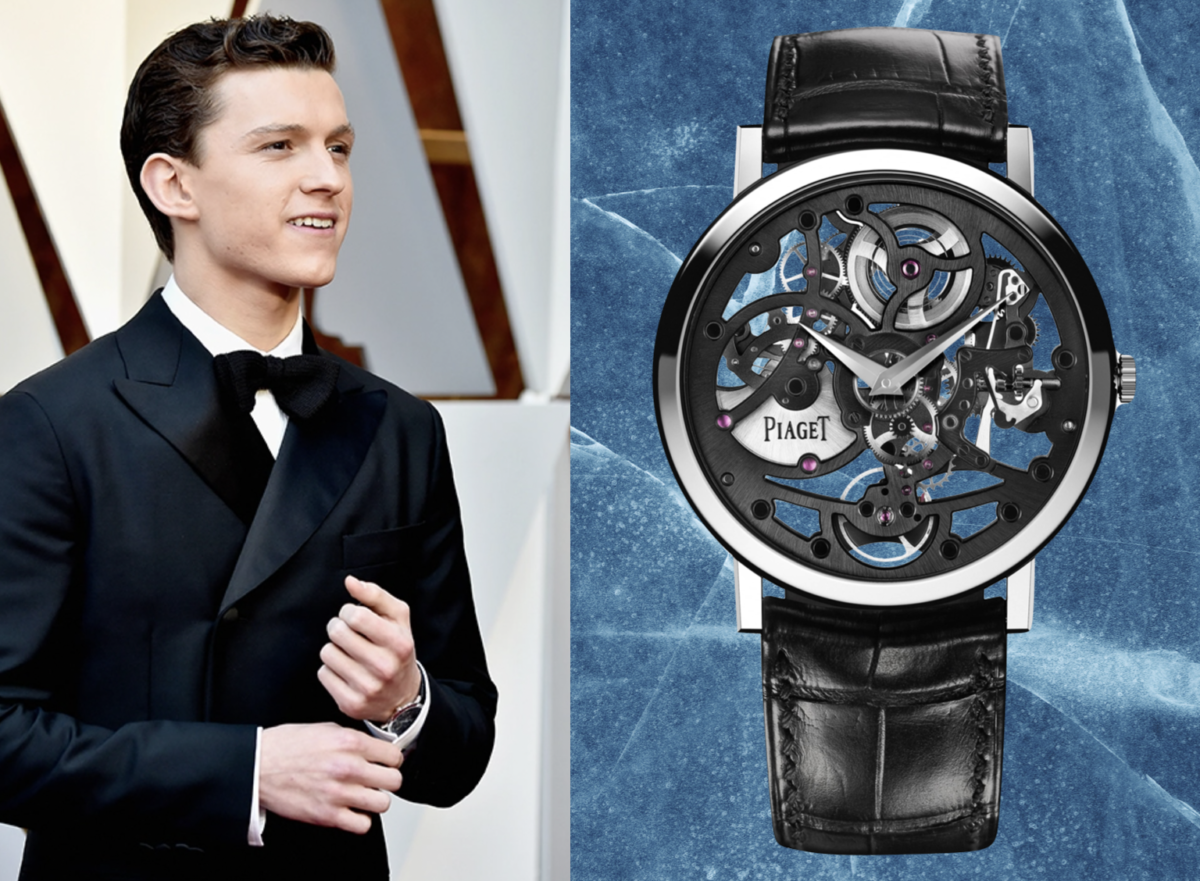 Another extremely respectable member of Tom Holland's growing collection is his Piaget Altiplano Skeleton, which he was spotted wearing at the 90th Academy Awards last year. It's a new watch that's a little more dressy than his sporty references from Patek Philippe, Cartier, and Rolex, but isn't an old man's dress watch either thanks to its skeletonised construction.
As you'd expect from Piaget, it's an ultra-thin timepiece with a 38mm white gold case that is just 5.34mm thick, thanks to the Manufacture Piaget 1200S that powers the watch. With blackened skeletonised bridges, the calibre is 2.4mm thick, making it the thinnest mechanical skeleton movement in the world, complete with a platinum micro-rotor.
Once again, the Piaget Altiplano Skeleton is evidence of Tom Holland's taste beyond his years as a finely made watch from a brand with one of the best names in the game when it comes to keeping things slim. With an RRP of $89,000, Tom Holland's watch taste is only going in one direction.
TAG Heuer Monaco Titan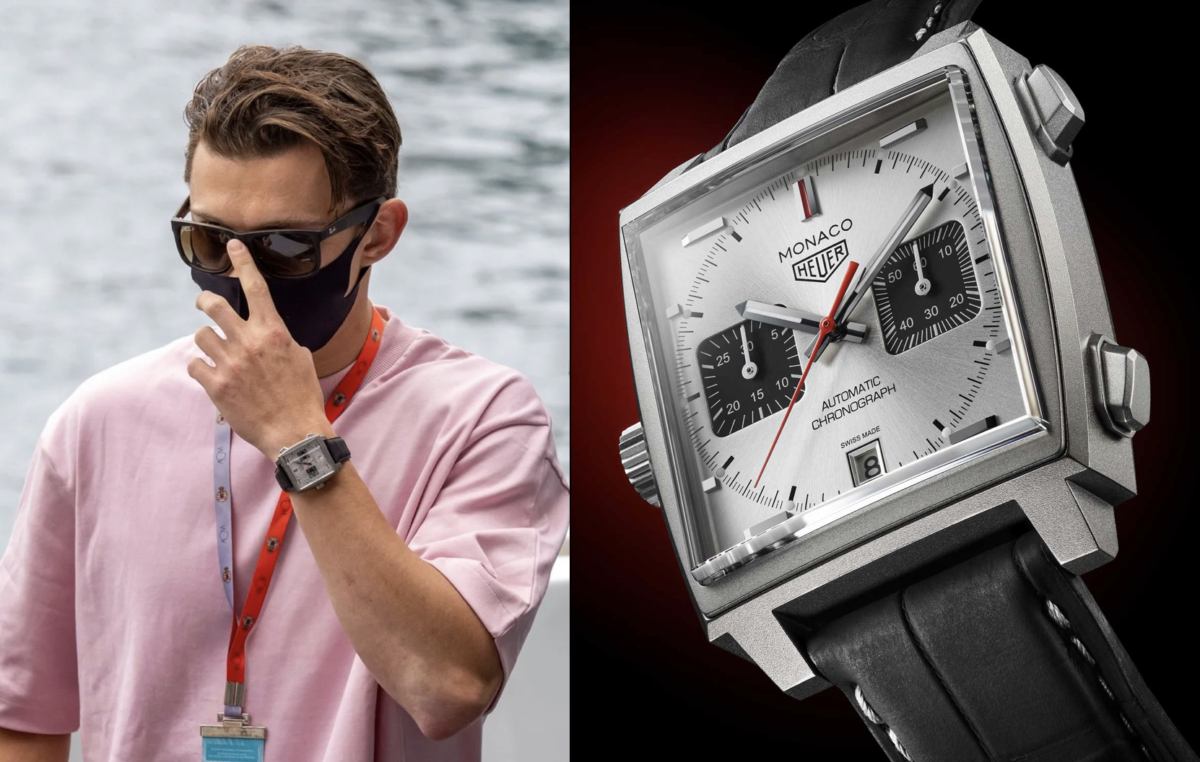 Read more: Diane witt longest hair
When you're in Monaco for the most exciting race of the F1 season, there's only one watch to wear – the TAG Heuer Monaco. Or if you're Tom Holland, that watch is the elusive and sporty TAG Heuer Monaco Titan.
Unlike the traditional stainless steel Monaco references, the Monaco Titan is executed in 39mm of sandblasted titanium, with a matching slate grey dial. Boasting black subdials and a couple of nice red highlights, the Titan is powered by a contemporary version of the Calibre 11 automatic chronograph movement. Arriving on a black alligator leather strap with rubber backing, the TAG Heuer Monaco Titan was a limited edition of 500 pieces and an RRP of $11,400.
Patek Philippe Perpetual Calendar 5940R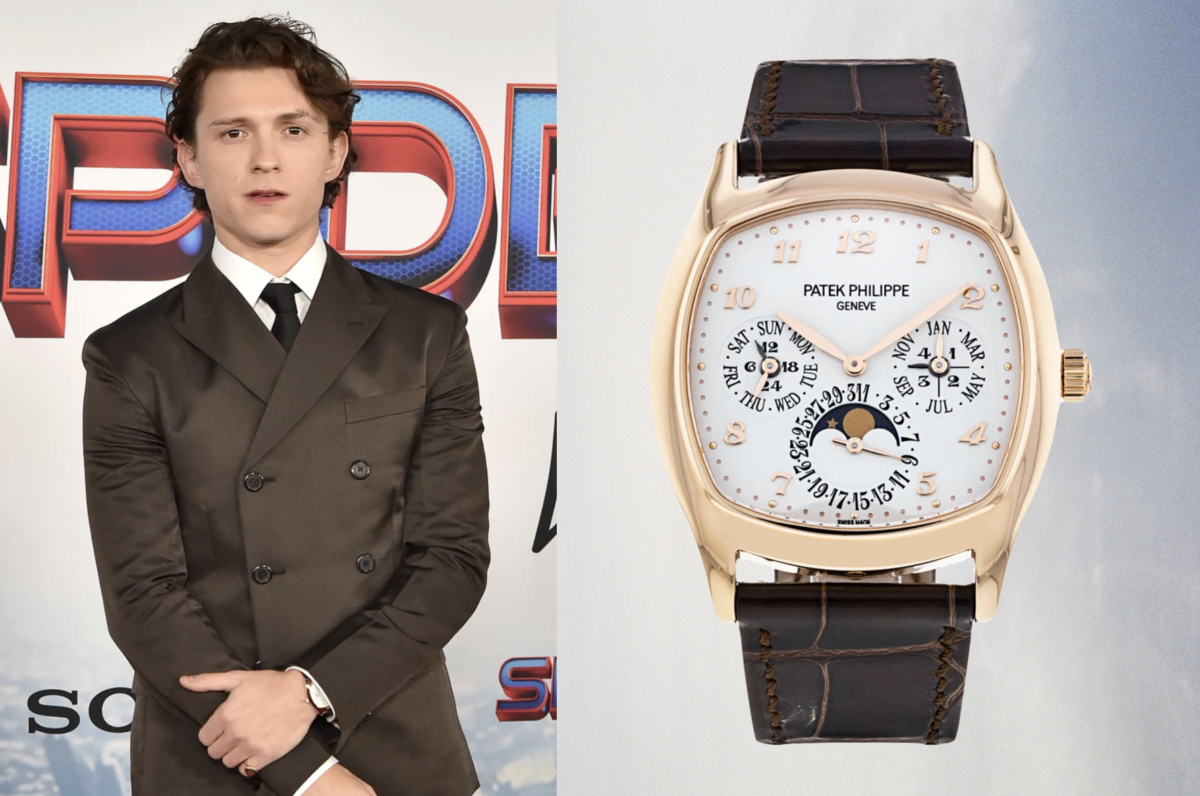 If you needed any final proof that Tom Holland could be Hollywood's next great horological enthusiast with the watch collection he's building, you only need to look at his Patek Philippe Perpetual Calendar 5940R. This is the most complicated watch that's been spotted on his wrist, first seen at the premiere for Spider-Man: No Way Home, and has to be the jewel in the crown of his watch collection.
Boasting a 37mm rose gold cushion-shaped case that is just 8.6mm thick, it's a watch that gets better the closer you look at it, with an opaline silver dial, applied Breguet numerals and wonderfully balanced subdials. Powering the watch is the Caliber 240 Q, which is a masterpiece to behold thanks to its expertly finished bridges and solid gold micro-rotor that winds the movement.
If this is what Tom Holland is wearing at the Spider-Man: No Way Home premiere, then we're all hoping he's staying in the Marvel cinematic universe for a few more years. As the most complicated watch in his collection, the now-discontinued Patek Philippe Perpetual Calendar 5940R trades for around $100,000 on the preowned market.