Among the numerous coloring techniques, money piece hair remains invariably popular. Contrasting curls on the face are in the lead when referring to masters in different countries.
What is the secret of the new coloring technique everyone wants to try? The technology is versatile and economical. It is great for any hair length. Bold coloring helps to make facial features more expressive. In addition, owners of both curly and straight hair can transform in this way.
What Is a Money Piece Hair?
This highlighting technique implies coloring only within the front strands of hair around the face. As a result, face-framing highlights appear. They can refresh the image and make facial features, eyes, and eyebrows more expressive.
Money piece hair highlights are simple and affordable coloring. It requires a minimum of materials and time. The money piece coloring technique looks stylish and does not require special care in the future.
Money Piece with Dark Hair
Money piece hair trend is often found with dark curls. As a rule, brunettes choose shades slightly lighter than their own color. However, it also happens the other way around, when bold blondes complement the image of dark hair with money piece. If you want to emphasize facial features and surprise others, this is what you need!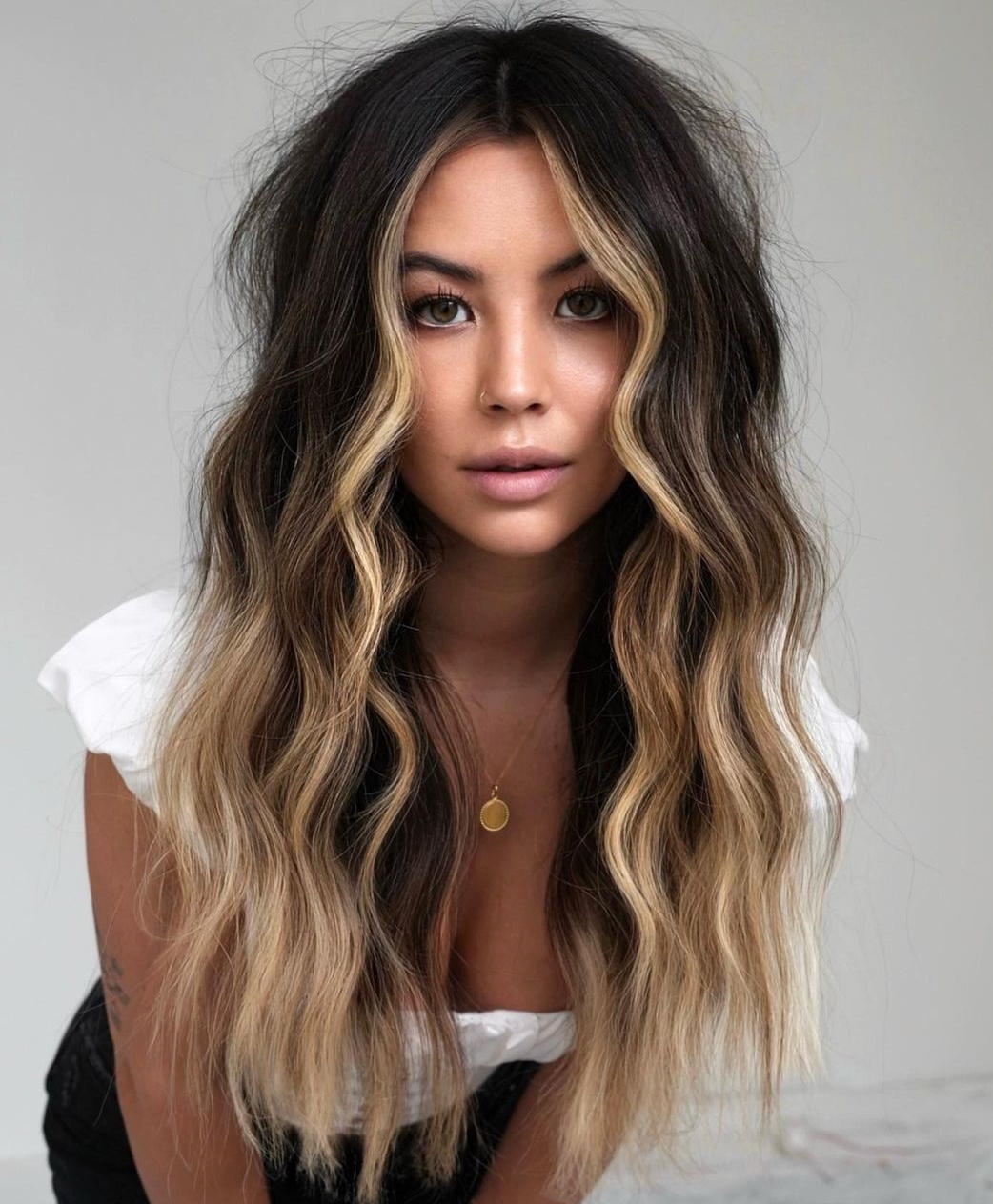 via @linsonhair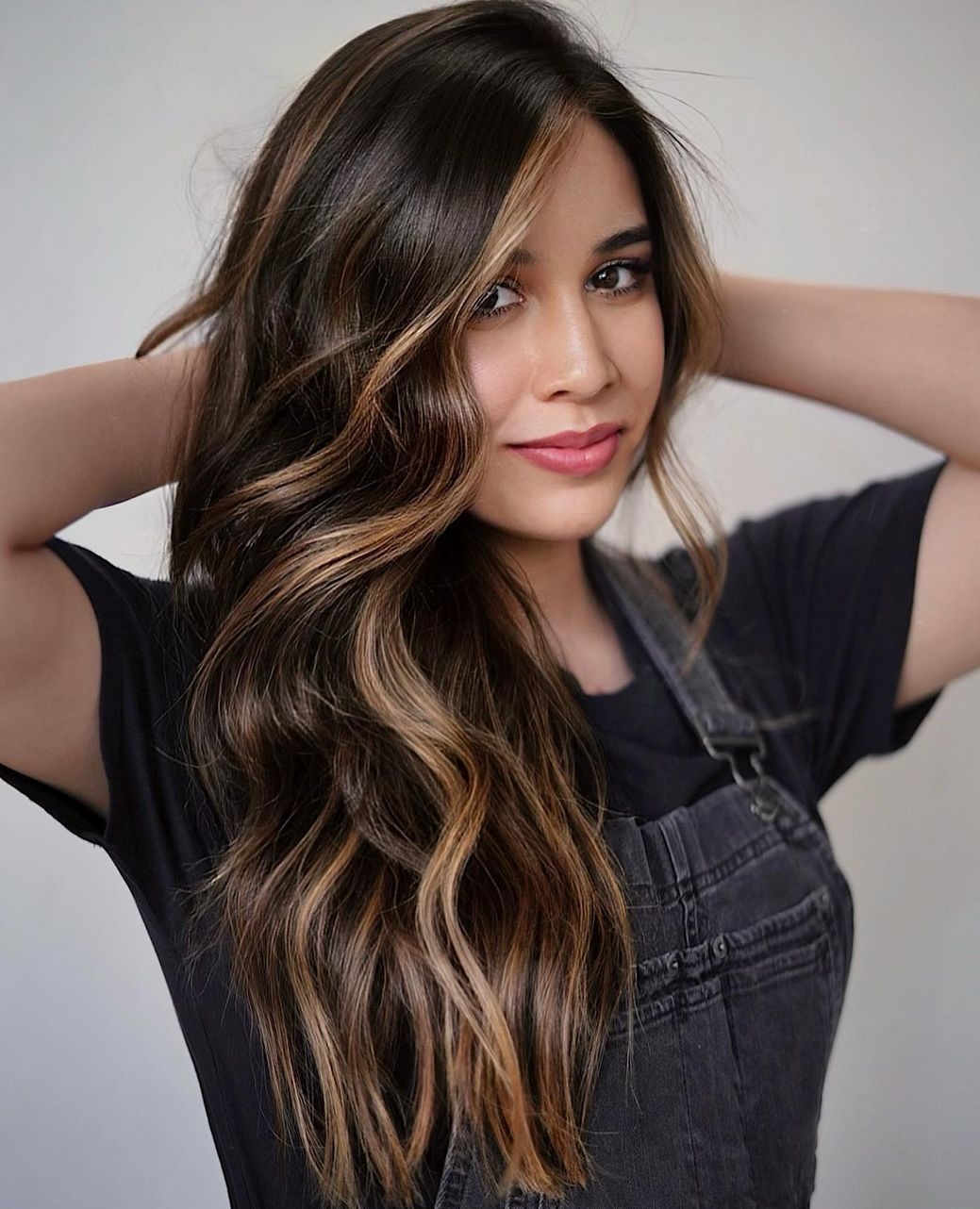 via @hairbymickk
Black Hair with Blonde Money Piece
Brunettes and brown-haired women often choose the money piece hairstyle. Light shades harmoniously look on curls of any length, but they can be found especially often on medium length hair.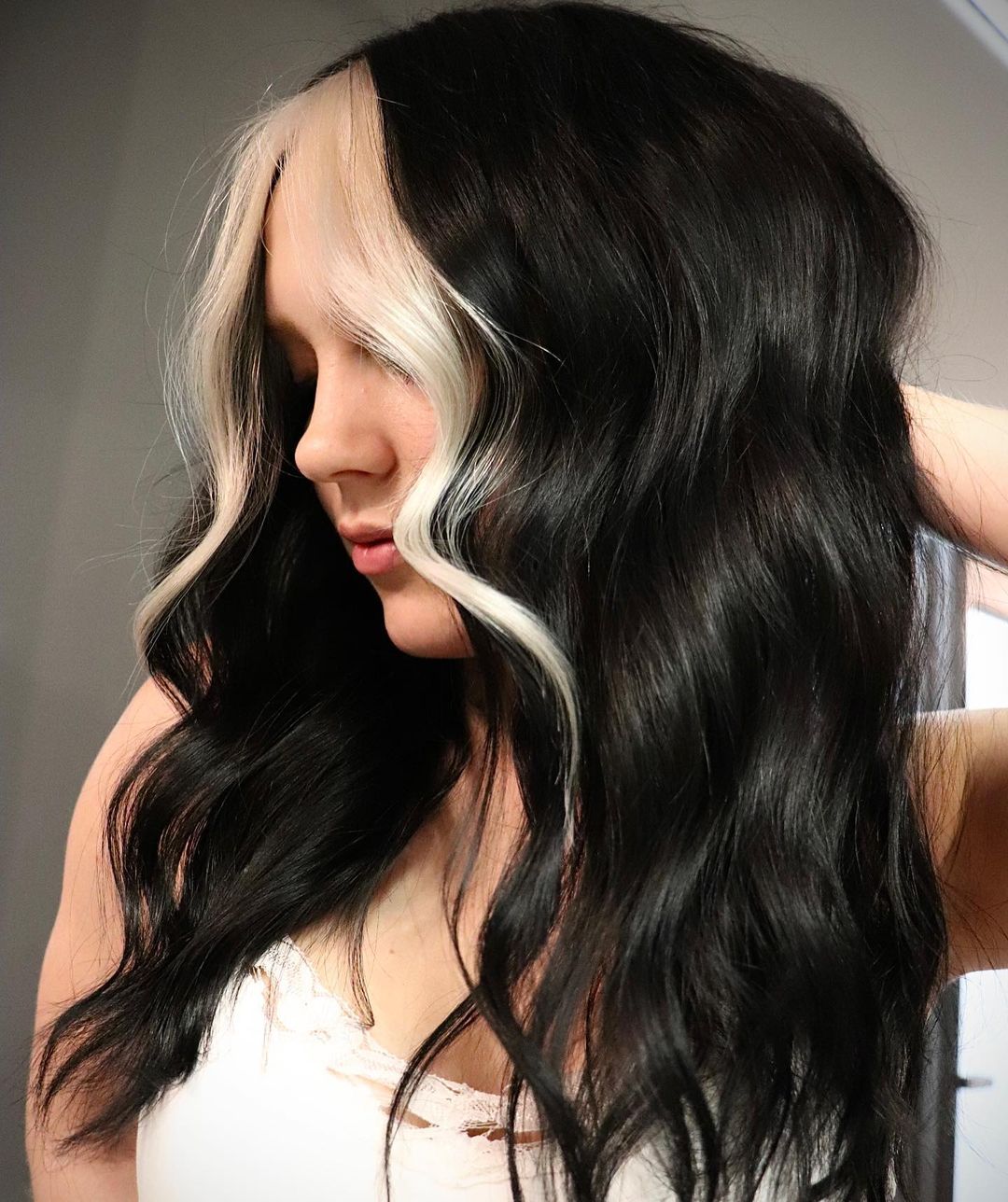 via @randi_doeshair
What is the advantage of this coloring? The blonde money piece brightens the face and enhances natural beauty with contrasting shades.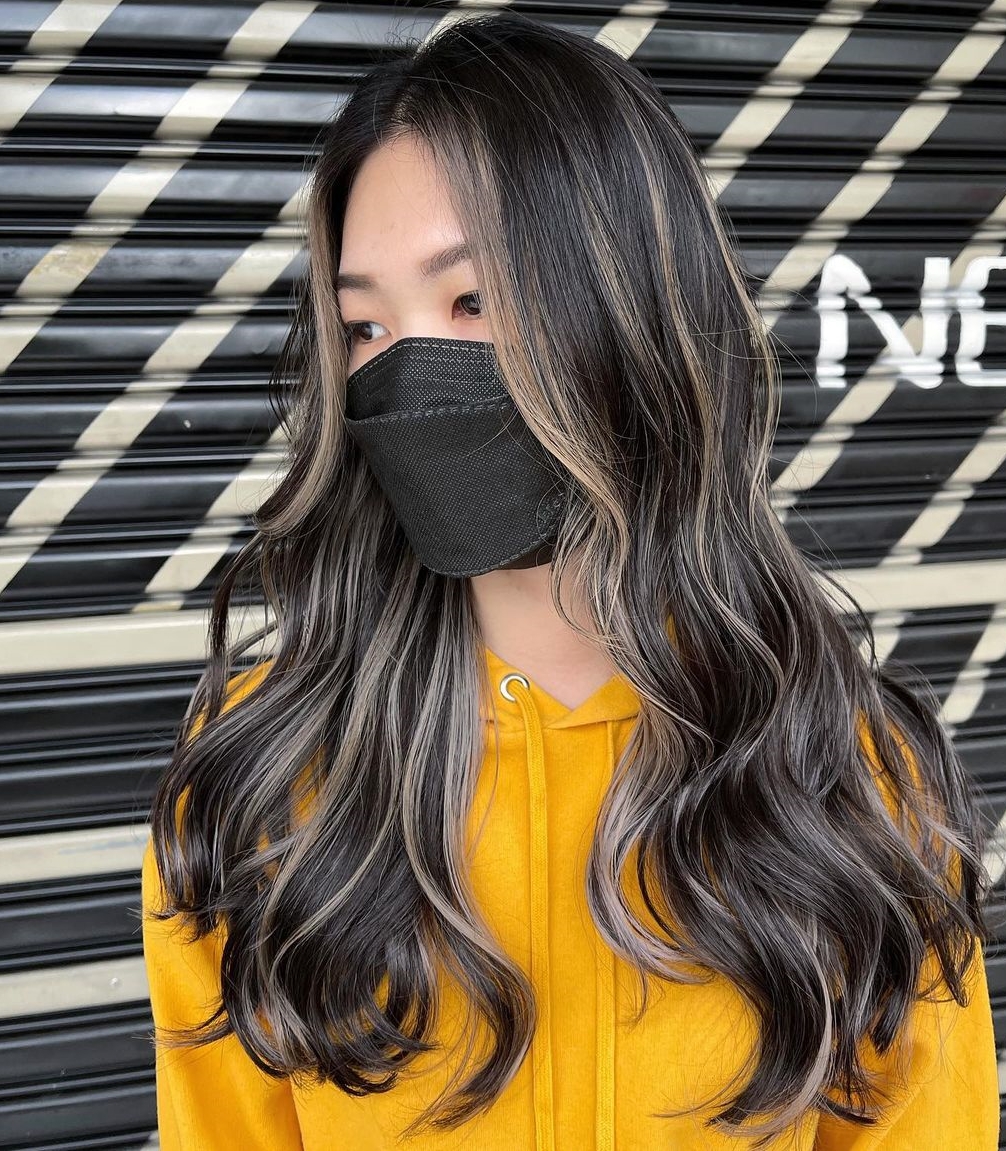 via @glenhew
Red Hair with Blonde Money Piece
Owners of fiery hair have recently been increasingly using money piece highlights to create bright accents.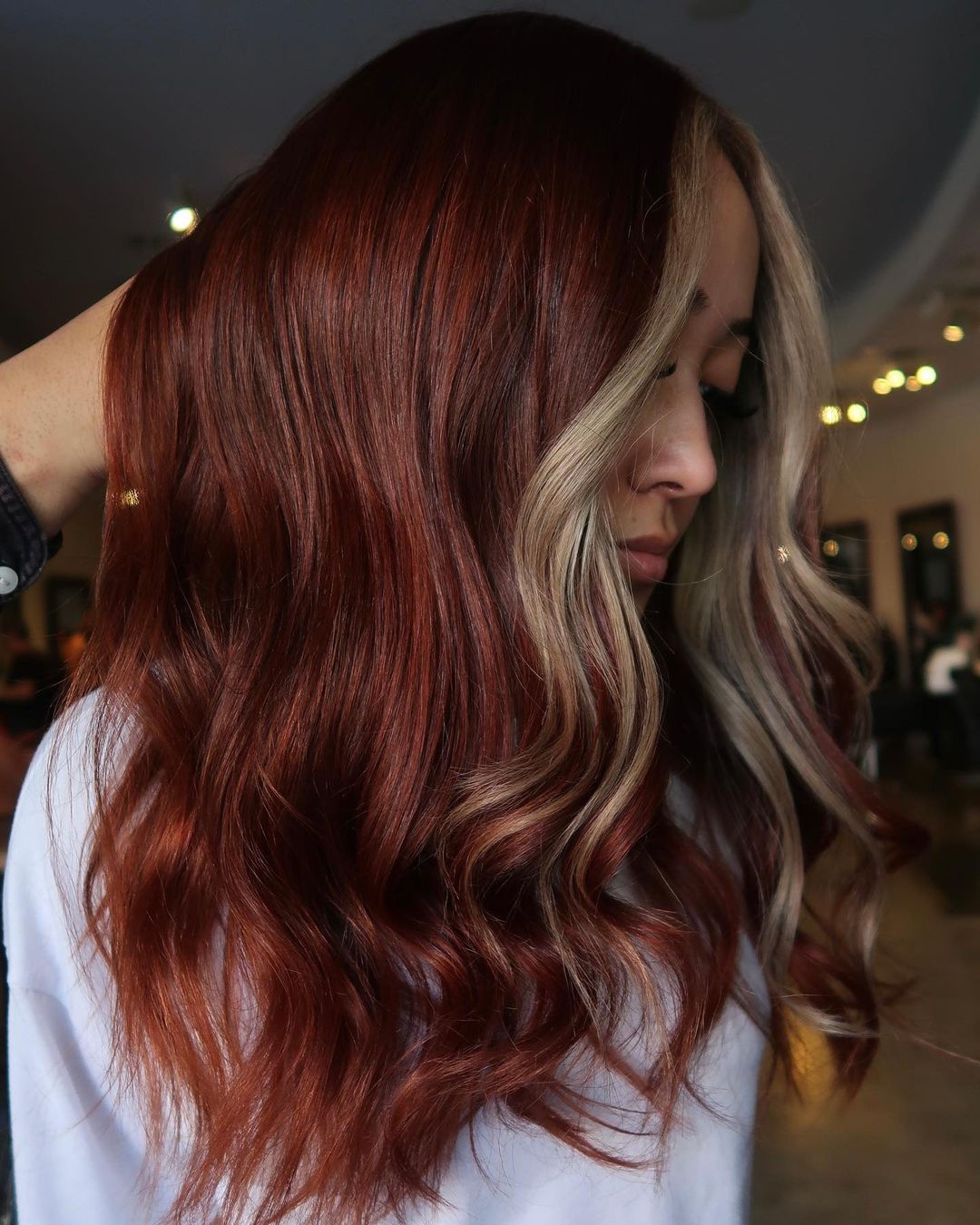 via @ricardoalonsobeauty
Although many women tend to dye their hair in different shades of red, the lucky women themselves are looking for ways to diversify their appearance. Adding blonde hair to any color is a winning tactic. But when choosing materials, you must definitely take into account the skin tone.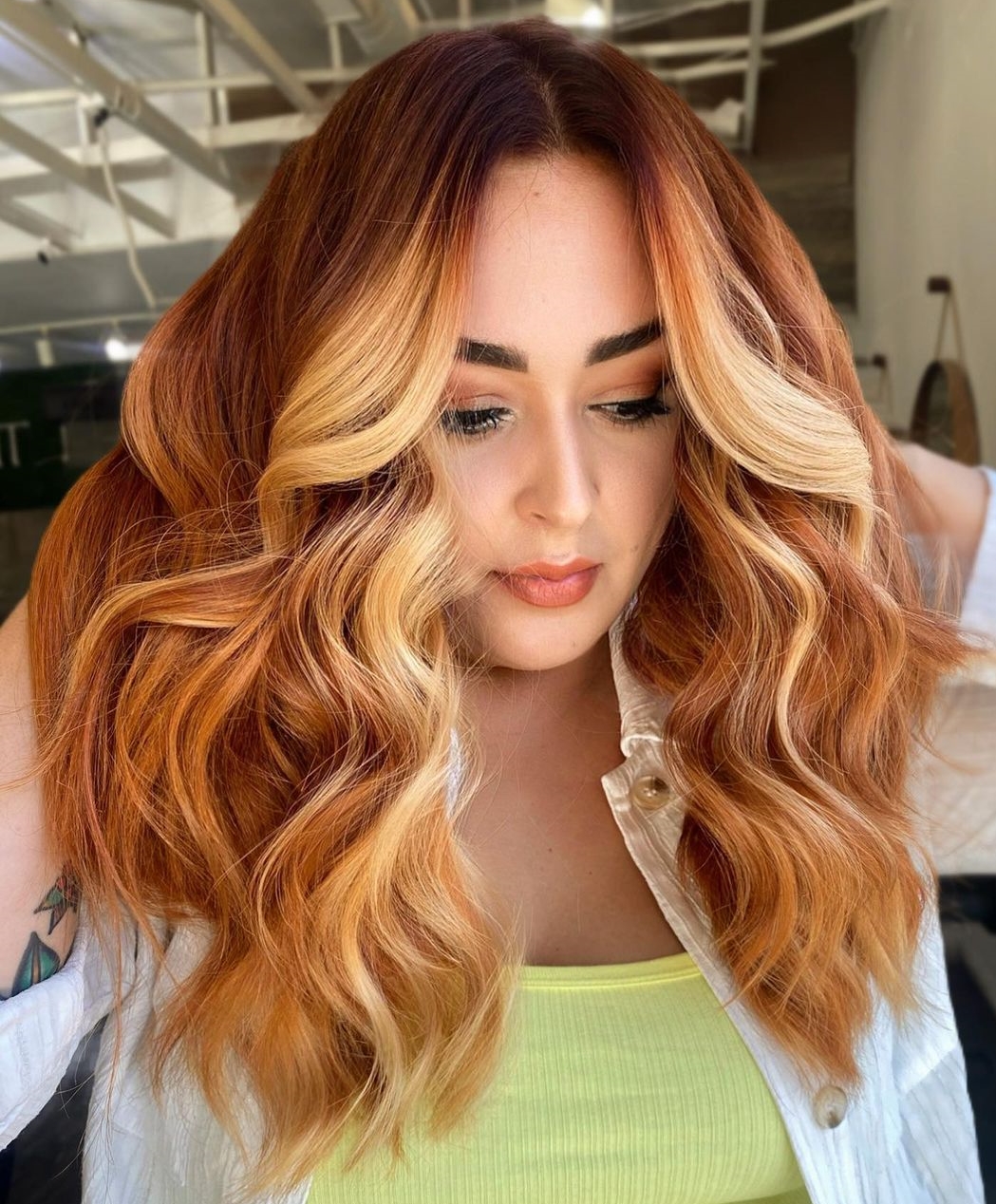 via @joanna_joey
Brown Hair with Blonde Money Piece
Brown-haired women can choose shades close to their coloring to achieve naturally looking hair.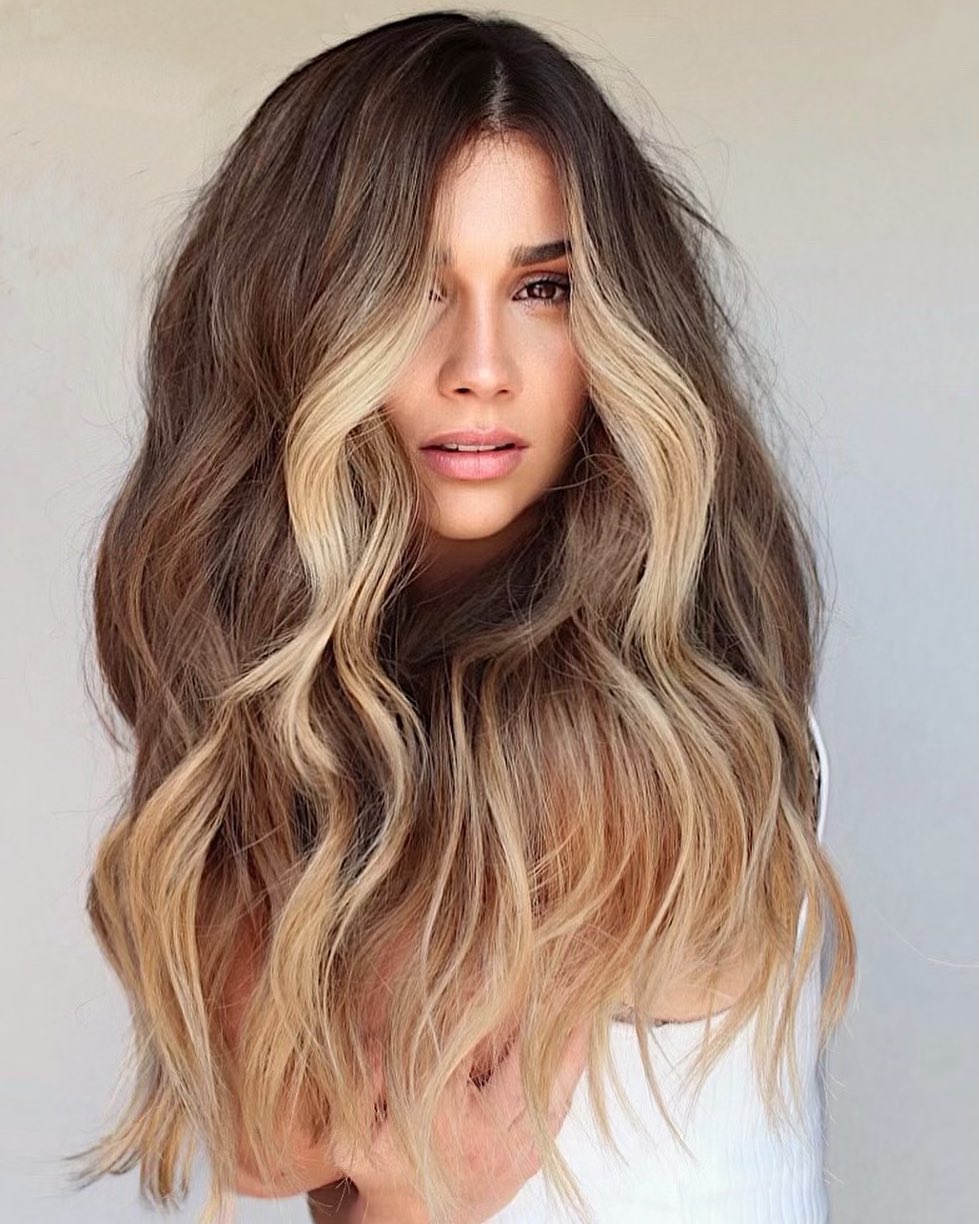 via @sarabotsfordhair
It is not necessary to use too contrasting snow-white tones. To make blonde money piece highlights look stylish and natural, choose close shades. For example, chocolate brown hair or dark brown hair with a few caramel strands will look harmonious.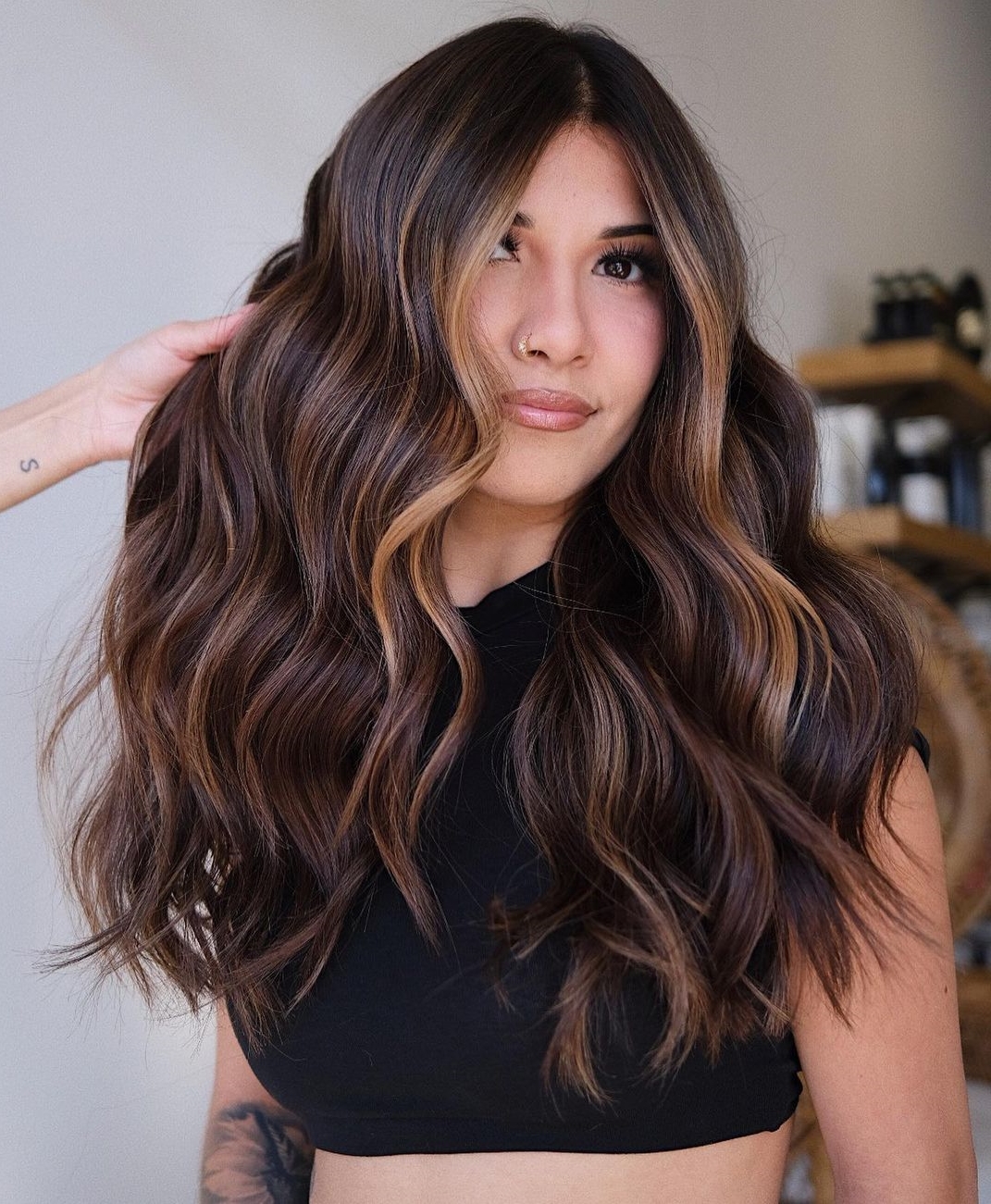 via @stylesbysten
Balayage with Money Piece Highlights
Money piece balayage highlights coloring combines the benefits of each technique. Throughout the head, there are selected strands with smooth transitions between colors. At the same time, the face-framing technique is performed mainly in light shades.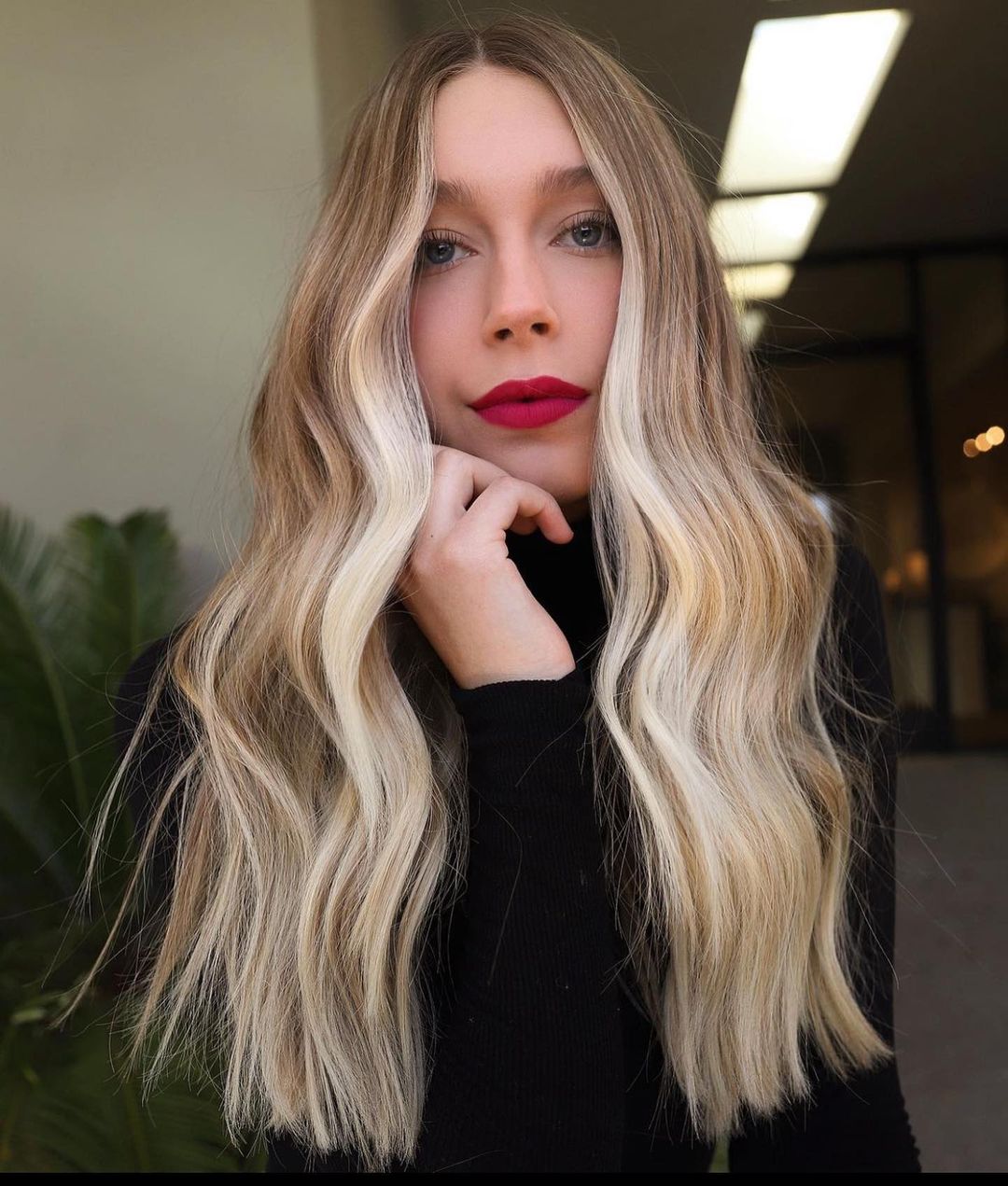 via @maggiemh
Such coloring with a blonde money piece allows you to radically change your look and make the image more stylish and intriguing.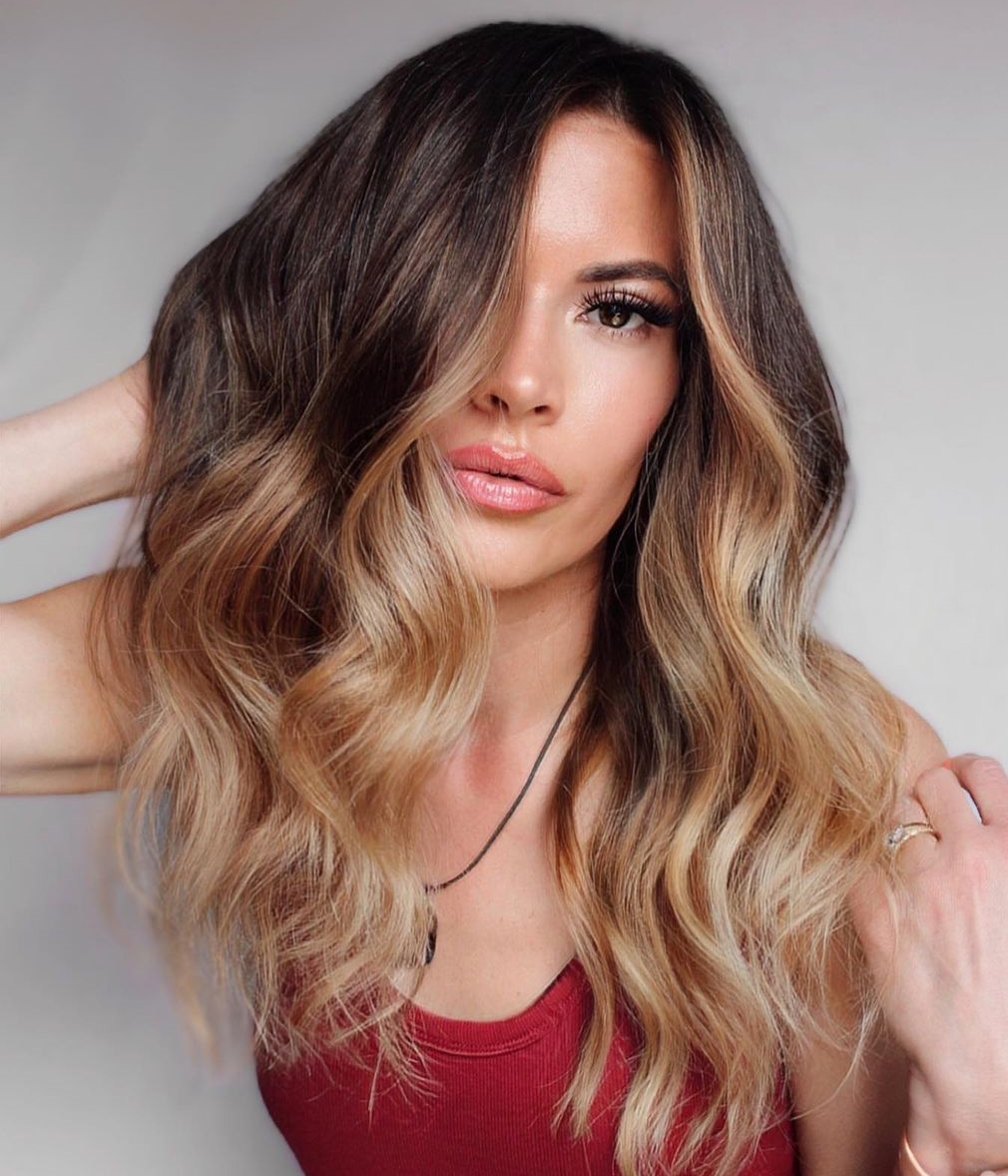 via @sarabotsfordhair
Money Piece Hair with Bangs
Do you have a bang? Try one of the brightest hair trends — chunky money piece!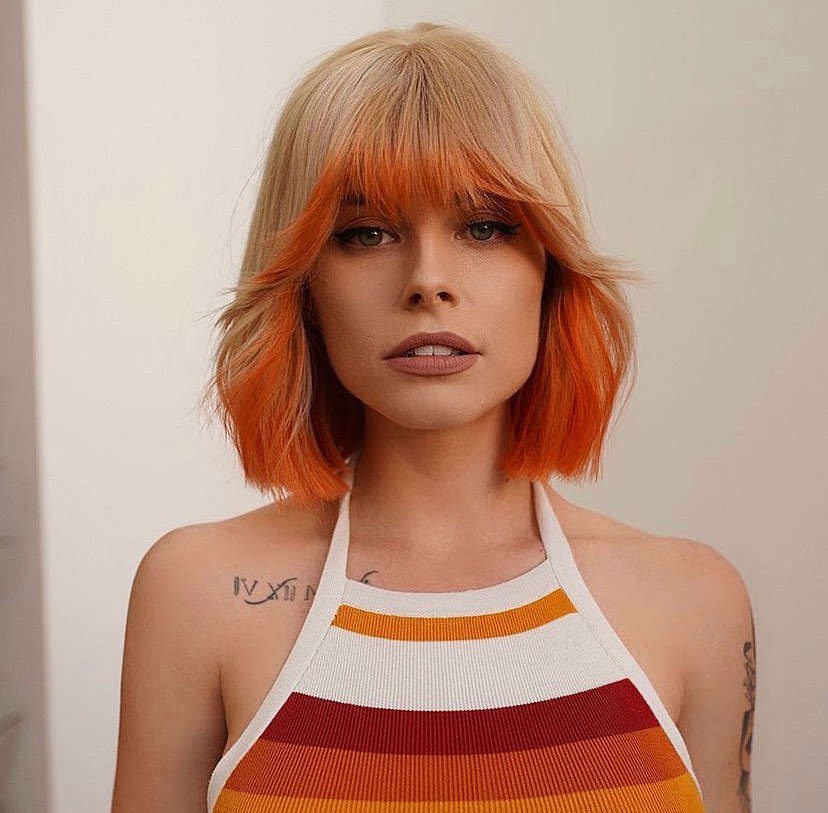 via @bescene
You can color a few thin strands or completely change the color of the bangs. On darker hair, this technique looks especially expressive.Blonde money piece with bangs is the choice of daring beauties who are not afraid to attract the attention of others!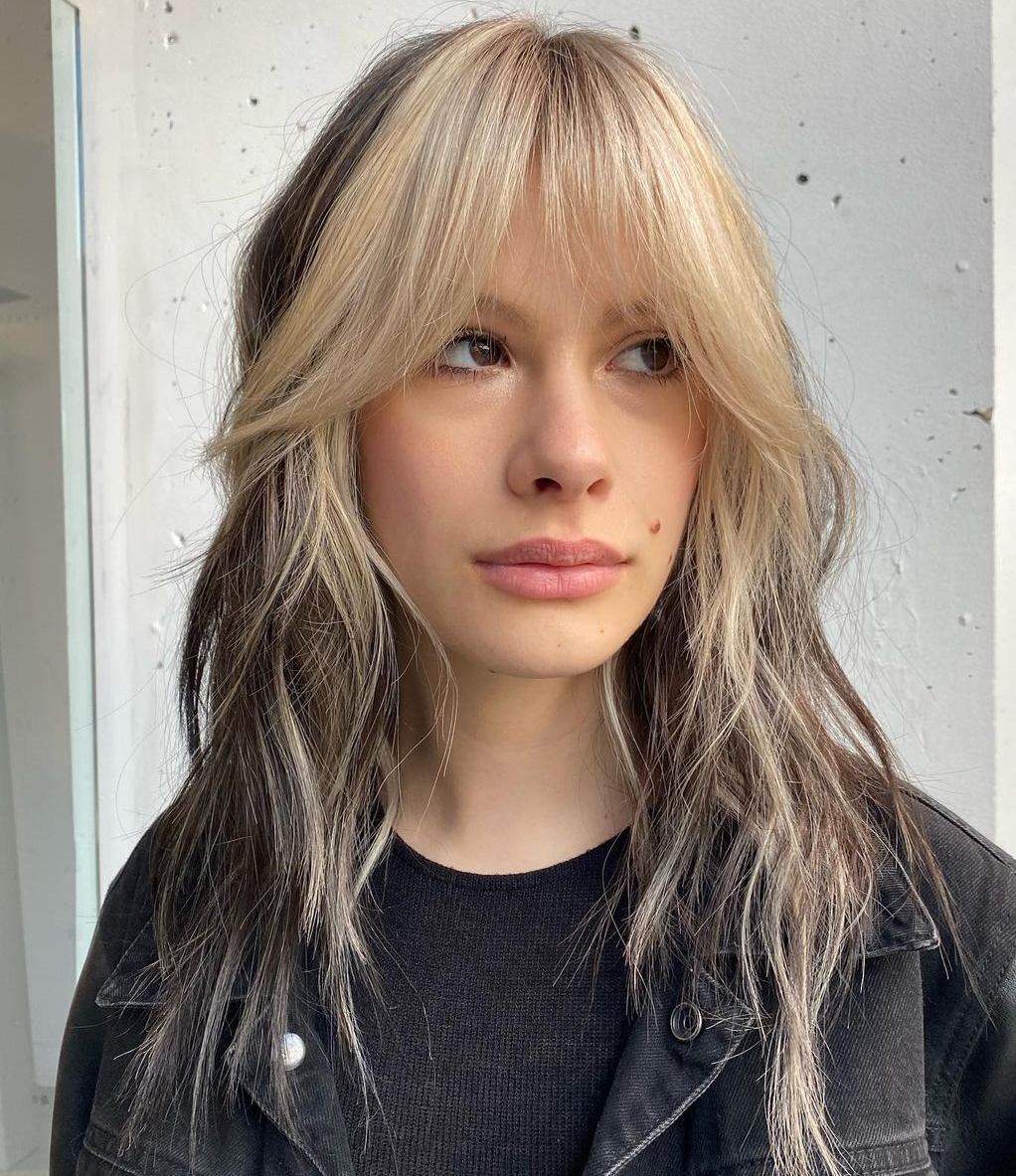 via @oliviaraecutme
Blonde money piece with bangs is the choice of daring beauties who are not afraid to attract the attention of others!
Pink Money Piece Hair
Read more: Convertfrom json invalid json primitive
Have you always wanted to try the money piece technique? Follow one of the hottest trends of 2022 — pink hair color!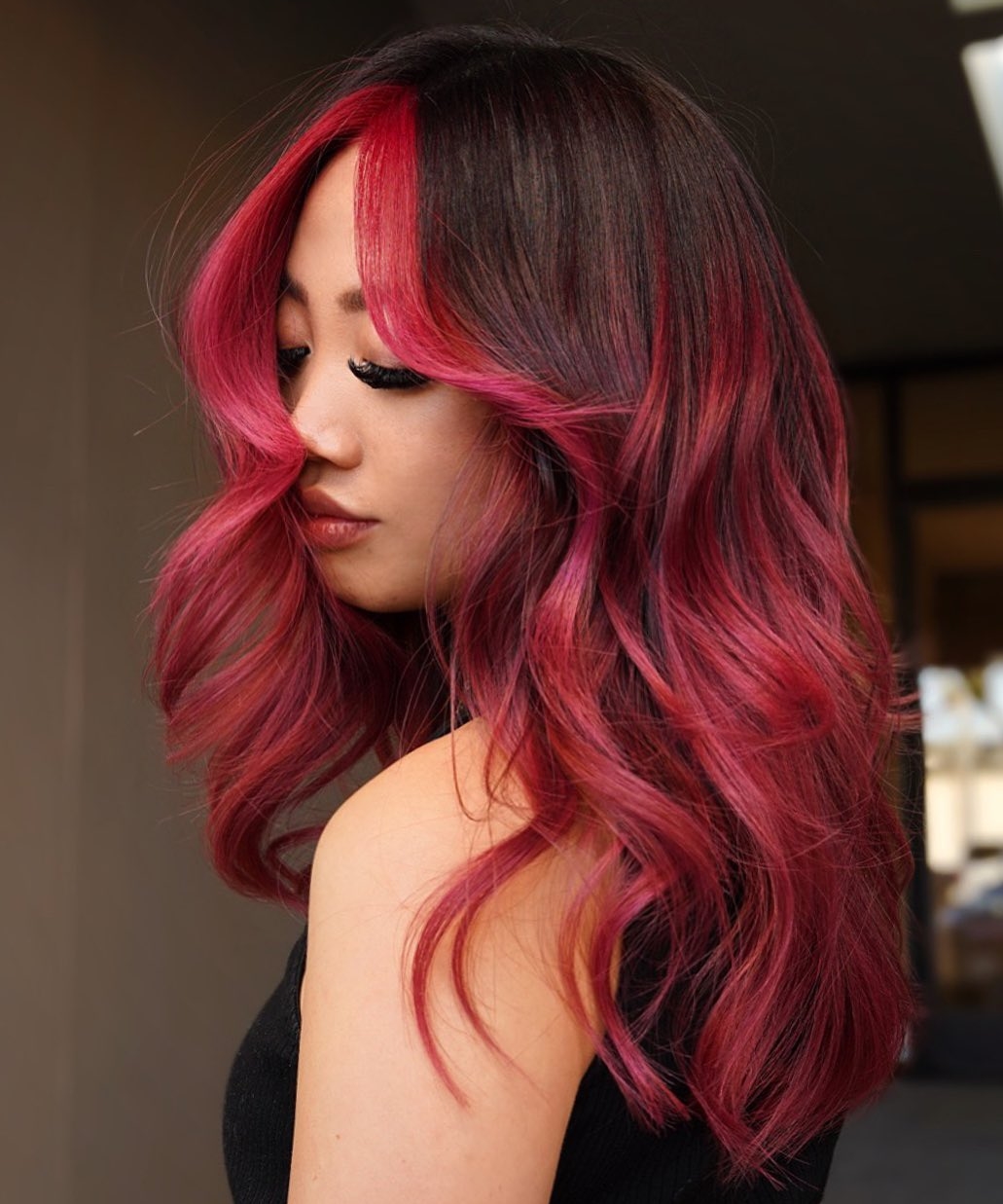 via @memmieyo
Pinkish strands can be chosen for any basic tone. Lighter and darker, barely noticeable and saturated, pink chunky highlights will collect dozens of compliments!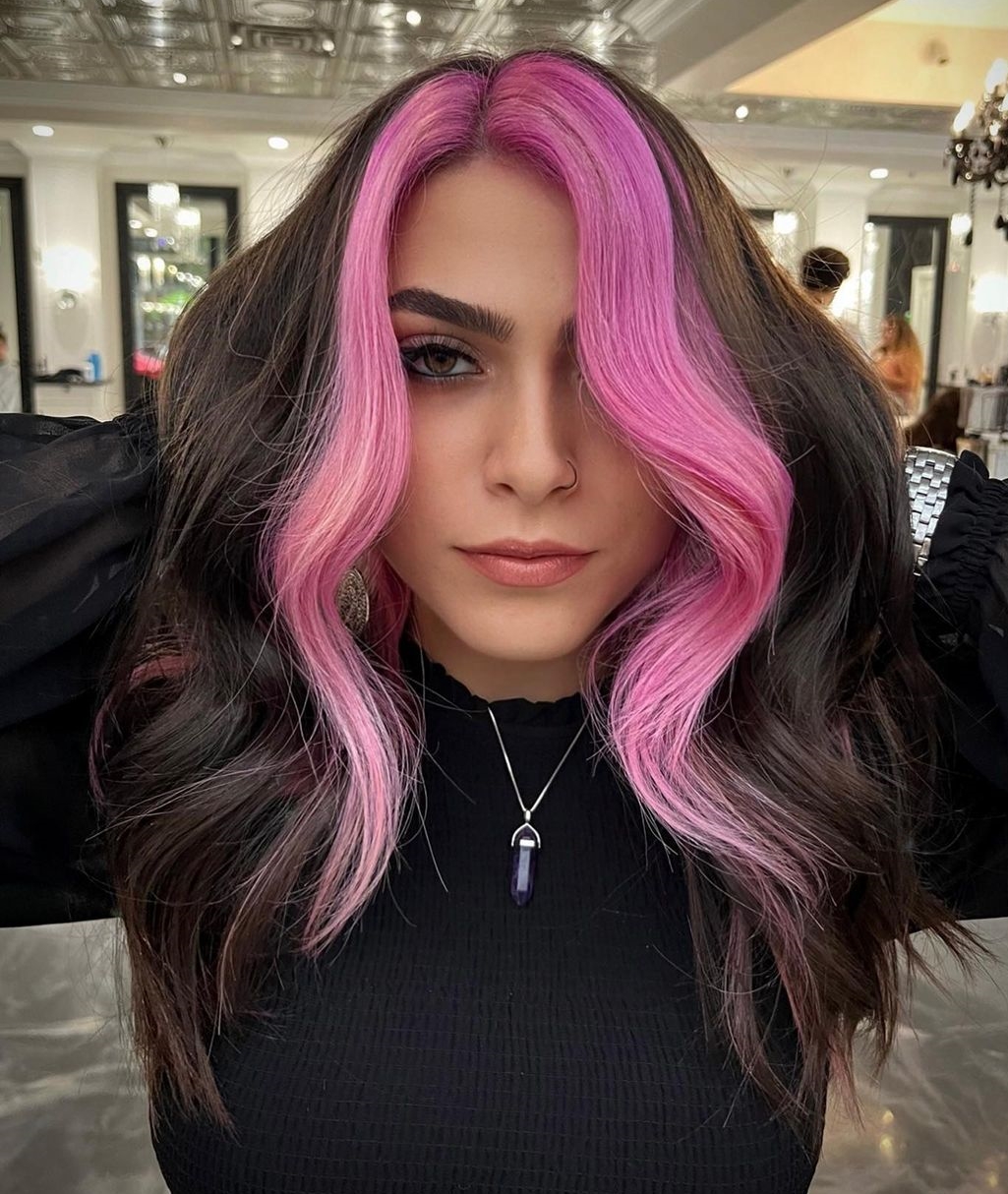 via @artistic.aestheticss
Purple Money Piece Hair
Fans of bright colors will be delighted with the purple money piece. Depending on the color of your hair and skin, you can choose the most suitable tone for dyeing.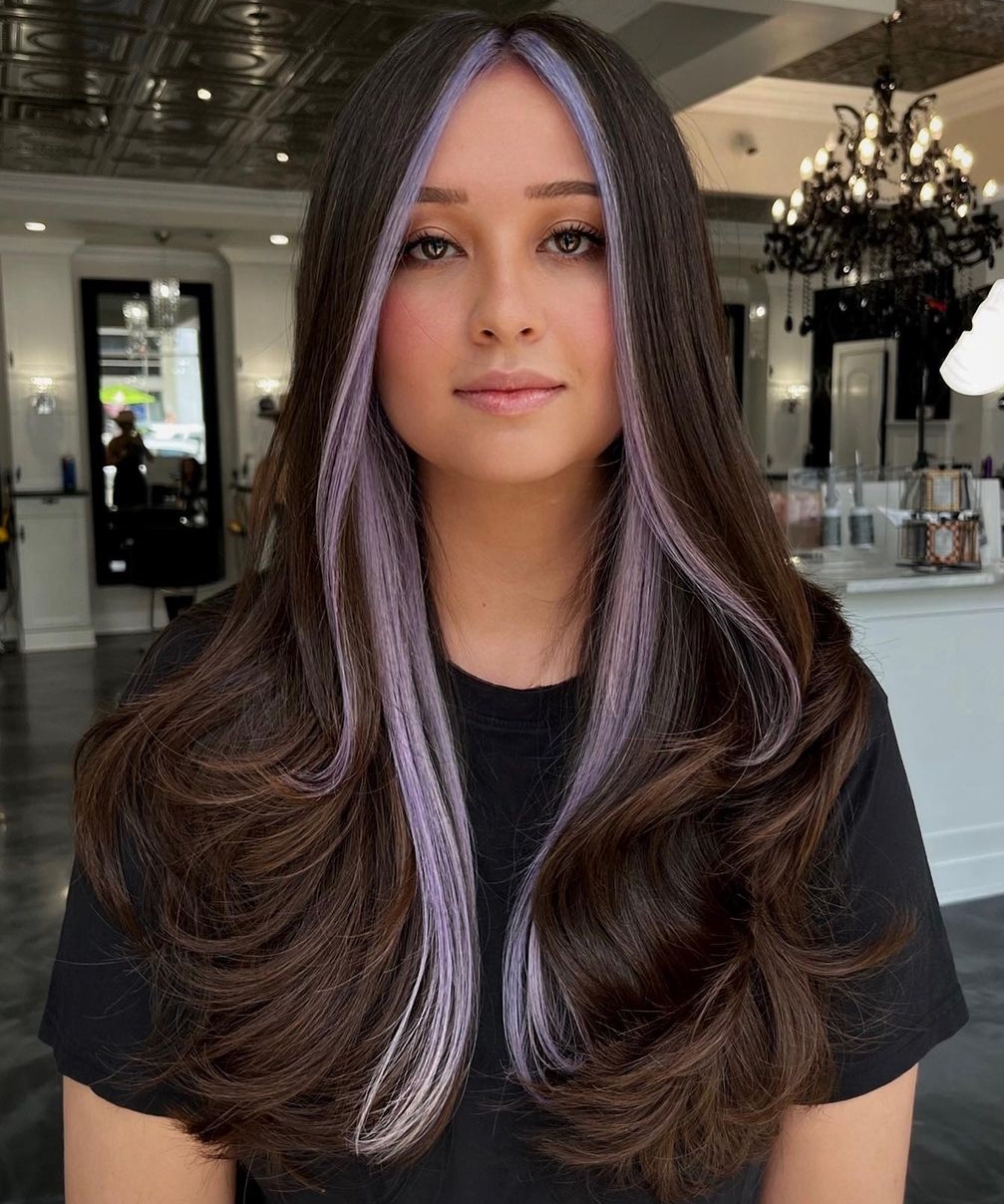 via @artistic.aestheticss
Blonde hair with a purple money piece is increasingly seen on the streets. As a rule, for such hand-painted highlights, blondes choose lighter shades — lilac and lavender.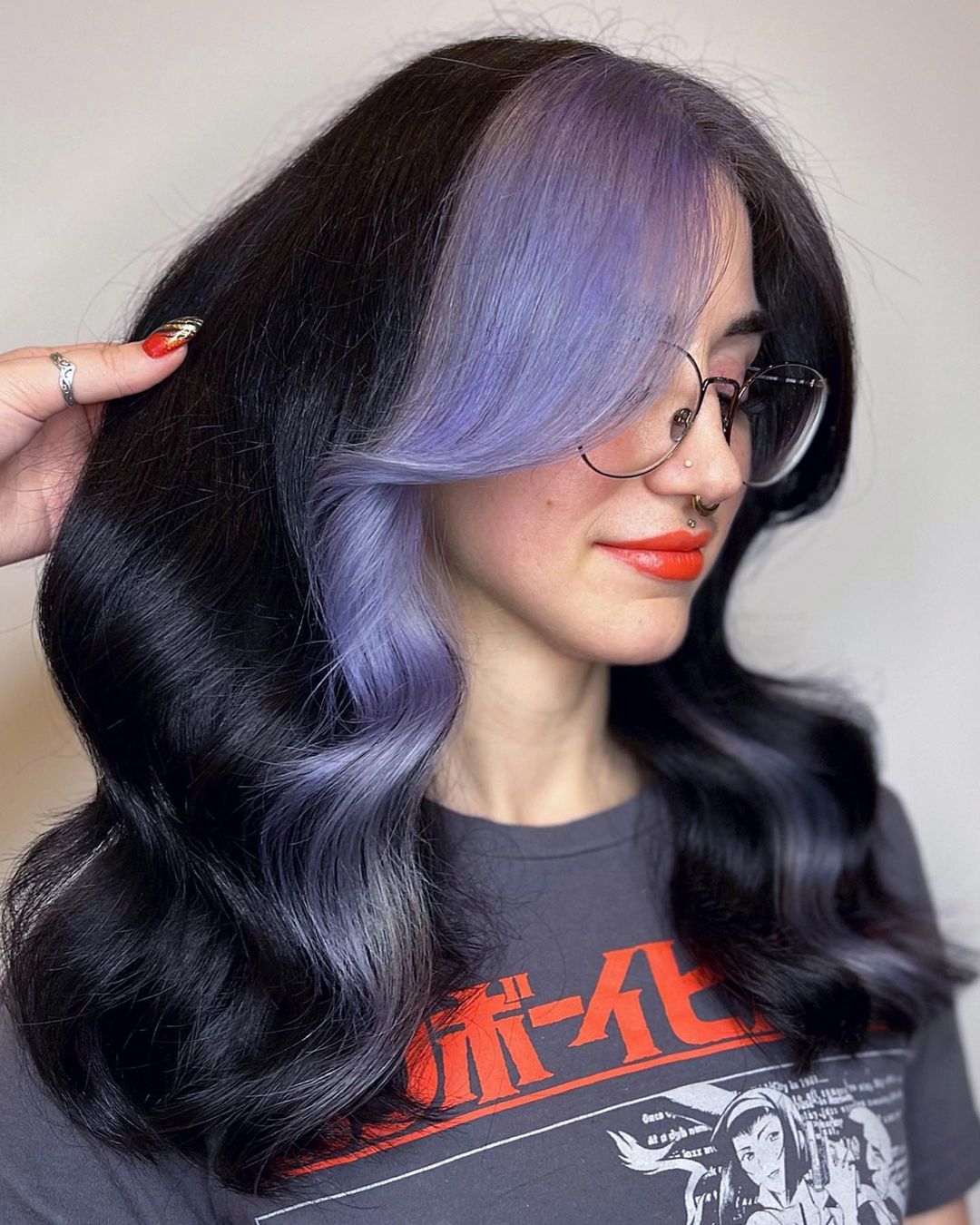 via @kelsey.mtl
Brunettes also prefer an instantly bright look with purple coloring. They have mostly richer and deeper shades.
High Contrast Money Piece Hair
Don't know what colors to choose for the highlighting technique? Don't be afraid to try original and contrasting shades!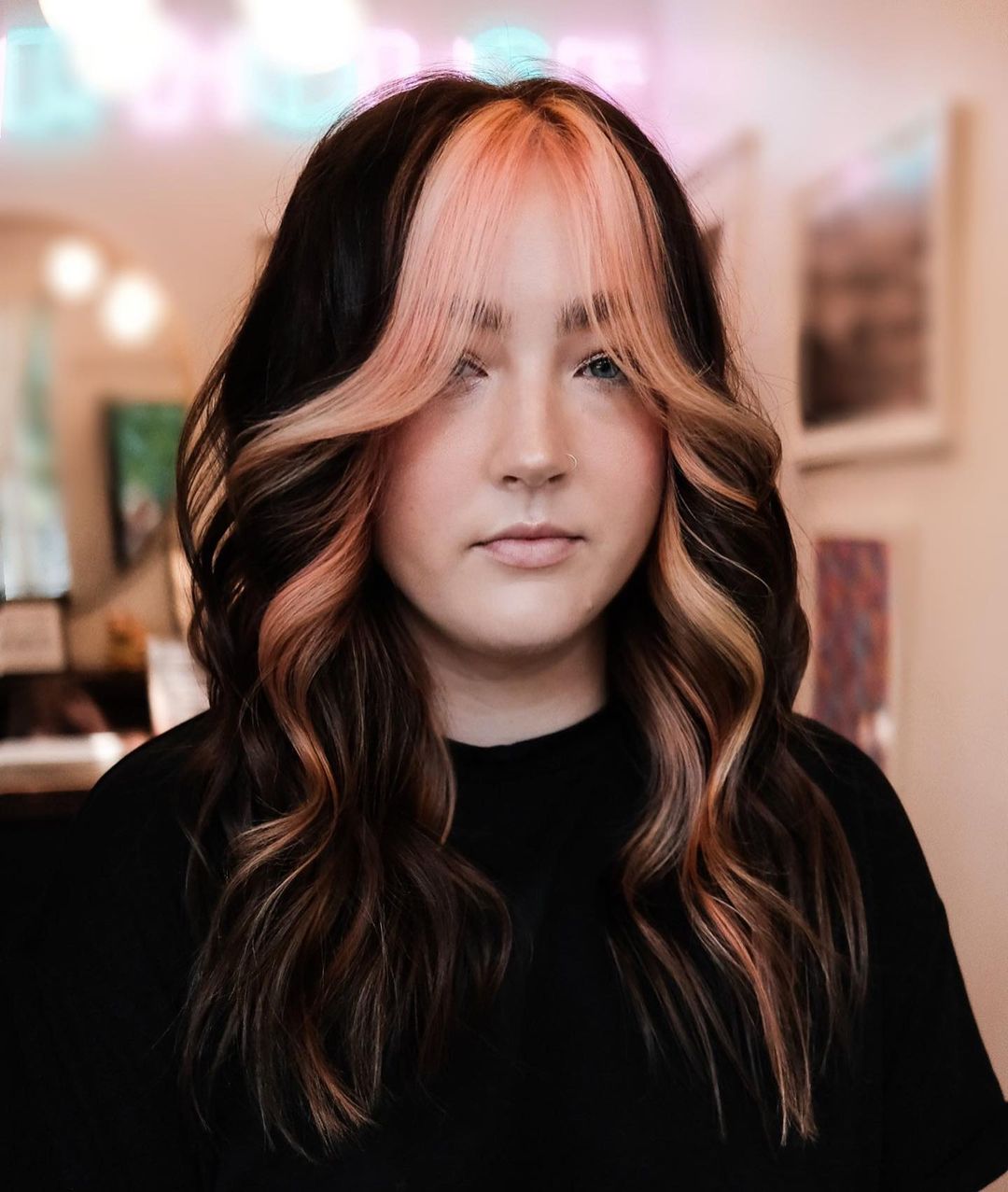 via @toniiii_j_hair
Do you have light brown hair? Use light wheaten, pinkish, or, vice versa, contrasting dark tones.
via @hairby_michellesavic
Brunettes are completely unlimited in experiments. In addition to classic natural colors, black hair with mint highlights is often found. The length of the curls does not matter. Both long hair with money piece and short haircuts look equally stylish.
Money Pieces on Short Hair
Short hair with highlights? Why not!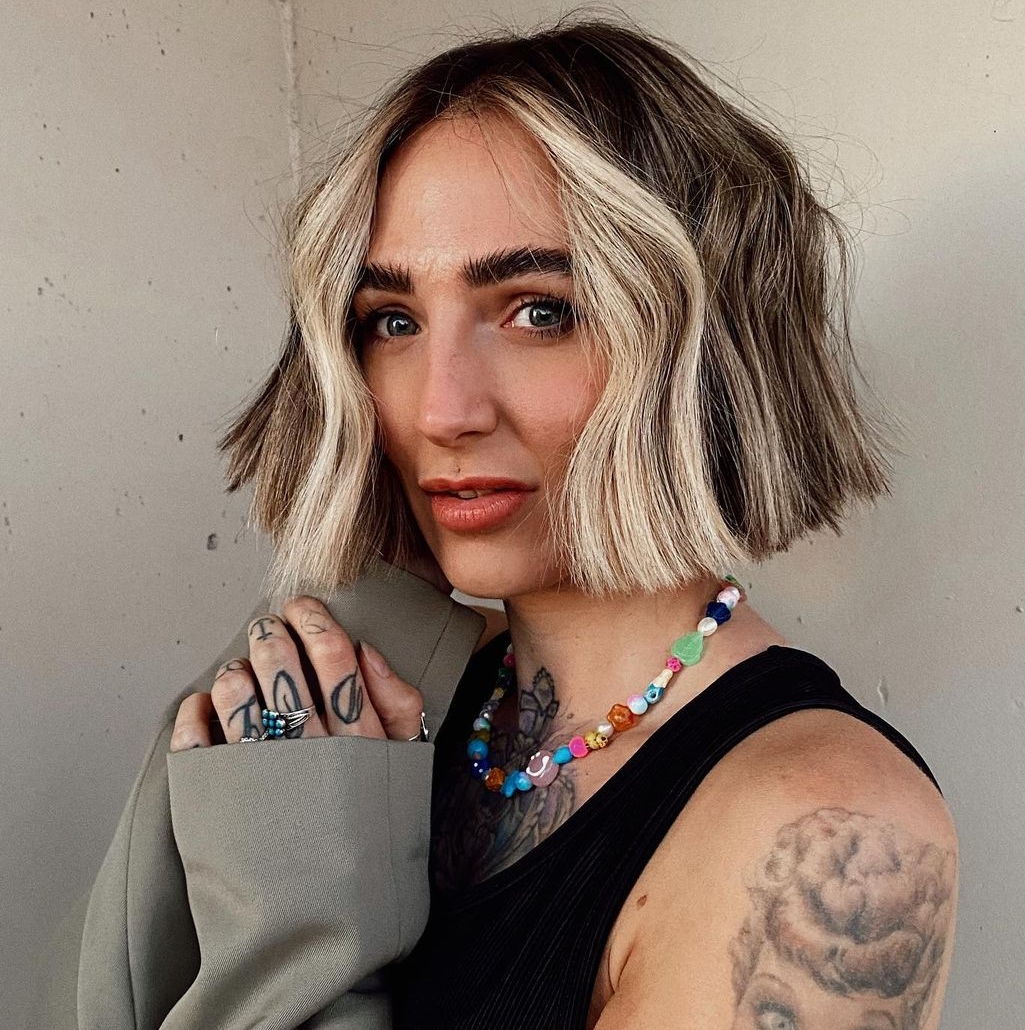 via @chrisweberhair
There are many money piece ideas for short hair. To emphasize facial features with contrasting strands, it is not at all necessary to have long curls. Blonde, red, black, or brunette hair with money highlights looks amazing at any length.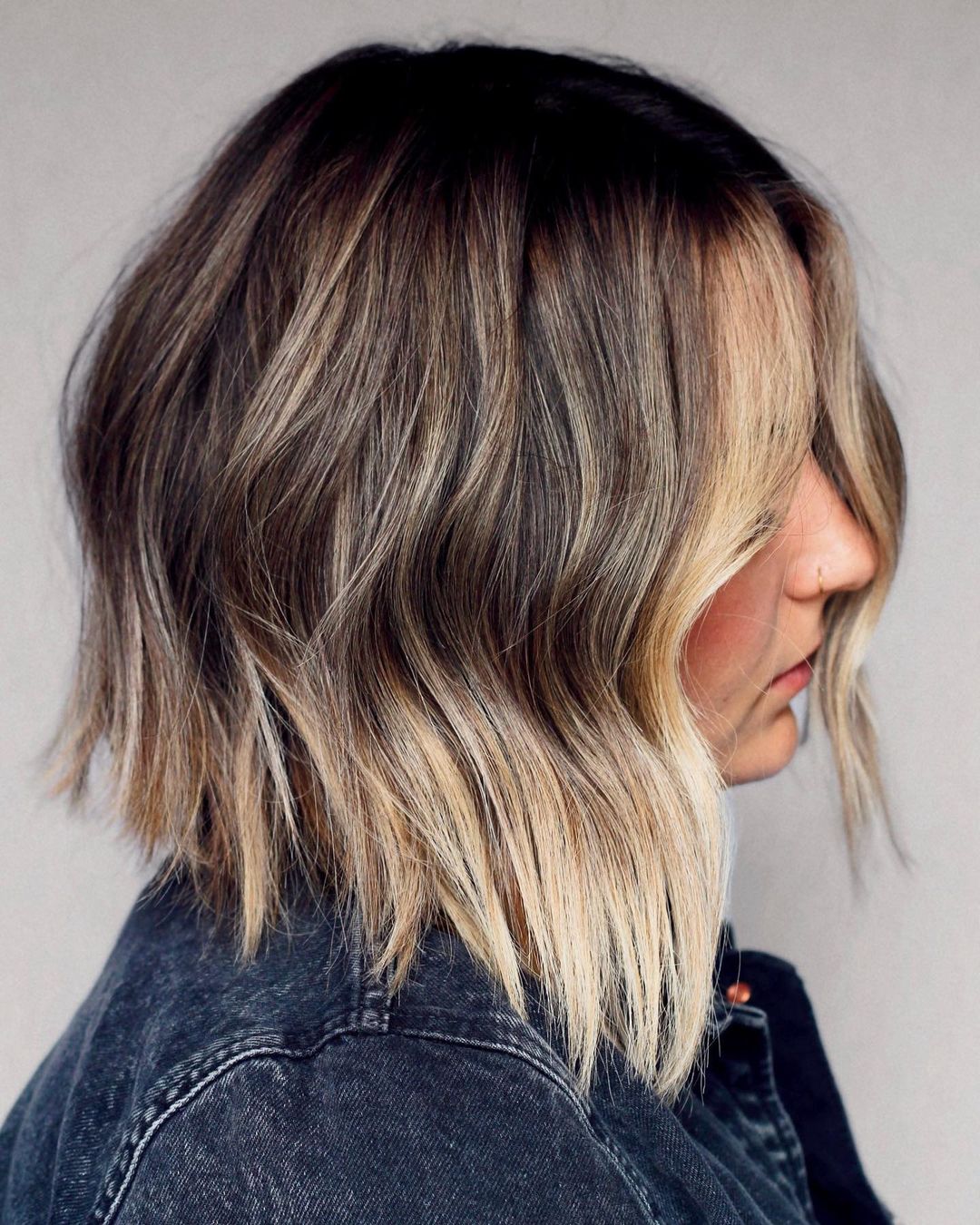 via @sarabotsfordhair
Money Piece on Curly Hair
Can this technique be used on curly hair? Of course!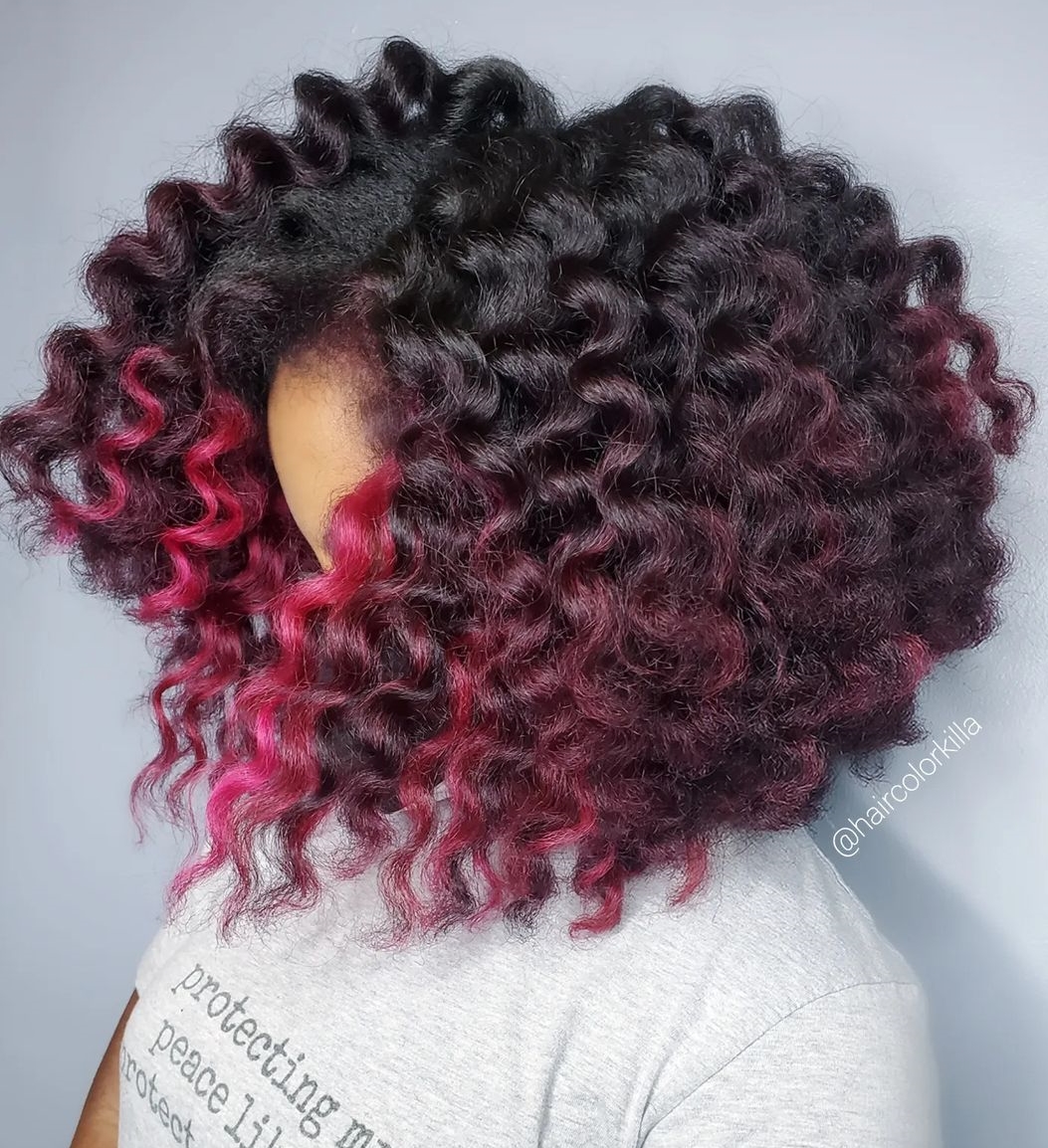 via @haircolorkilla
Wavy curls of light blonde, dark, or warm hair shades with the coloring of the front strands are the dream of many girls. Do not deny yourself in its embodiment! It will be the base of natural hair color with highlights or a completely new tone — it's up to you.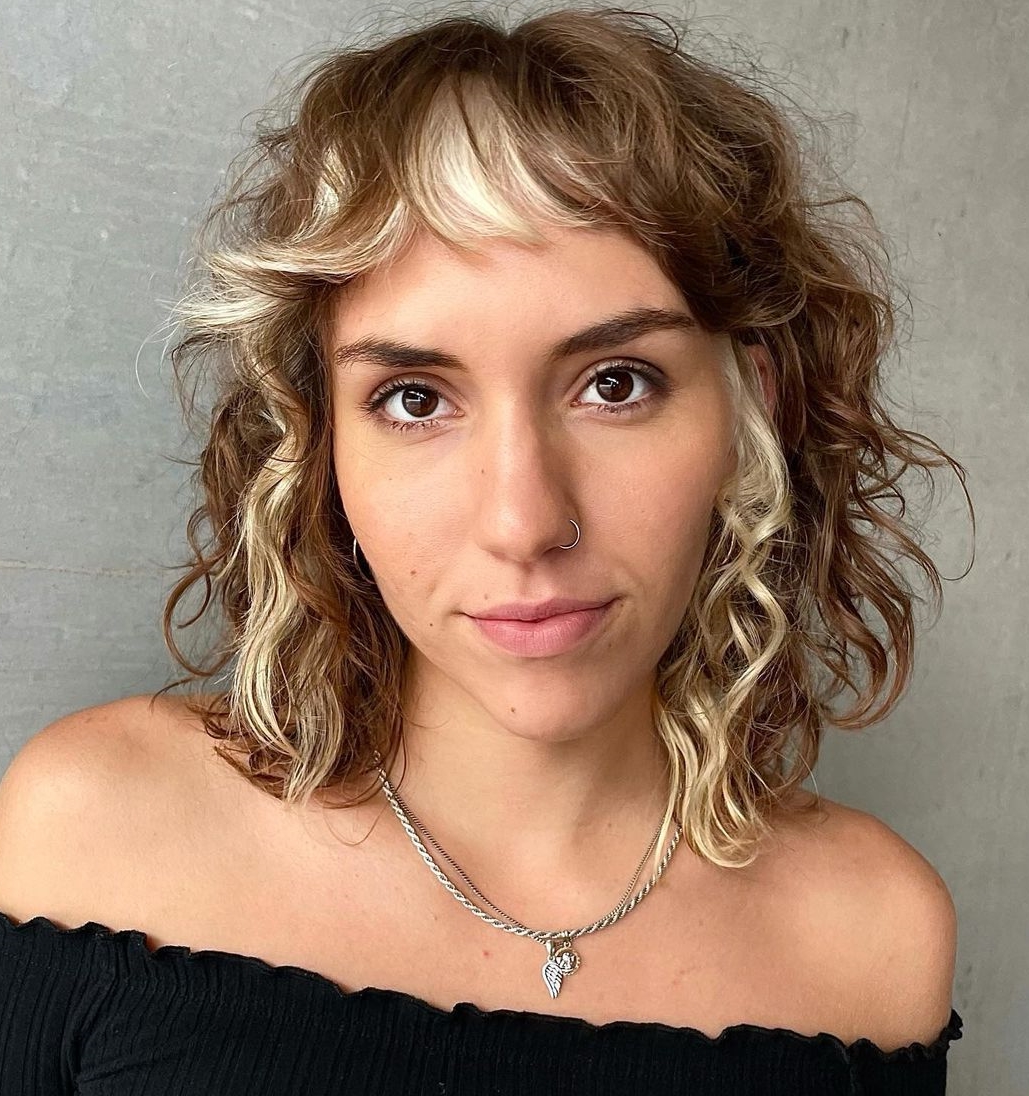 via @charmayne_mastercolourist
Blue Money Piece Highlights
The beauty of any age cannot resist bright hair highlights. One of the popular colors for 2022-2023 is blue. If you want to feel like a little mermaid, the dream is easy to come true!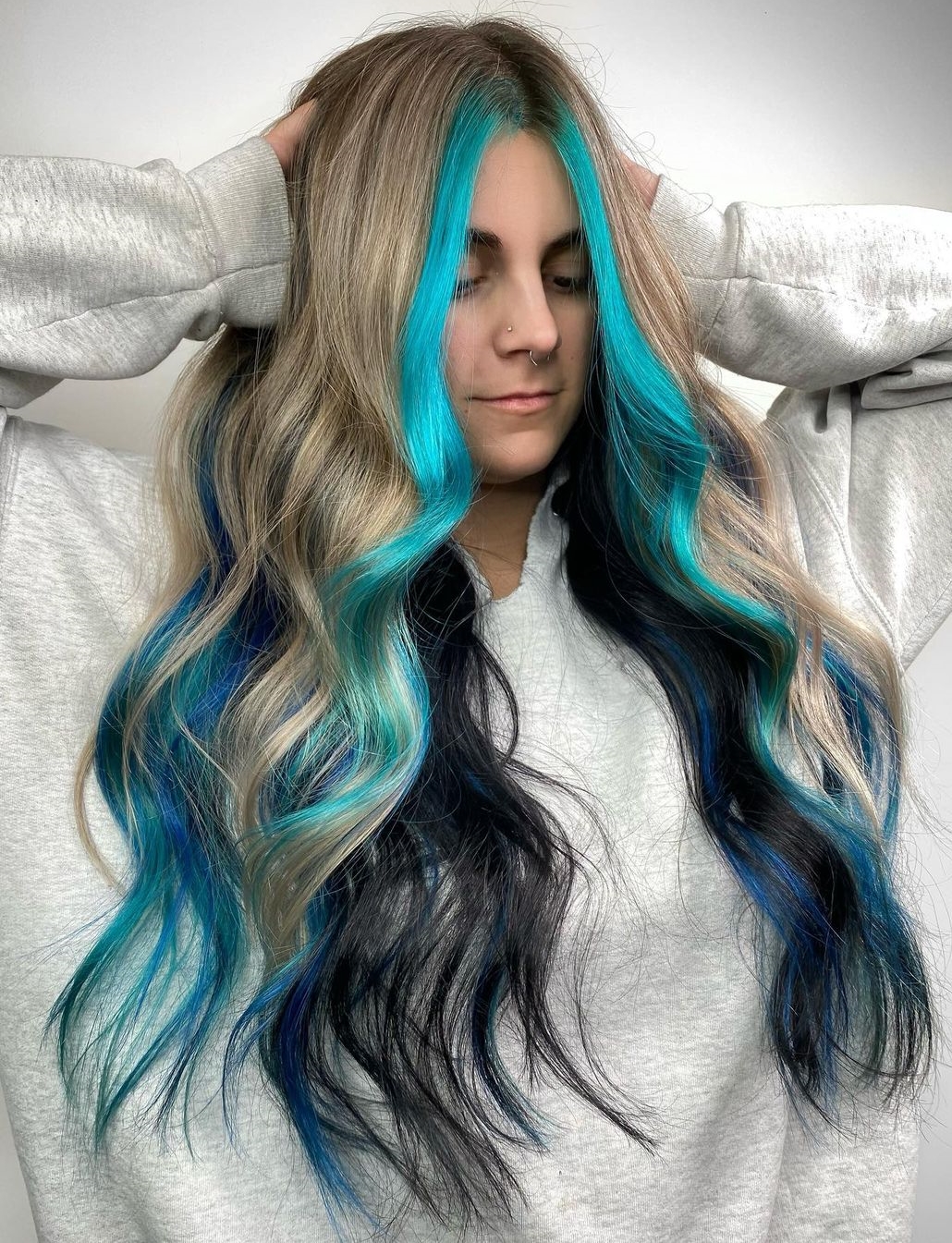 via @vividlyliv
Short and long hair with bluish strands gives the owner a truly mysterious look. It should be noted that few are ready for such experiments. More common is black hair color with a blue money piece.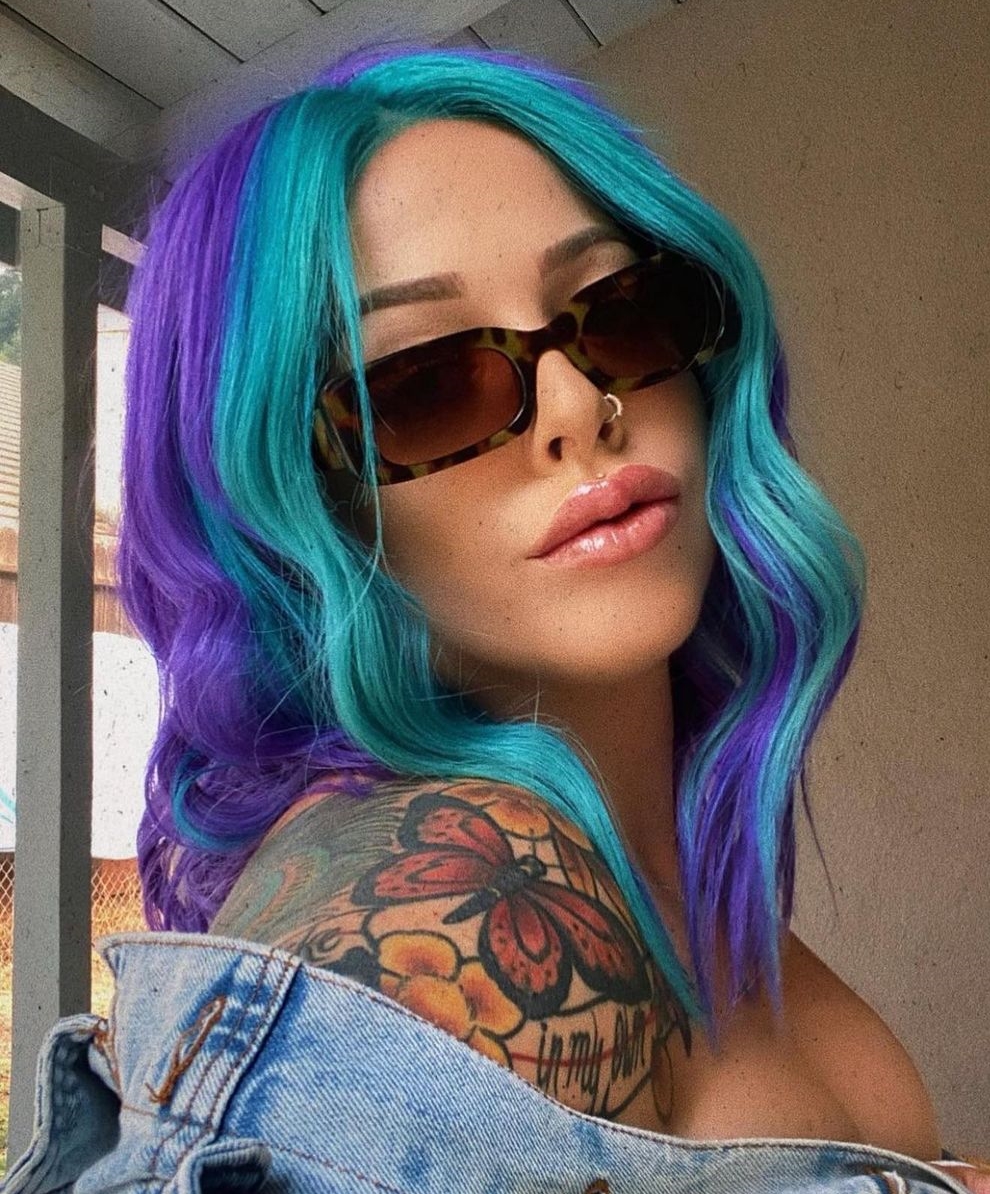 via @kimberlytayhair
Copper Money Piece Hair
The magic of red curls conquers many girls and women. But bright beauties are also not averse to experimenting with their appearance. One option is copper hair with blonde money piece highlights.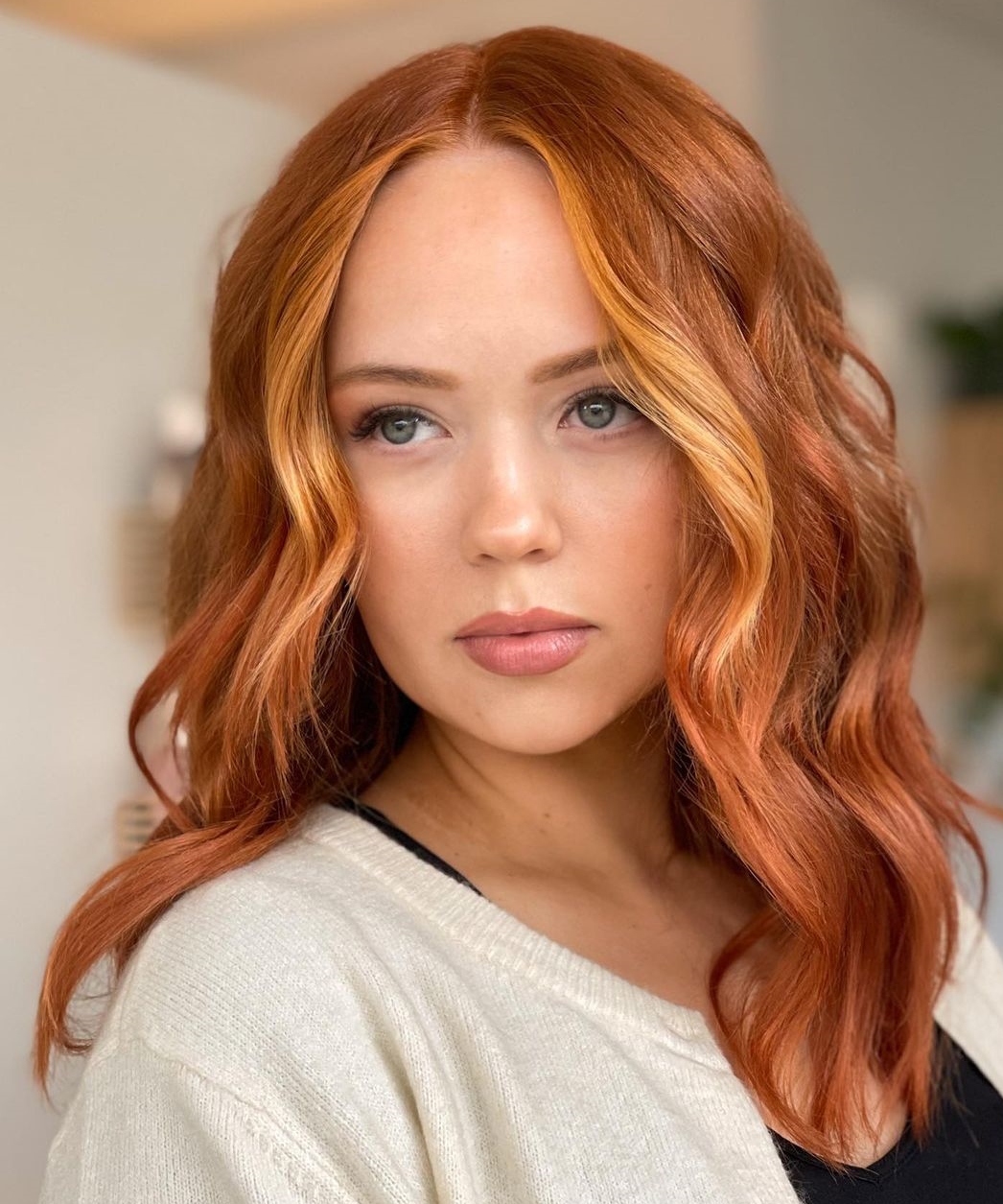 via @ninavaloa
A luxurious golden shade combined with light front strands is a trend among redheads. No less popular is the money piece on light brown hair. Brown-haired women can successfully update their hairstyle using wheat and honey shades for coloring.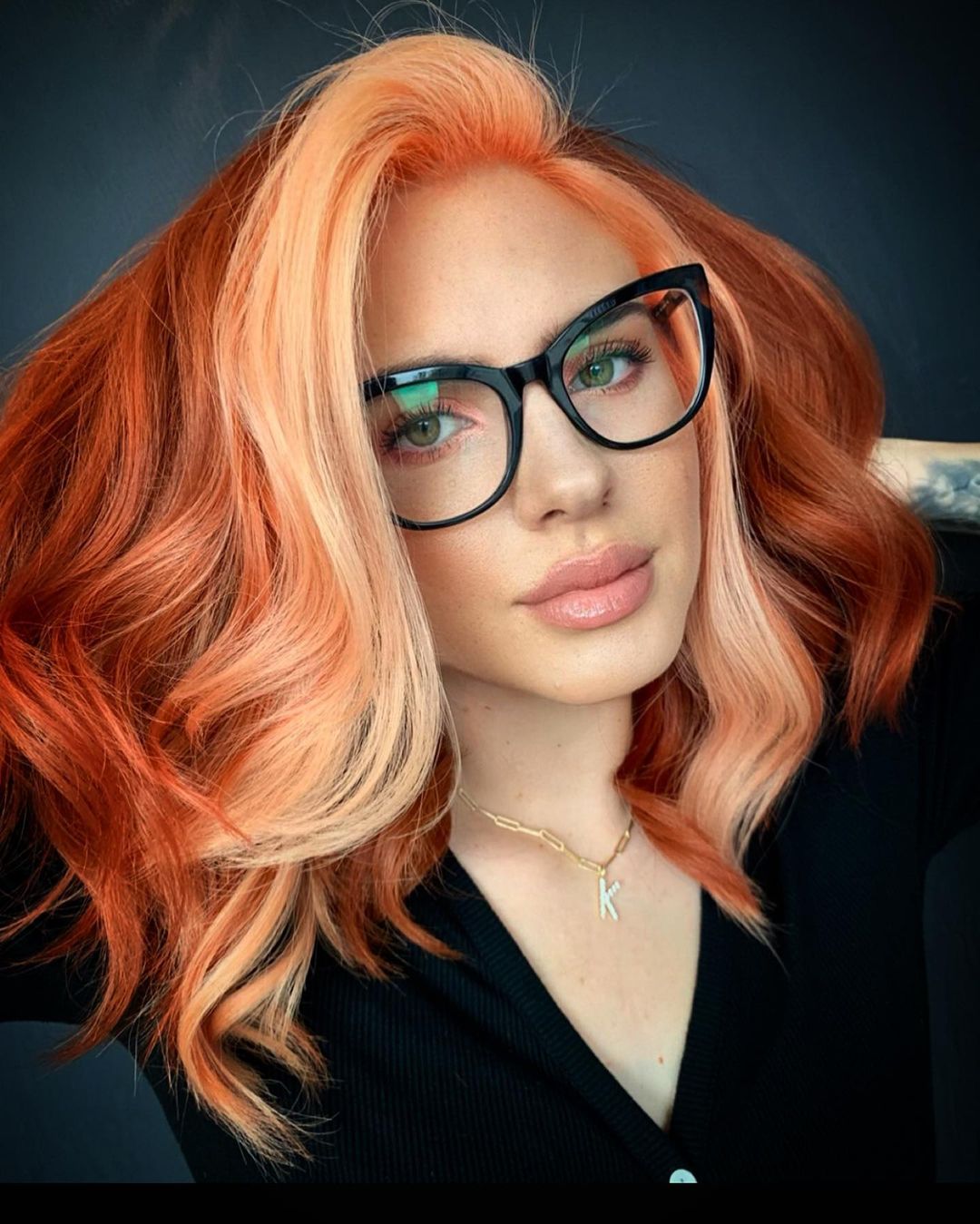 Read more: Daniel craig tattoos
via @gerilynghaisarzadeh
Silver Money Piece Hair
Do you want to get a natural-looking effect from staining? Choose a silver blonde hair color! Such face-framing highlights will look especially harmonious on those with a cold color type.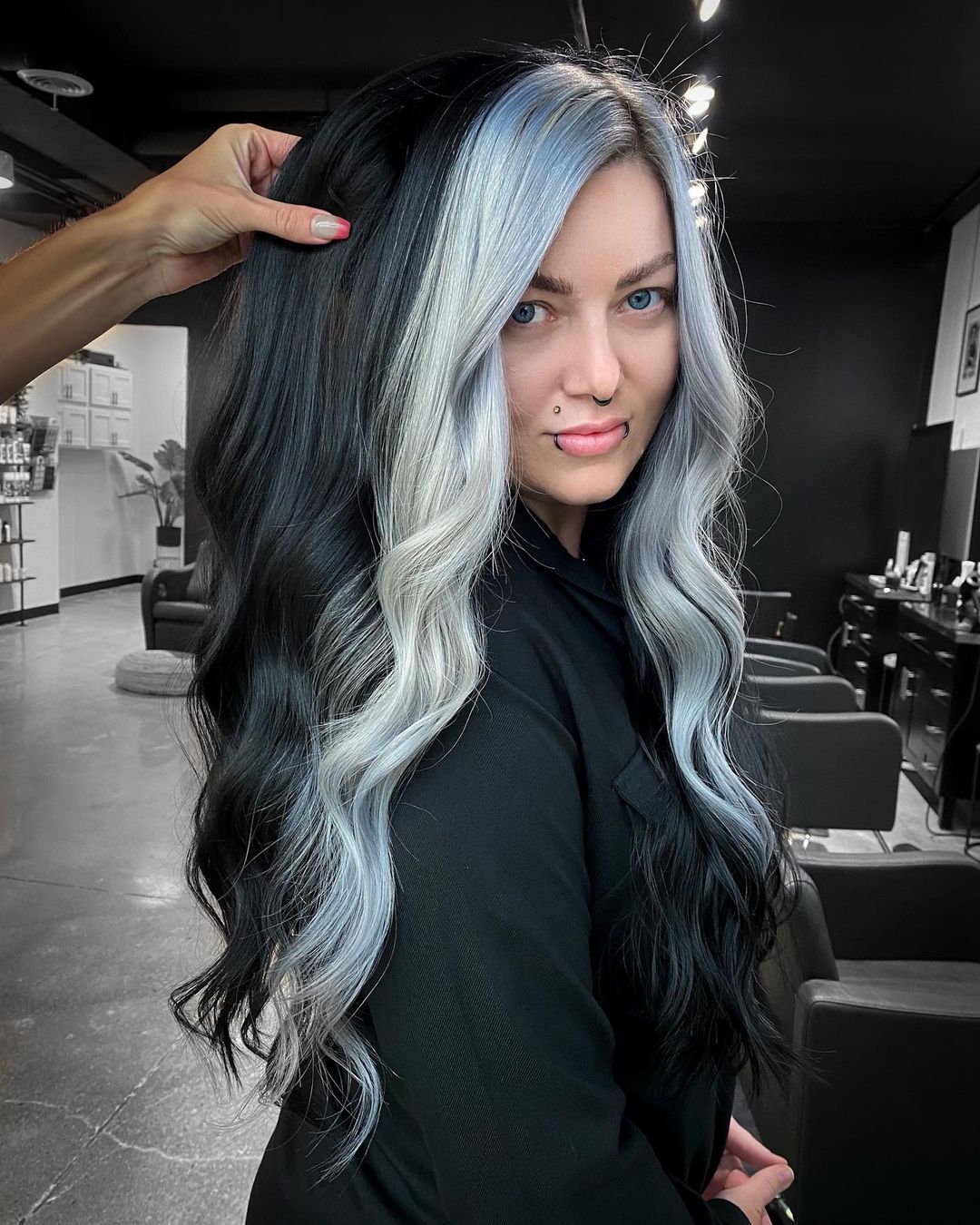 via @aaashleee
Silver curls are quite versatile. They can be used by both blondes and brunettes. The intensity of the color depends on your wishes.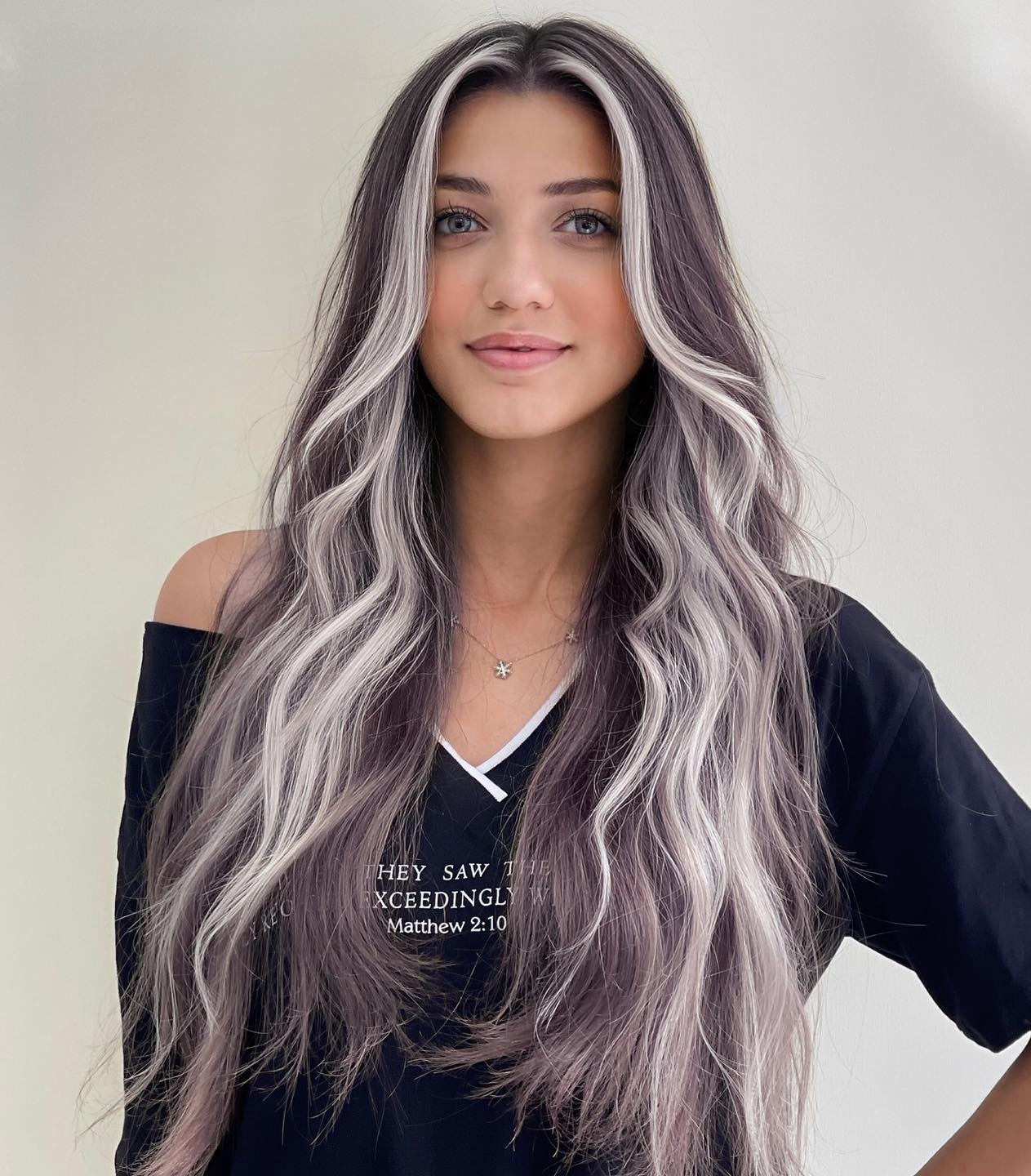 via @ayhanonluel
Caramel Money Piece Hair
Caramel highlights on brown hair look gentle and natural. Warm shades are perfect for girls of the summer color type.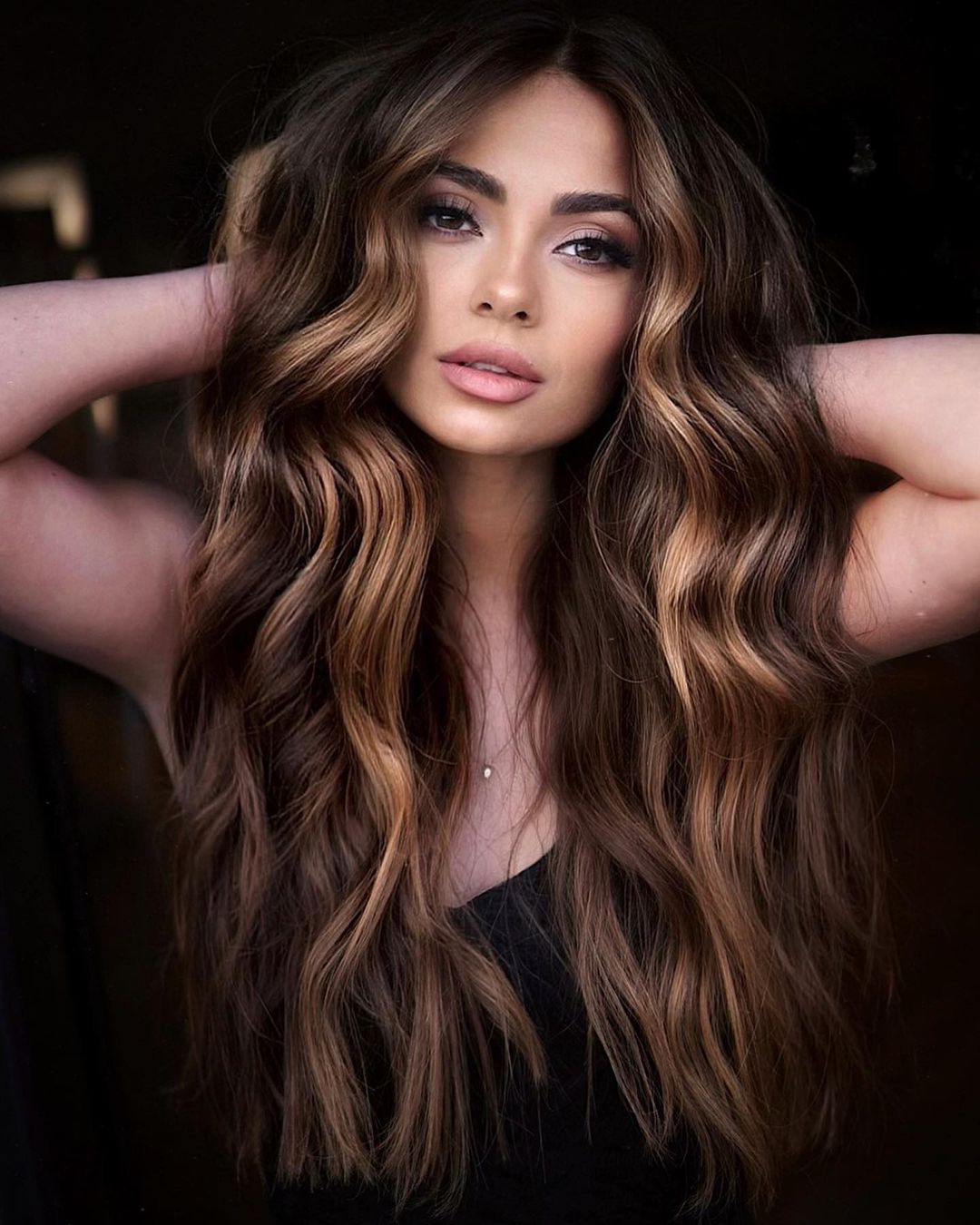 via @hairbymickk
Long hair with face-framing highlights in caramel shades is chosen by many celebrities and bloggers. How to get the perfect result? Trust your curls only to a professional hair colorist.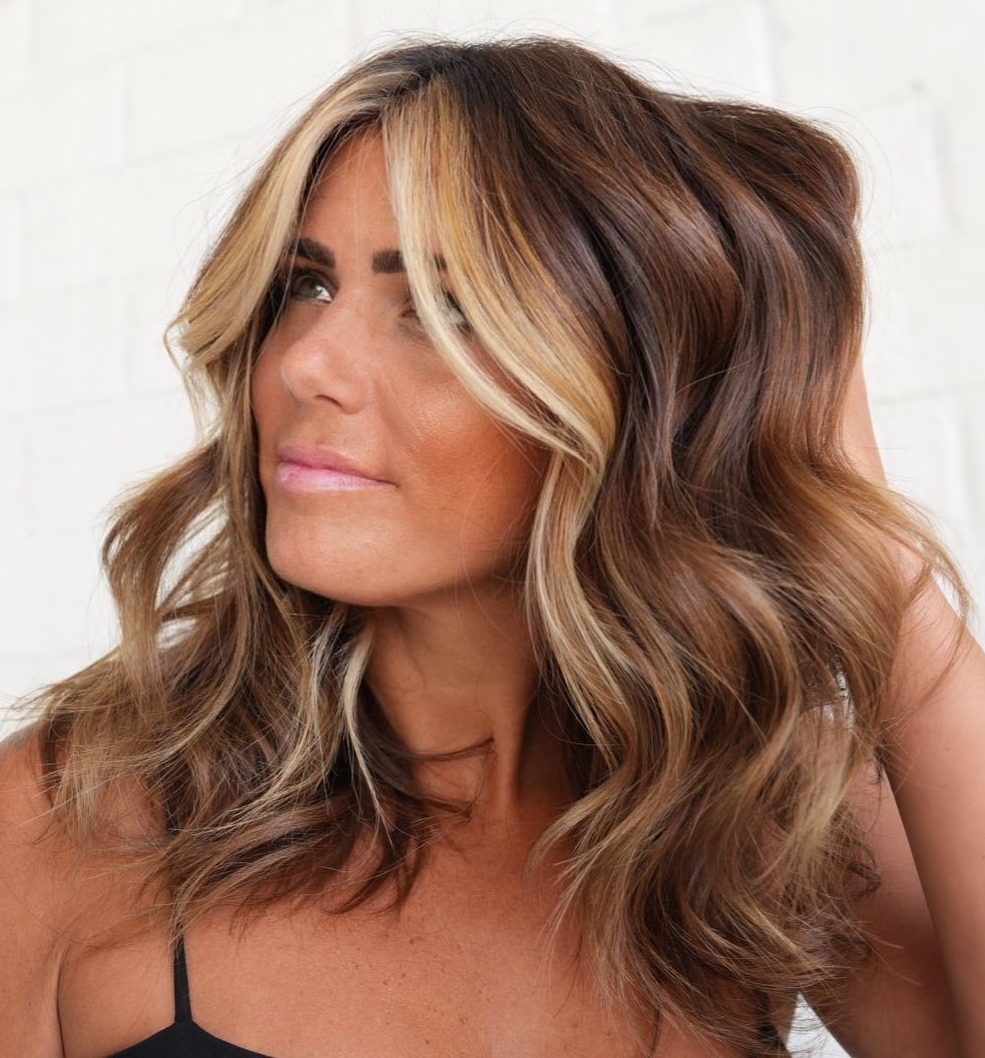 via @lisa_createdtocreate
Money Piece on Medium Length Hair
Dark, colored, and blonde money pieces are the coloring suitable for hair of any length. Whether your hair is short or long, colorists can transform you.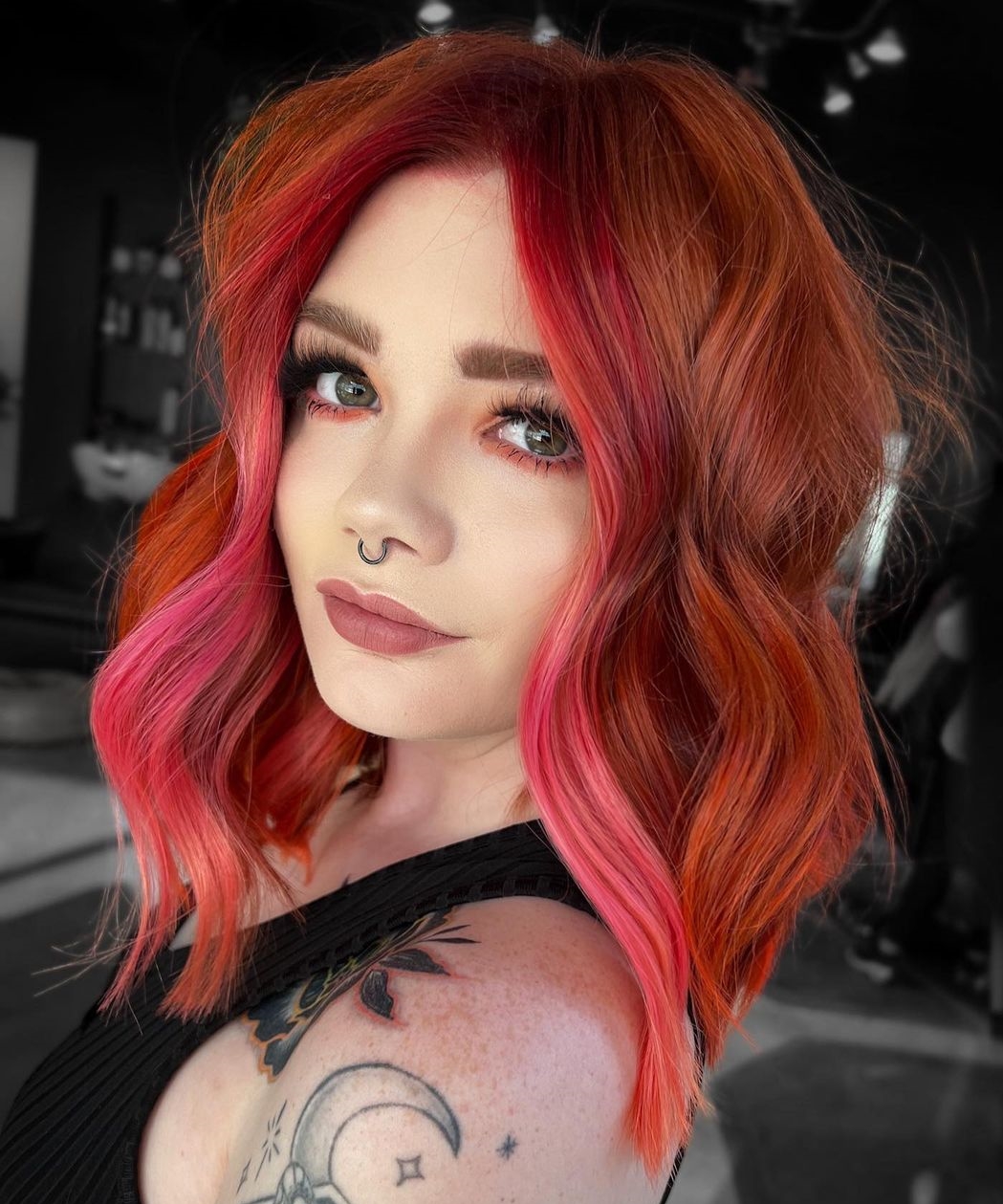 via @aaashleee
At medium length, the money piece trend looks natural and attractive. That is why blondes, redheads, and owners of dark brown or black hair choose it.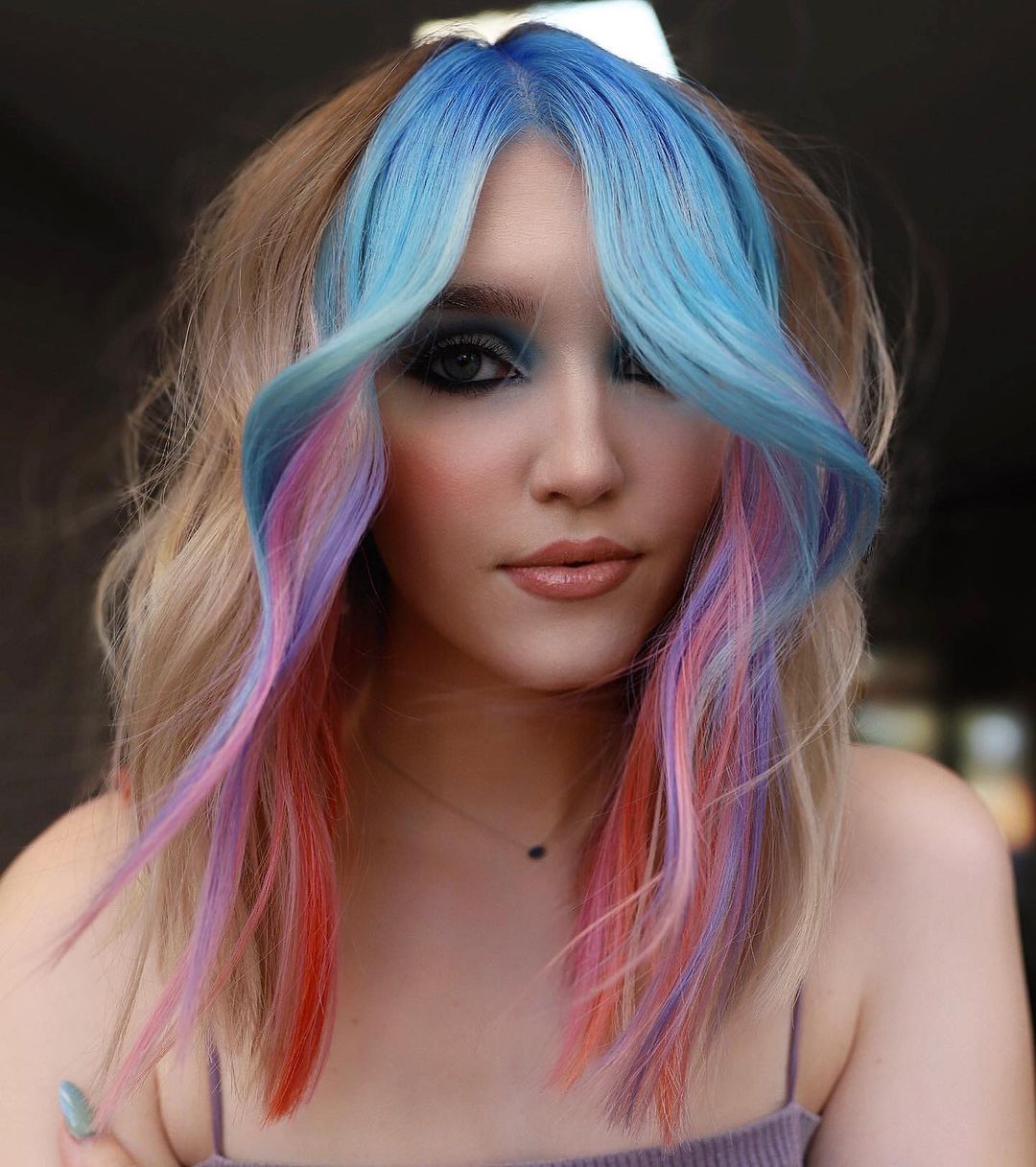 via @catcoiffeur
Side Swept Hair with Money Piece
How can you style your hair with a blonde money piece? As you wish!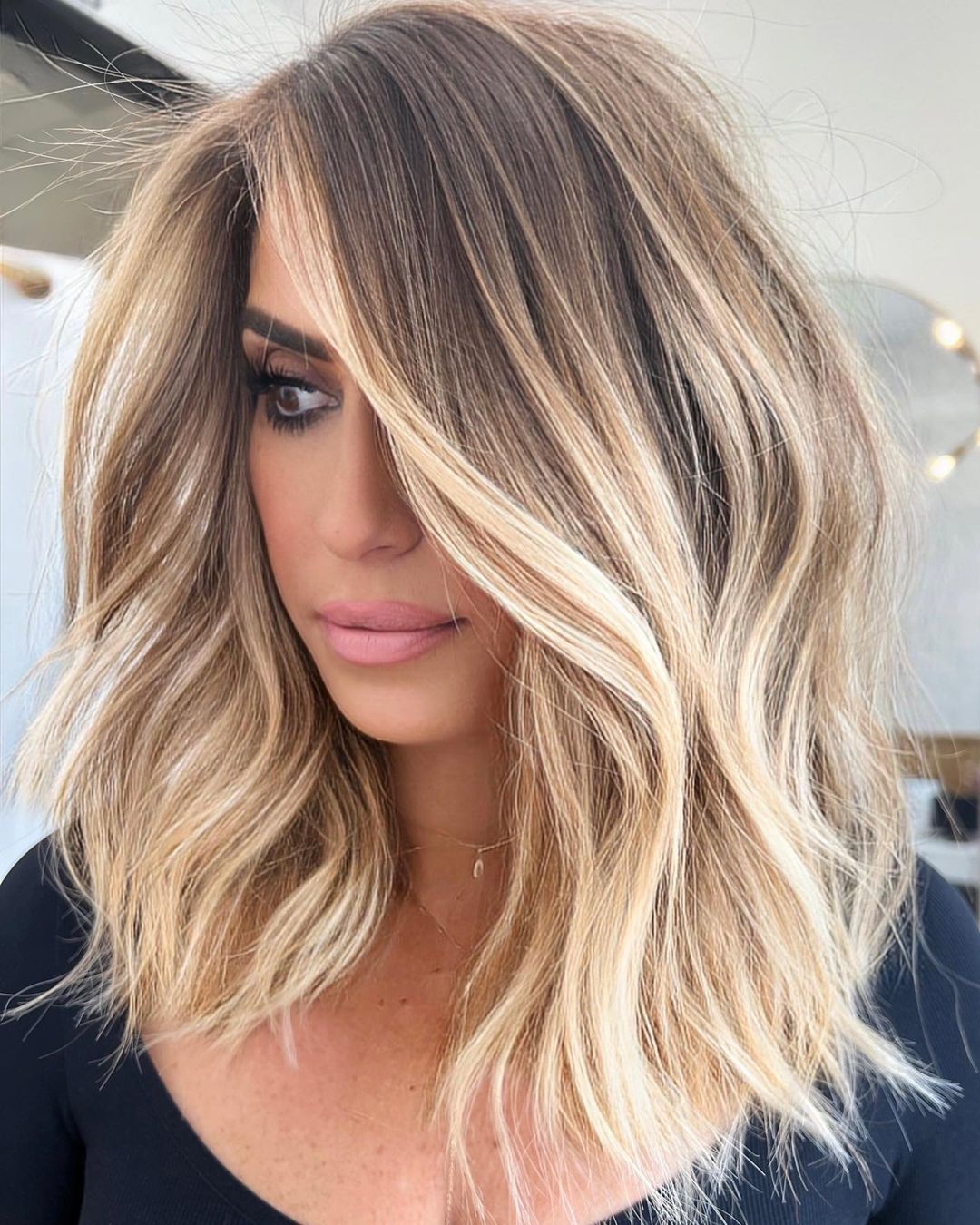 via @_hairbypaula
You can keep the center parting or style long brown hair to the side. Fans of intriguing original images will 100% like this hairstyle. You can do the same with a short bob with money piece highlights.
via @marcellelaurenne
Money Piece Highlights on One Side
The popular money piece hair color technique can be used symmetrically or on one side only. The original blonde highlights on long dark hair will definitely not go unnoticed.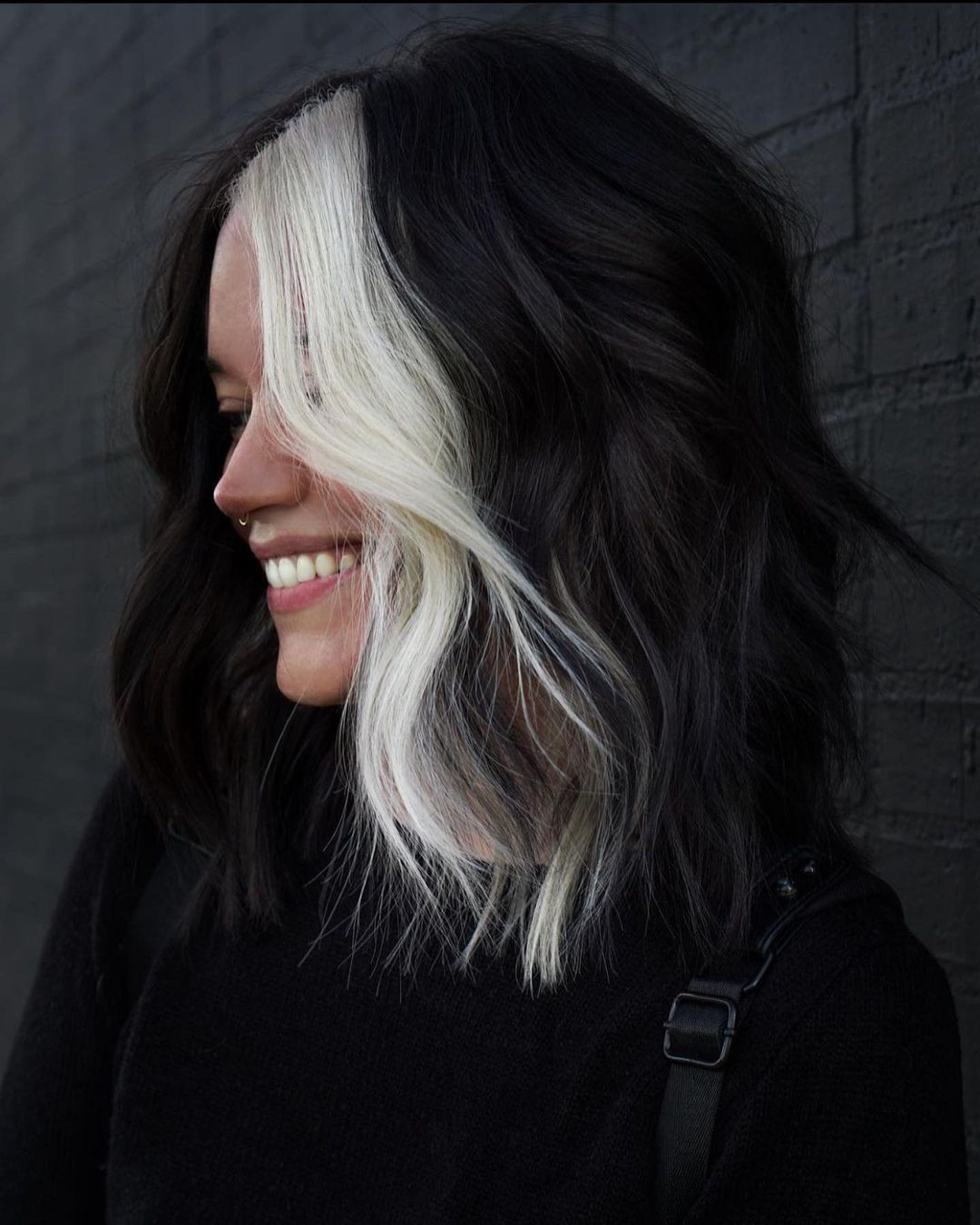 via @fullmetaljaxon
One-sided staining is also versatile. This kind of money piece on long hair looks no worse than on short haircuts.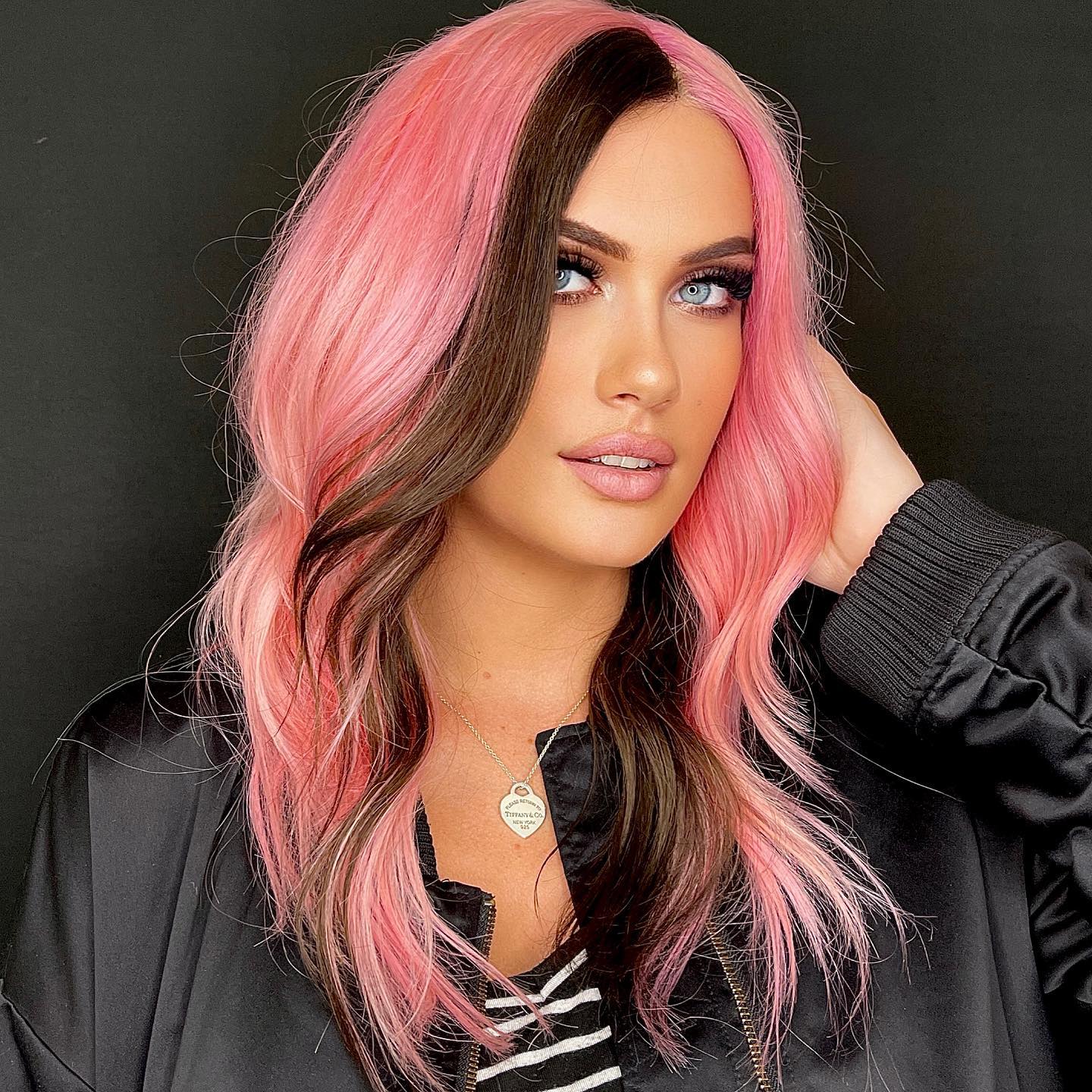 via @john.n1115
Green Money Piece Hair
Do you want to feel like a fairytale heroine? Green hair highlights will help you with this!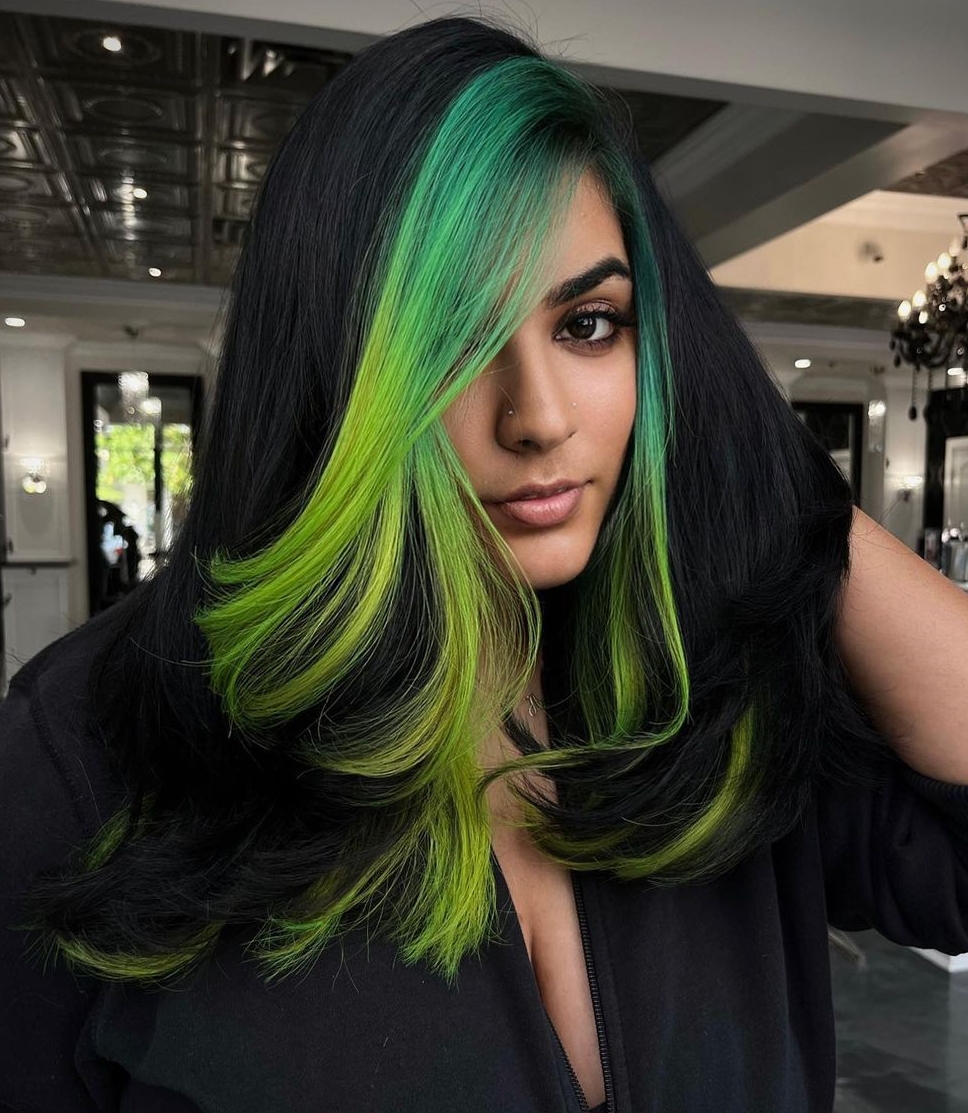 via @artistic.aestheticss
Light green, emerald, and swampy chunky money pieces are not suitable for every girl. Most often, such contrasting stains are chosen by brunette hair owners. Blondes can also use green as an accent. To choose the right shade correctly, it is better to consult a professional and try on a few artificial strands.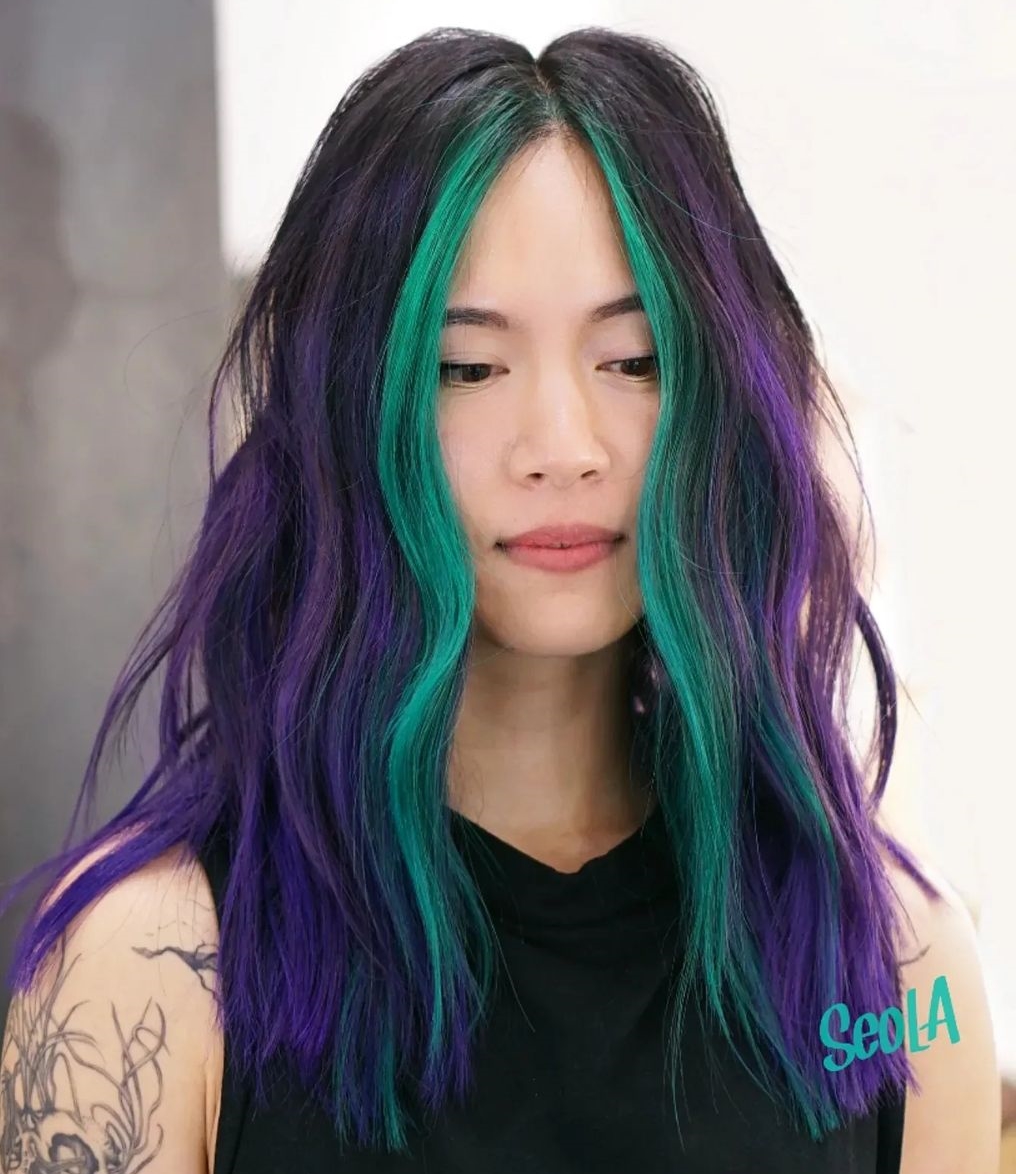 via @seolahair
Blonde Hair with Dark Money Piece Highlights
How do blondes emphasize their individuality? They opt for blonde hair with highlights in dark shades.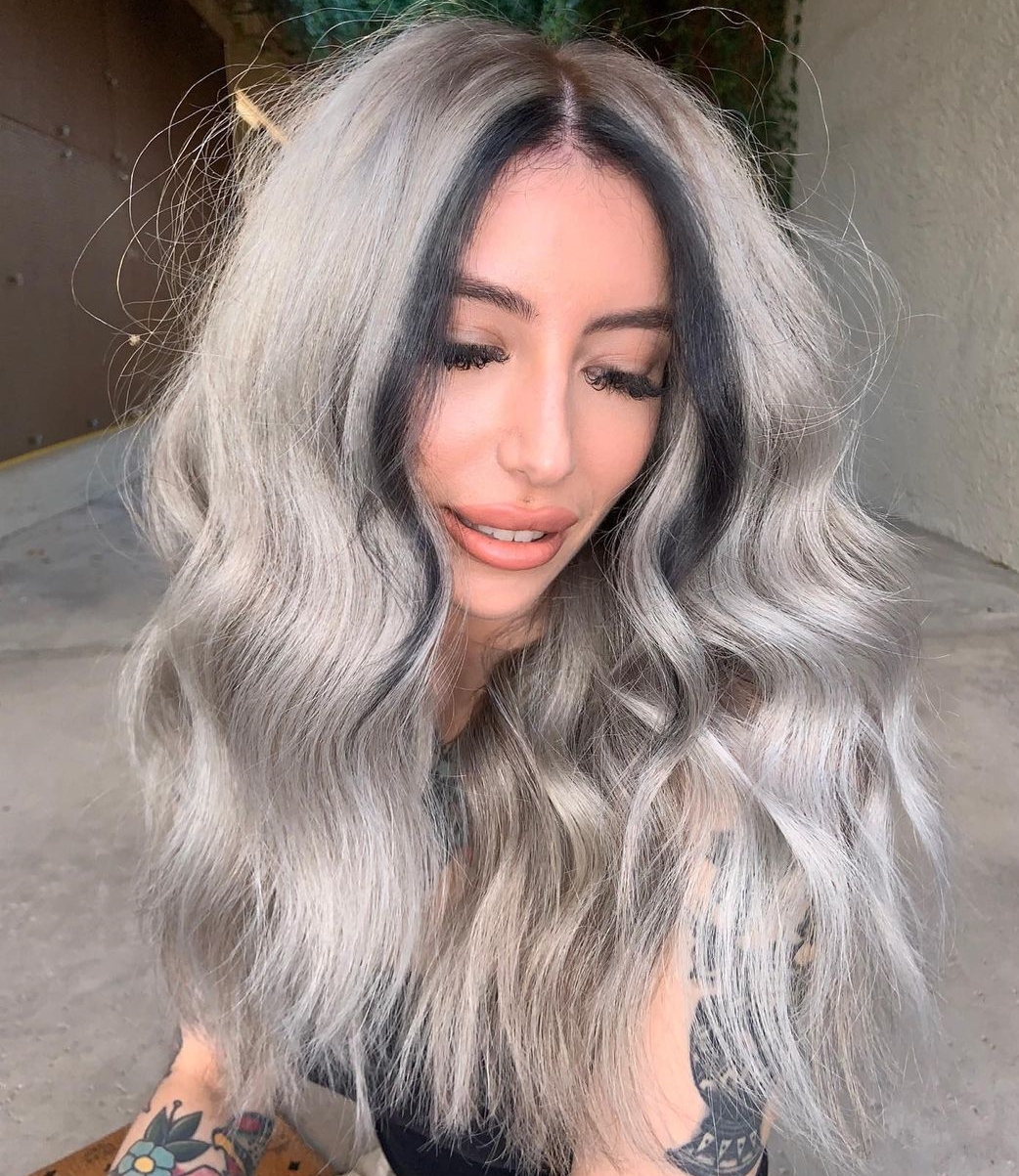 via @theblondecurse
Not everyone is ready for such experiments. When choosing dark colors for long or short hair with money piece, be sure to consider the color type and skin tone. In most cases, warm shades on blonde hair are a win-win solution.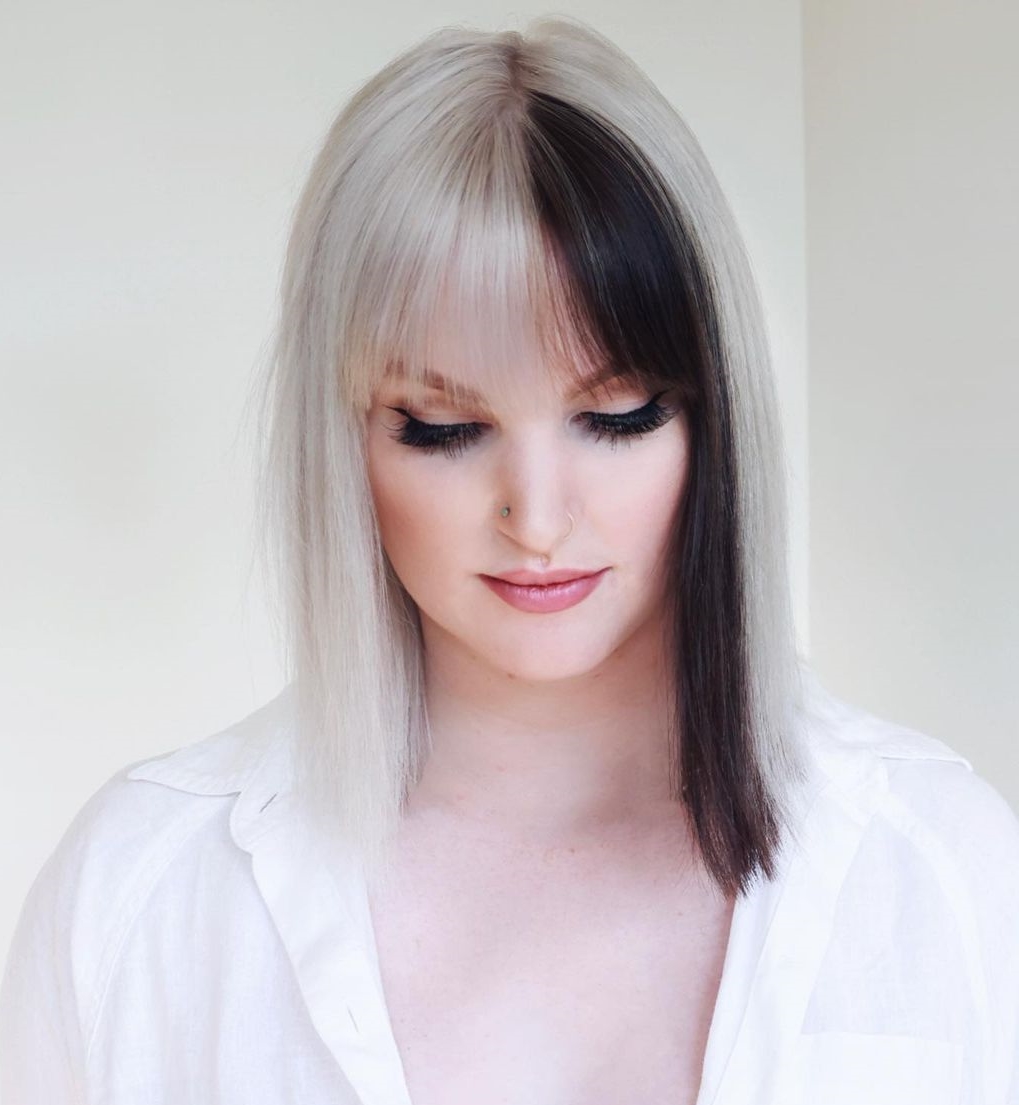 Read more: Need to specify how to reconcile divergent branches
via @superbasic.hair
Rainbow Money Piece Hair
Do you like fairy tales? Are you ready for the biggest change? Choose rainbow hair!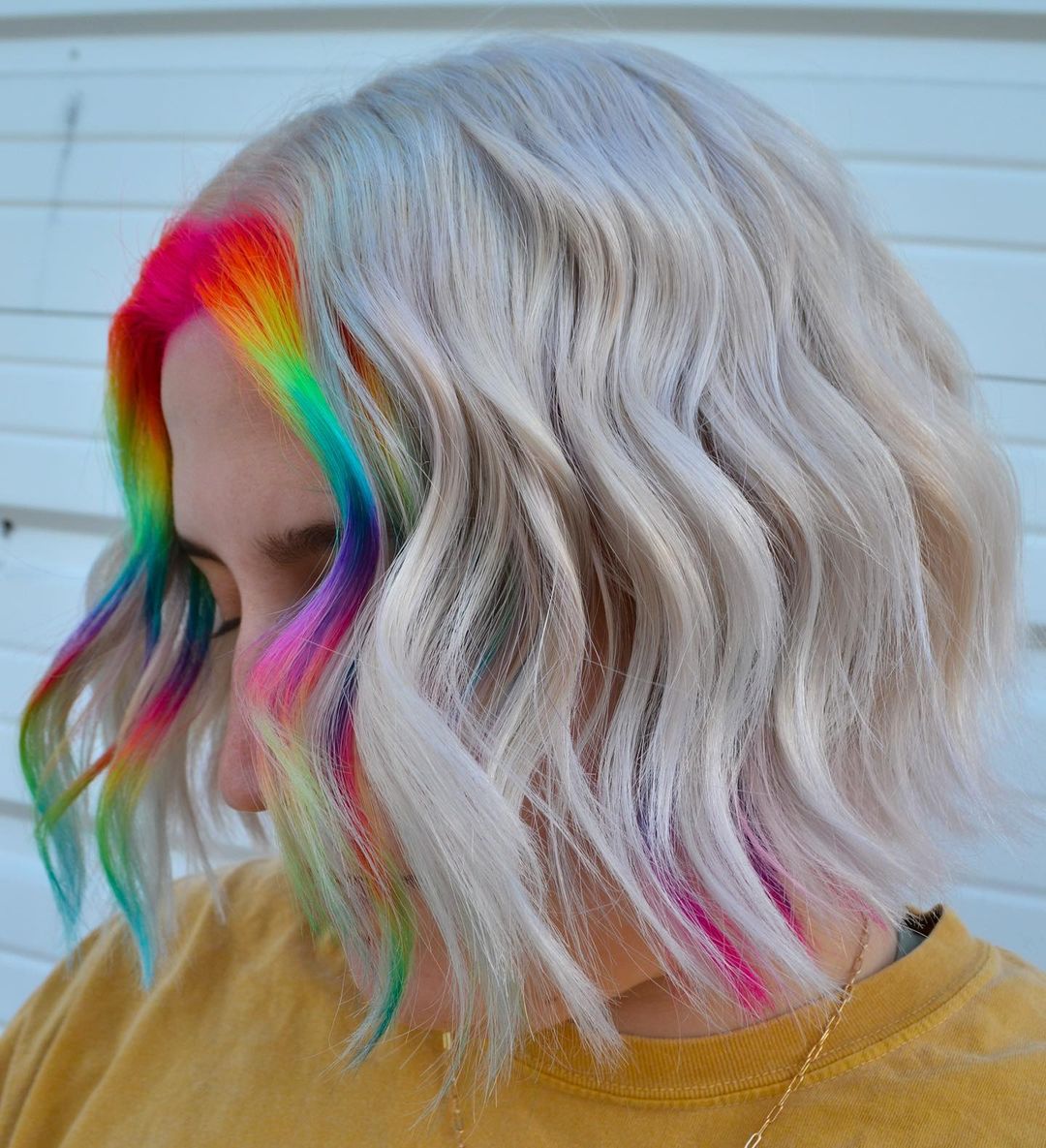 via @jacobhair
Many girls ask their mothers for colorful strands. Like multiple hair shades and adult beauties. The number of colored curls is determined only by you. It can be thin strands for long or short hair or wide areas for half the head.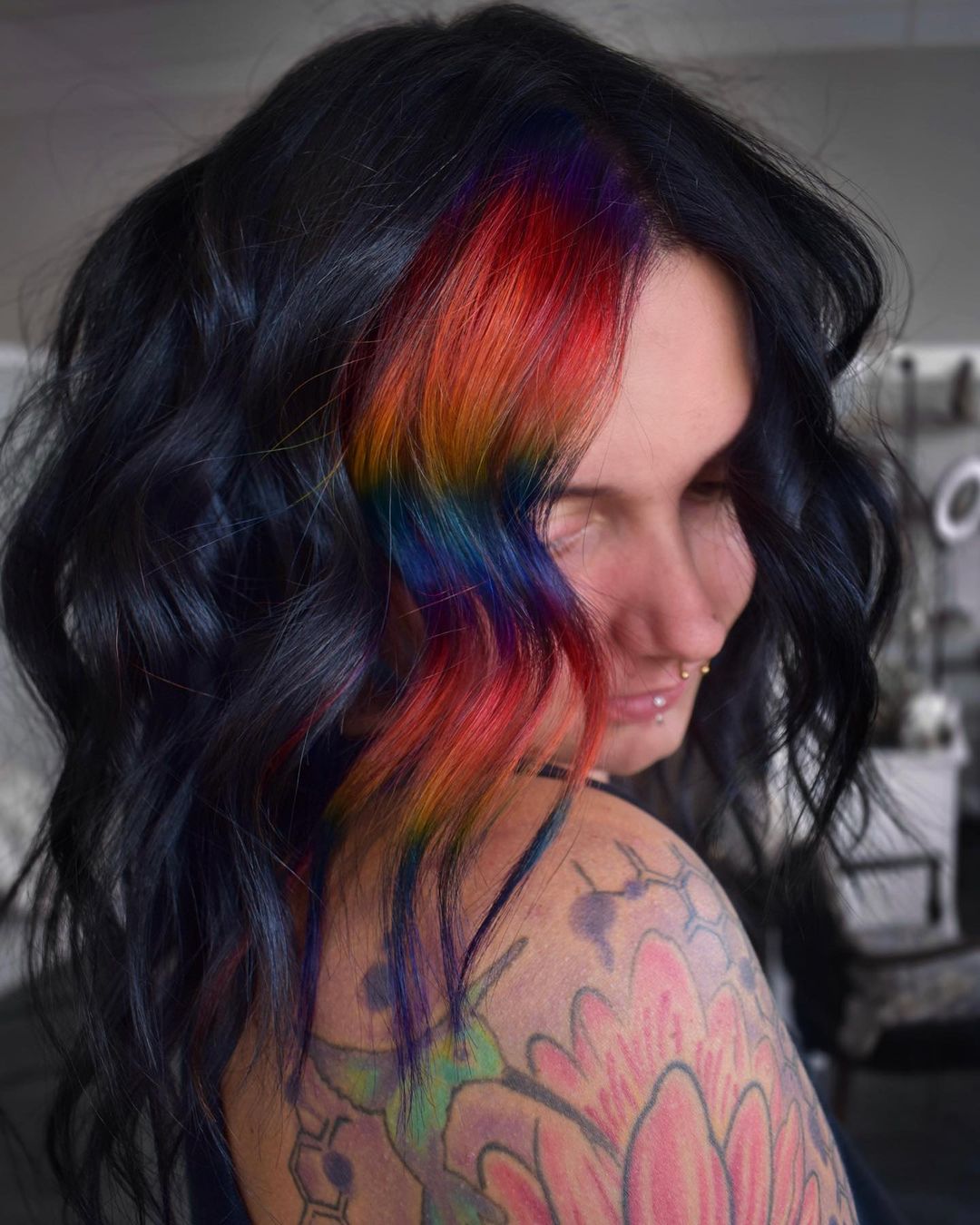 via @lmariehairr
Yellow Money Piece
Whether you have a straight or layered haircut, you can always add yellow highlights! Unlike green and blue colors, sunny curls are great for both brunettes and blondes. Bright color pop on dark hair is another reason for compliments!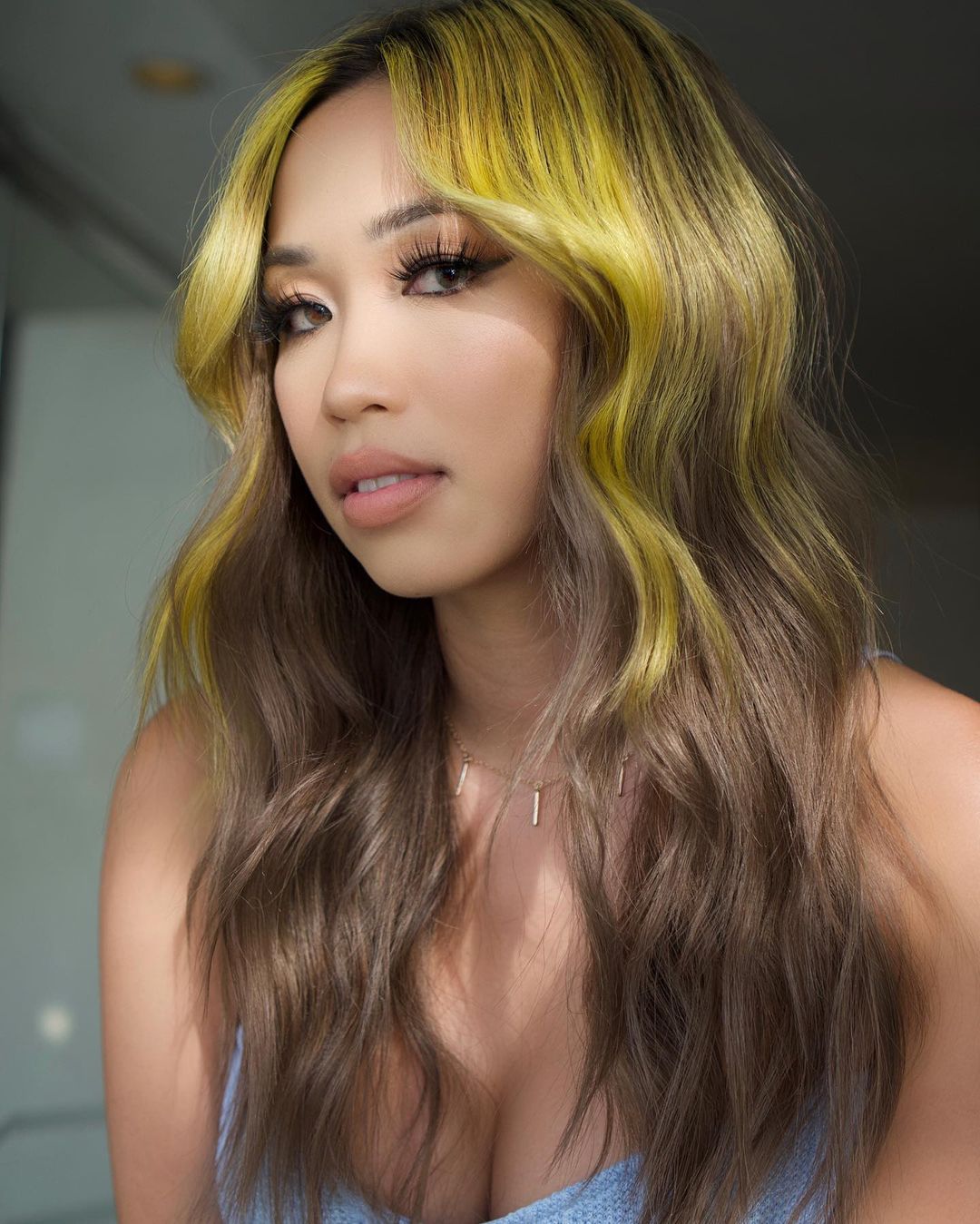 via @hairbykysa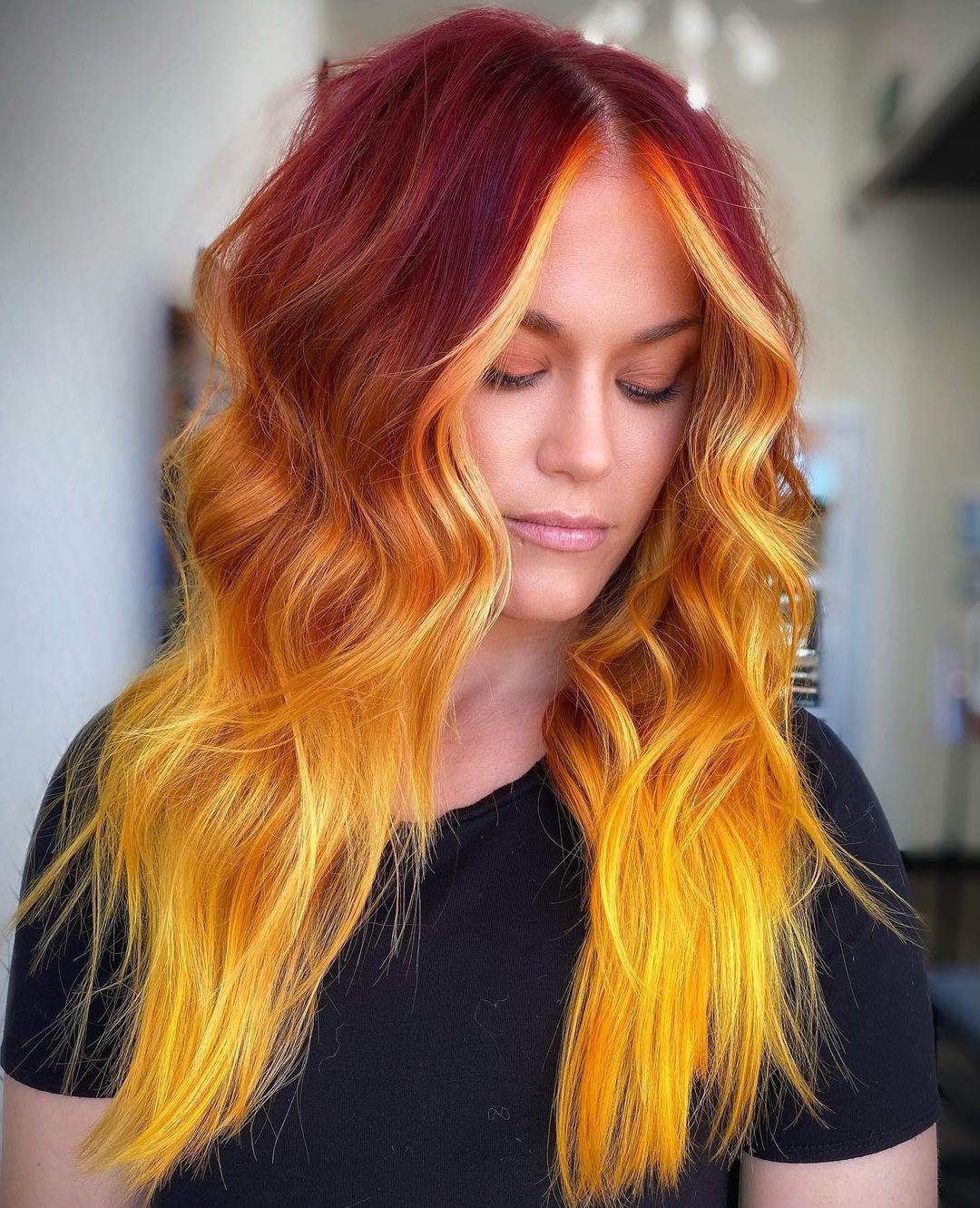 via @divinity_beautyy
Burgundy Money Piece Hair Ideas
Natural brunette hair will effectively shade dark red highlights. Deep and rich wine and burgundy tones will make facial features and eyes more expressive. Thanks to the skill of professional colorists, these shades are suitable for any hair texture.
via @alyssamikaylahair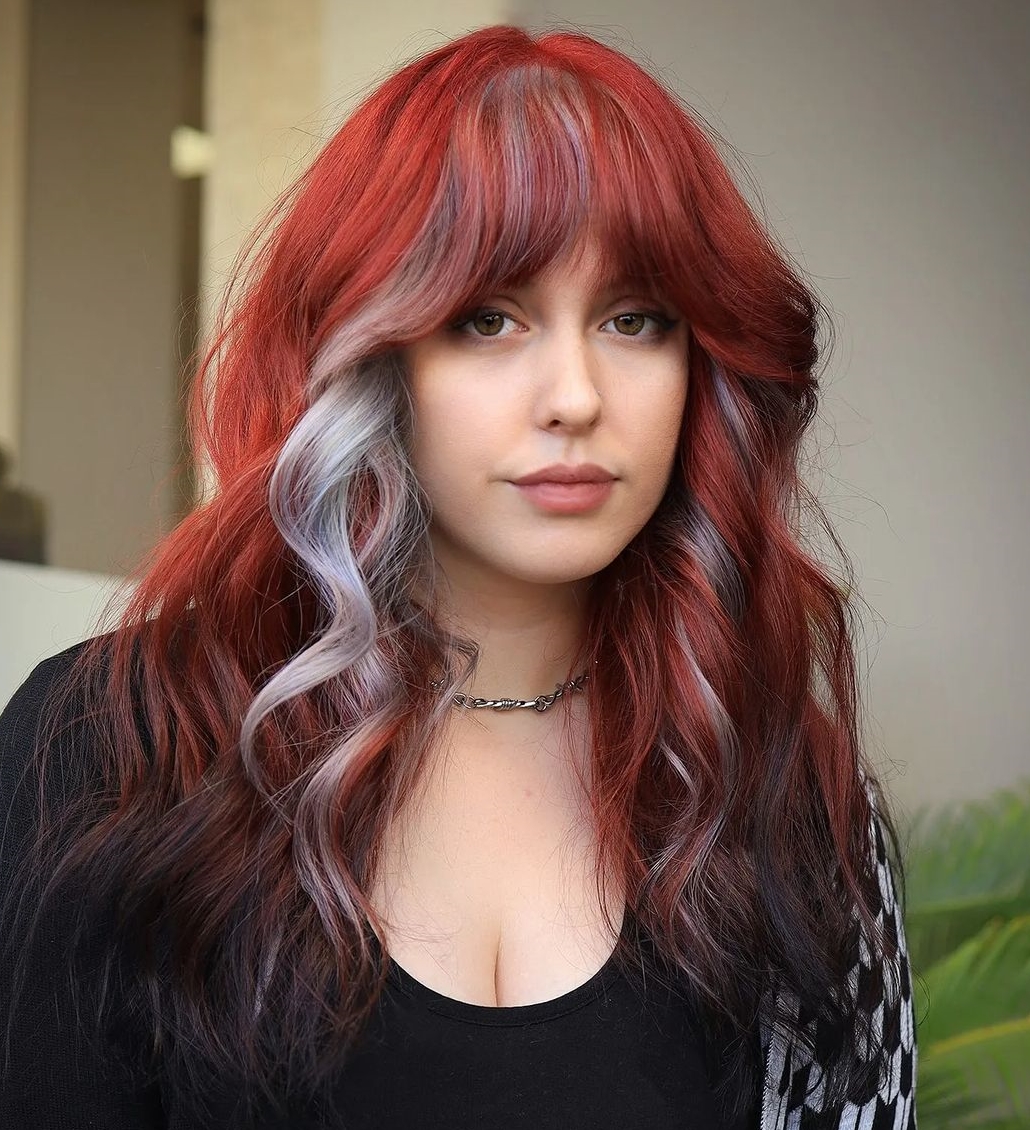 via @mo_raven
Ash Blonde Money Piece
Blondes with winter color types can be advised to dye ash blonde hair color. It will refresh the image of the snow queens, focusing on the eyes and eyebrows.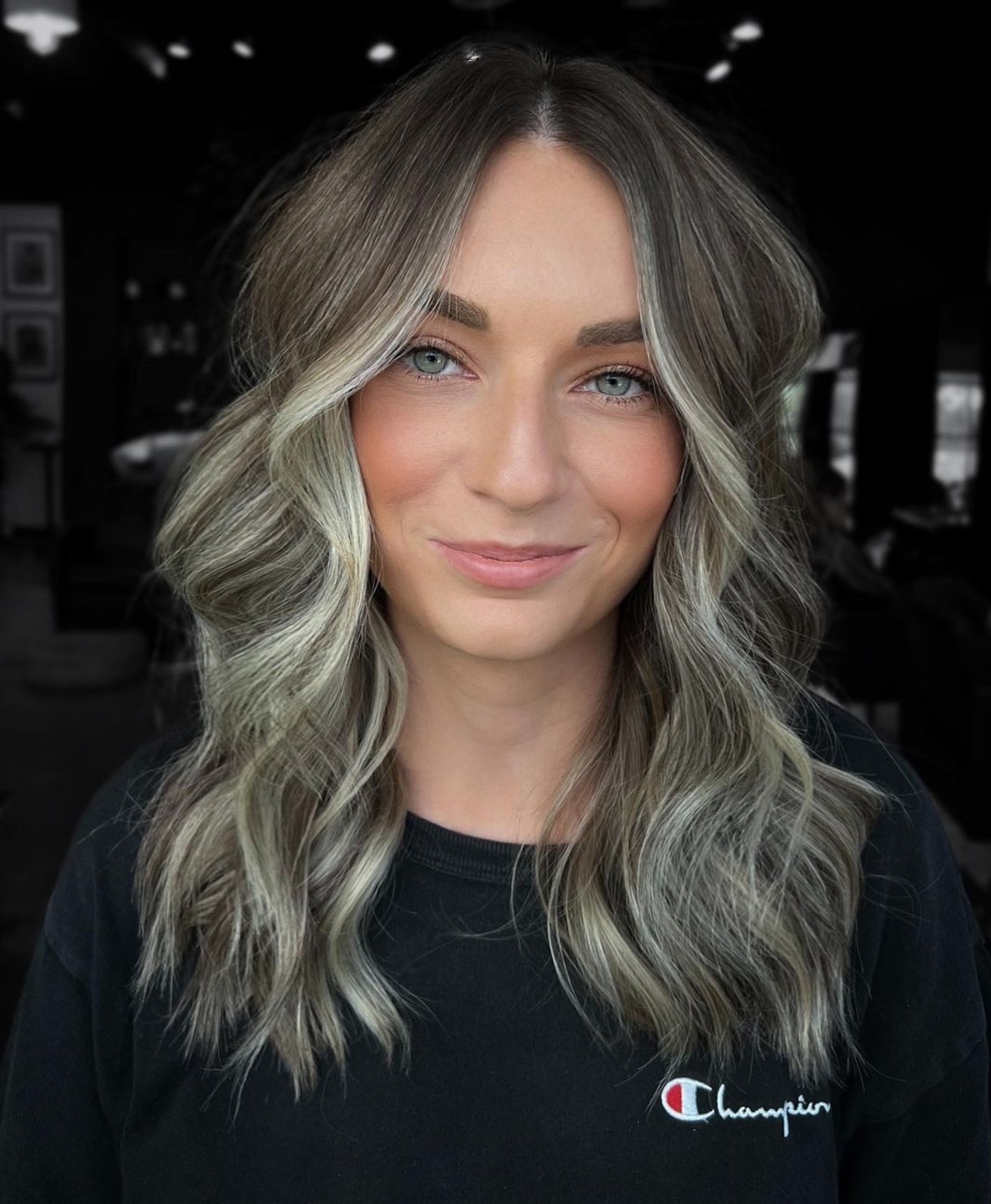 via @aaashleee
Also, the blonde money piece is suitable for lovers of ashy and dark curls. The laying may be different. In such colors, the money piece on straight hair and short haircuts looks equally stylish and well-groomed.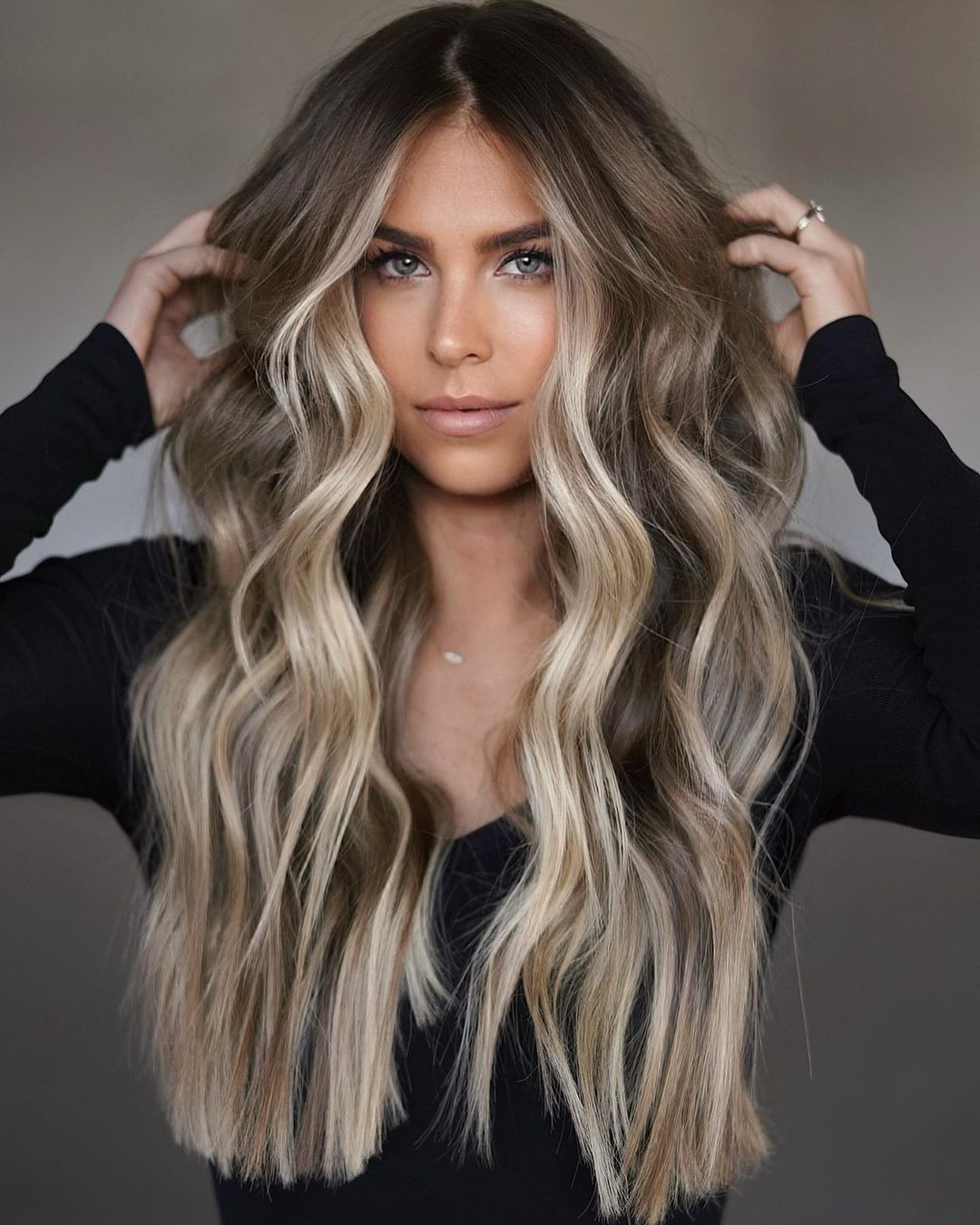 via @hairbymickk
Money Piece on Wolf Cut
One of the most popular hairstyles today is the wolf cut with highlights. A combination of several classic haircuts, it hit the top thanks to Billie Eilish, Taylor Swift, and other celebrities.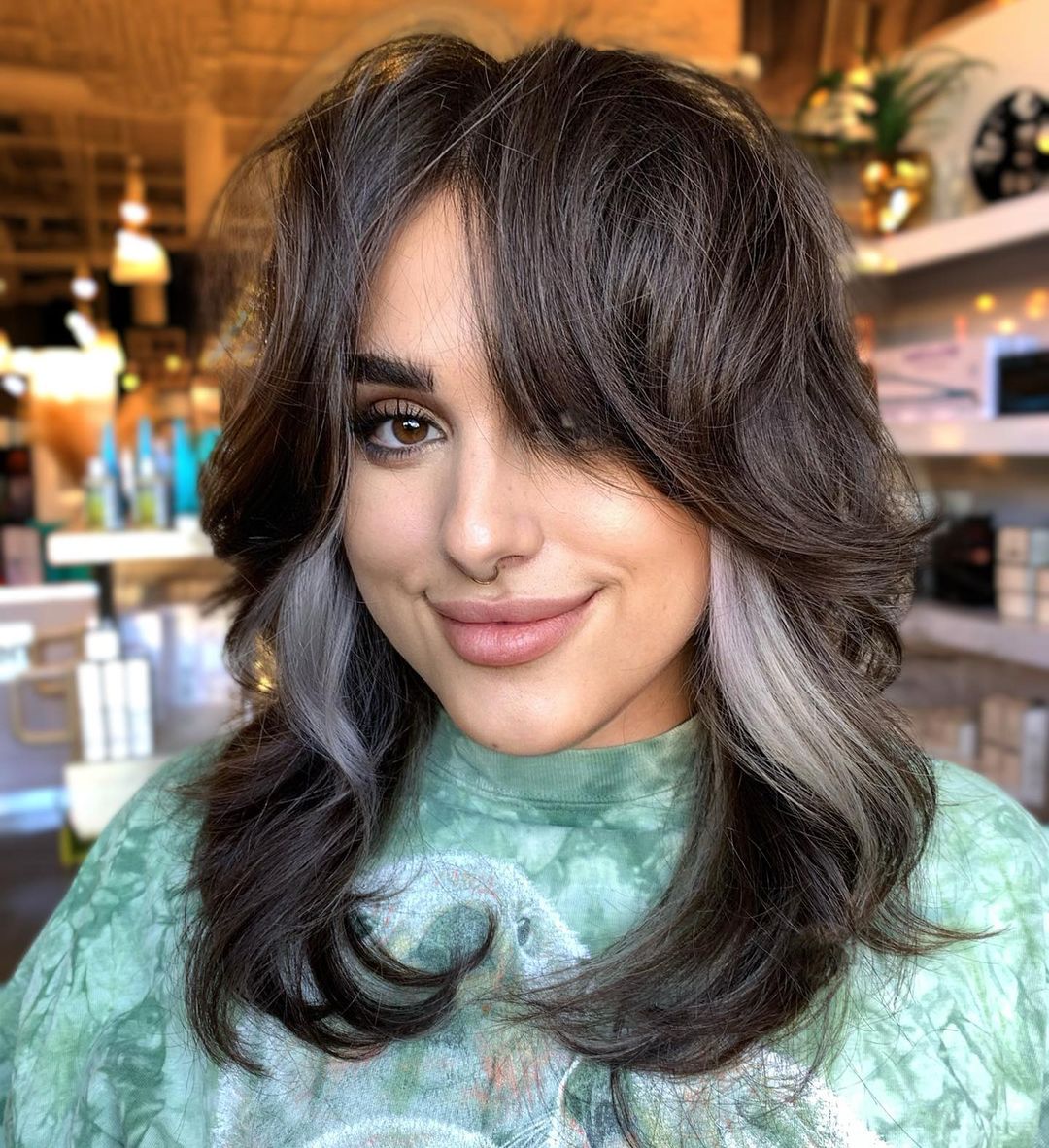 via @msnataliejean
Created on natural hair with money piece, it emphasizes the natural beauty of the girl. For the hairstyle to look perfect, you need to follow the volume. Best done on wavy hair new trend.
via @ajaonyourmane
Ombre With Money Piece
How is the ombre technique different from other strains? It assumes the presence of a clear transition between several colors along the entire length of the hair. As a rule, the shade gradually becomes lighter towards the tips.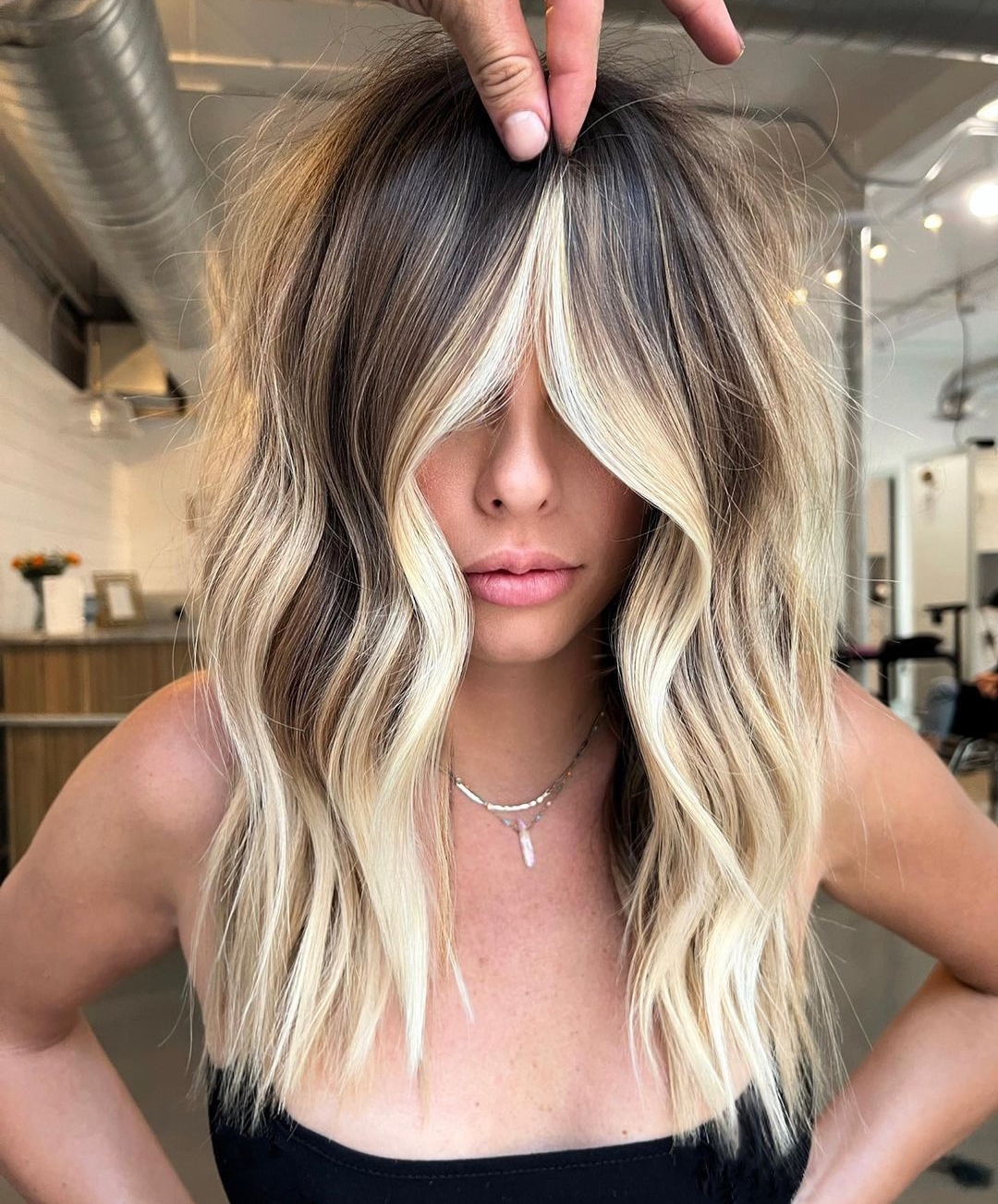 via @linsonhair
How to add a bright accent to a harmonious and versatile coloring? Try highlighting the front strands with a different color! But carefully, under the guidance of a professional, select brighter hair shades. They should be combined with the main tones and skin color.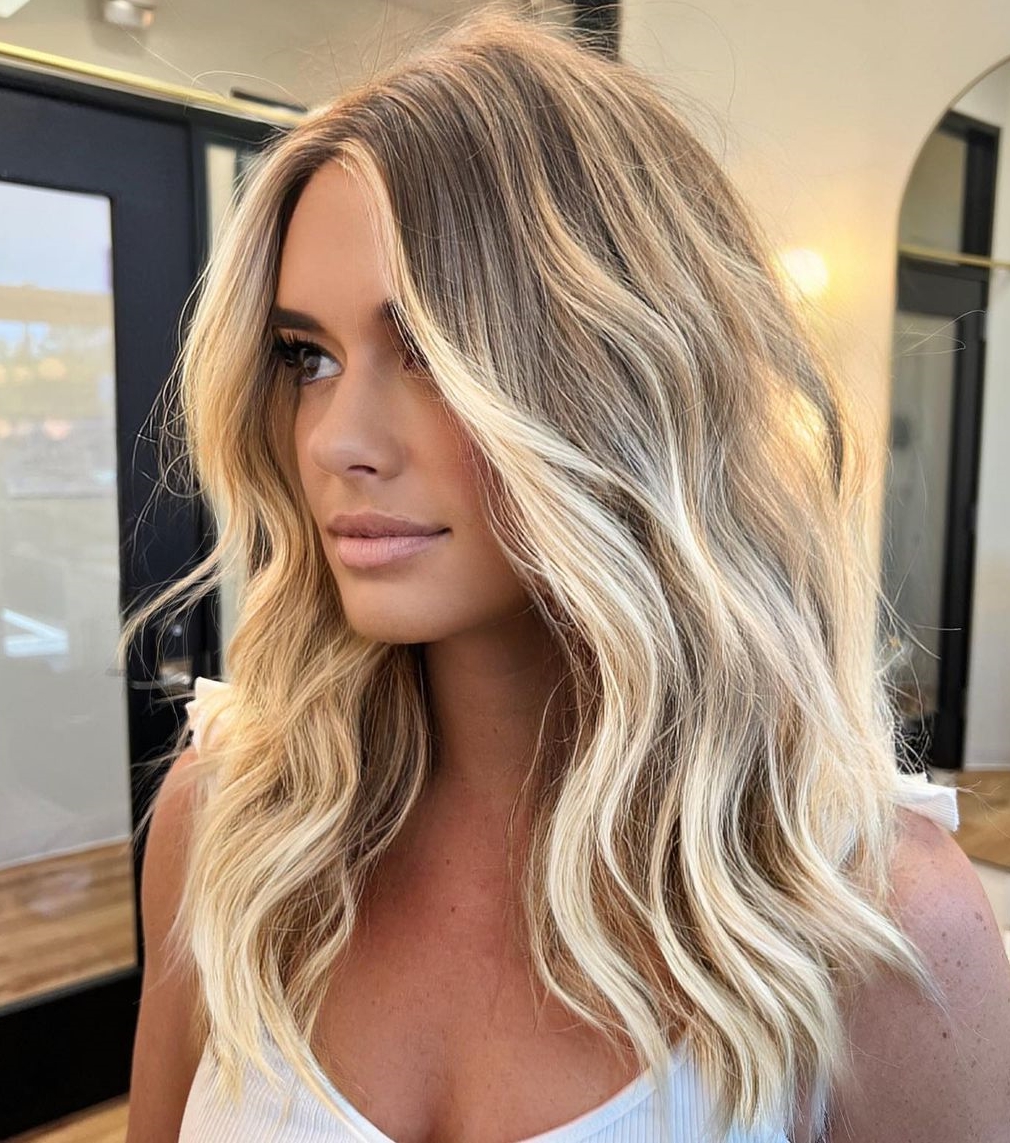 via @_hairbypaula
FAQ
Why is it called a money piece?
Coloring bears this name because of the savings in money, time, and effort to achieve the desired result of highlighting.
An important advantage of staining is the absence of the need for additional care. Colored strands are suitable for any length and texture. Special tools and tools to maintain the original appearance are not required.
If you're looking for a quick and affordable way to freshen up your look, this technique is perfect for you.
Is a money piece still trendy?
Coloring, which appeared in the 90s, has not lost its relevance to this day. It remains in trend due to its versatility and use by celebrities and influencers.
Many believe that Jerry Halliwell made this coloring a real trend. Contrasting front strands are found in the images of such famous personalities as Beyoncé, Bella Hadid, Ciara, Brittany Xavier, and Irene Kim.
For more than 20 years, coloring has remained popular. It has always been in demand among fans of original images and experiments, but recently, it has received a second wind. The reason for this was the use of contrasting strands by top users of social networks, especially Instagram and TikTok.