Are you ready to start planning a quinceañera party? We're here to help you stay on track with our free Quinceañera checklist! From choosing a theme to booking entertainment to decorating the venue and everything in between, we've got all the steps covered with this timeline of tasks leading up to your daughter's 15th birthday celebration.
Quinceañera checklist formats
We've provided this free quinceañera checklist template in multiple formats so you can choose the best one (or two) for you.
1. Printable quinceañera checklist
Print and pin our free printable quinceañera checklist.
2. Quinceañera checklist template google doc
Make a copy of this quinceañera planning checklist google doc for easy access from any device and planning on the go. File includes a party checklist, budget worksheet, guest list manager, and supplier contact list. All you need is a google account to make a copy of your own party planning google sheet to customize for your event.
3. Quinceañera checklist excel
Download this quinceañera checklist excel template to your computer for a completely customizable planning checklist (bonus: you'll get an event budget planner, supplier contact list, and guest list manager, too!).
4. Quinceañera checklist web page
Don't forget to bookmark this page! We've got an event checklist below including links to more party ideas, venues and suppliers.
Here is your complete quinceañera planning checklist.
10 – 12 months before
Select godparentsWho will have the special honor of being the padrino and/or madrina?
Start your guest list Time to party! Your family and friends can't wait to celebrate.
Figure out your budgetDiscuss the budget with godparents. Keep track of your spending using The Bash quinceañera budget planner.
Contact the church priestFind out what dates are available and their guidelines for a quince mass.
Consider possible event datesHave a few dates in mind to give you some options when you research event venues.
Research event venuesSet up appointments with venues on The Bash to tour the facilities. Make sure to compare what each venue includes in their packages.
Consider possible event datesHave a few dates in mind to give you some options when you research event venues.
Research and hire an event planner/designerIt may make sense to hire a pro to help things go smoothly and make your party unique.
Choose a theme/concept and color schemeDefining your concept can be really exciting—remember to keep in mind the type of venue you're thinking of and the season.
Set the event dateIt's official, your daughter's quinceañera date is set!
Book a venueOnce your venues are booked, all the other arrangments can start to fall into place.
Research food menu ideas Make sure your child's favourite dish is on the menu.
Hire a caterer The way to the heart is through the stomach, right? Ask your caterer for kid-friendly dishes and adults faves, too!
Decide on your quince court How many damas and chambelanes will you have? It's up to you!
Read more: Boat painting ideas
Research quinceañera dresses Will it be custom made or will you go shopping for the perfect dress?
Research and hire a photographer Style, personality, budget and quinceañera experience are the most important factors in choosing a photographer.
Research DJs, musicians and entertainment for your reception DJs, mariachi bands, variety acts! Look around at the vendors in The Bash directory to get inspired.
Figure out items that padrinos can contribute toNow you've done your research, you can organize your budget.
Start collecting guest list information It's time to reach out for those addresses, emails and phone numbers.
Photo: nikoneri/Shuuterstock.com
7 – 9 months before.
Hire a DJ and musicians Get ready to hit the dance floor!
Hire a choreographerStart planning your dance routunes with a pro or DIY it.
Book entertainment Make it an epic party to remember. Use The Bash for easy online bookings.
Plan the vals and baile sorpresaChoose the perfect songs for your waltz and surprise dance.
Research invitation designers Whether local or online, start looking around to get some ideas—schedule some appointments, too!
Schedule a save-the-date photo sessionThese photos can be used in your save-the-date cards, montage and be put on display at the reception.
Choose attire for your quince courtMeet with your VIPs to decide what they will wear.
Create and order your save the dates Sometimes people opt to use the same supplier for their invitations—up to you.
Research florists, decor ideas and decorations Personalize your decorations to make your party feel unique. Brainstorm with an event designer and start pinning!
Research party rentals like tents, place settings, chairs, photobooths Make your vision a reality with all the party essentials.
Research lighting and AV services Grand entrance, waltz, last doll, speeches… make the big moments special!
Research videographers Journalistic, cinematic, traditional? There are many videography styles to choose from!
Send save the dates Give your guests plenty of notice.
Photo: Gm studios chicago/Shuuterstock.com
4 – 6 months before
Shop for shoesWhat style will you change into?
Shop for accessoriesTime to add a little bling to your ensemble.
Read more: The world tarot card tattoo
Shop for ceremony itemsA tiara, ring, or necklace, oh my! Mark the moment with keepsakes blessed by the priest.
Choose the last dollCelebrate with this special tradition.
Order invitations Don't forget envelopes! Sometimes people opt to use the same designer for their menu and place cards.
Start researching attire What will you wear to the ceremony and party?
Book florist Order beautiful bouquets and arrangements.
Buy decorations Centerpieces, balloons, flowers, candles—place your orders.
Book decor rentals Photo booth, chairs, linens? Time to book!
Book lighting and AV services Put a spotlight on all the festivities.
Book your hair and makeup professionals Hair stylists and makeup artists professionals can truly bring out the most beautiful you. Book a trial, too!
Reserve hotel blocks for your out-of-town guests Make sure to put hotel information in your invitations so guests can stay in the know.
Finalize food menuSit-down meal, chef stations, dessert buffet and food trucks—there are lots of tasty options!
Schedule dance rehearsalsPractice, practice, practice with your court.
Photo: Dream Team Fotografia/Shutterstock.com
2 – 3 months before
Address and send your invitations Set up a system to track RSVPs!
Confirm meal selections and notify caterer of any food allergies All your food vendors should be aware of any dietary needs.
Book a bartending service, if not included in your venue or catering If you choose to have alcohol, now is the time to hire a bartender and decide on the drink menu.
Order cake/dessert Tiered cake, cupcakes, or donuts—you name it, your guests will love it!
Order party favors Say thank you to your guests with a unique gift (and even check out DIY options if you're crafty).
Write speeches No pressure here—remember, you're just reciting these in front of all your family, friends and loved ones.
Book transportation Limousine, party bus, ferry? You name it, you can find it in our directory of transportation vendors.
Plan music playlists Make sure to send song ideas to your band and/or DJ.
Read more: Ebony bbw tub
Purchase your guest book Guest books come in all shapes and sizes – find one that's right for you and your theme.
Create a seating plan Allocate your reception space for mingling, dining and dancing.
Final dress fittingMake an appointment to try on your attire one last time.
Hair and makeup trialTrials are important — remember to take pictures.
Take portrait photosSmile. These photos will be treasured forever and should be on display at the quince party.
Create a montage Time to show off your child's accomplishments.
Photo: Rob Marmion/Shutterstock.com
1 month before
Review the guest list and call guests that haven't RSVP'd Give them a ring and remind them your big day is coming up.
Finalize guest list Notify all your vendors of the guest count and prepare place cards.
Share the seating plan with your reception venue Final touches here—as soon as you're finished, send it to your venue.
Make sure the speeches are ready Get ready to make a toast! (Don't forget tissues).
1 week before
Finalize transportation Remember to communicate time, place, vehicles and if there are any guests with special needs.
Finalize itinerary Make sure everyone knows what they're responsible for and the timeline for the big day.
Confirm details with all your vendors and put tip money asideBe certain your vendor team is paid in full and don't forget to have cash on hand to tip.
Wrap gifts for padrinos, parents and courtWrite heartfelt thank you notes to go with your gifts.
Attend your nail appointment Relax and enjoy your mani/pedi.
Pull together any last-minute essentials Safety pins, tissue, ibuprofen, a pen and bottled water are just a few suggestions.
Photo: Studio Lucky/Shutterstock.com
1 day before
Drop off decor to the venue(s) Drop off place cards, menus, favours, the guest book, and any other items to your venue.
You're finished. Feliz Quince Anos! Celebrate a job well done and get some rest—you've got a big day tomorrow.
Find quinceañera ideas, vendors and entertainment on The Bash »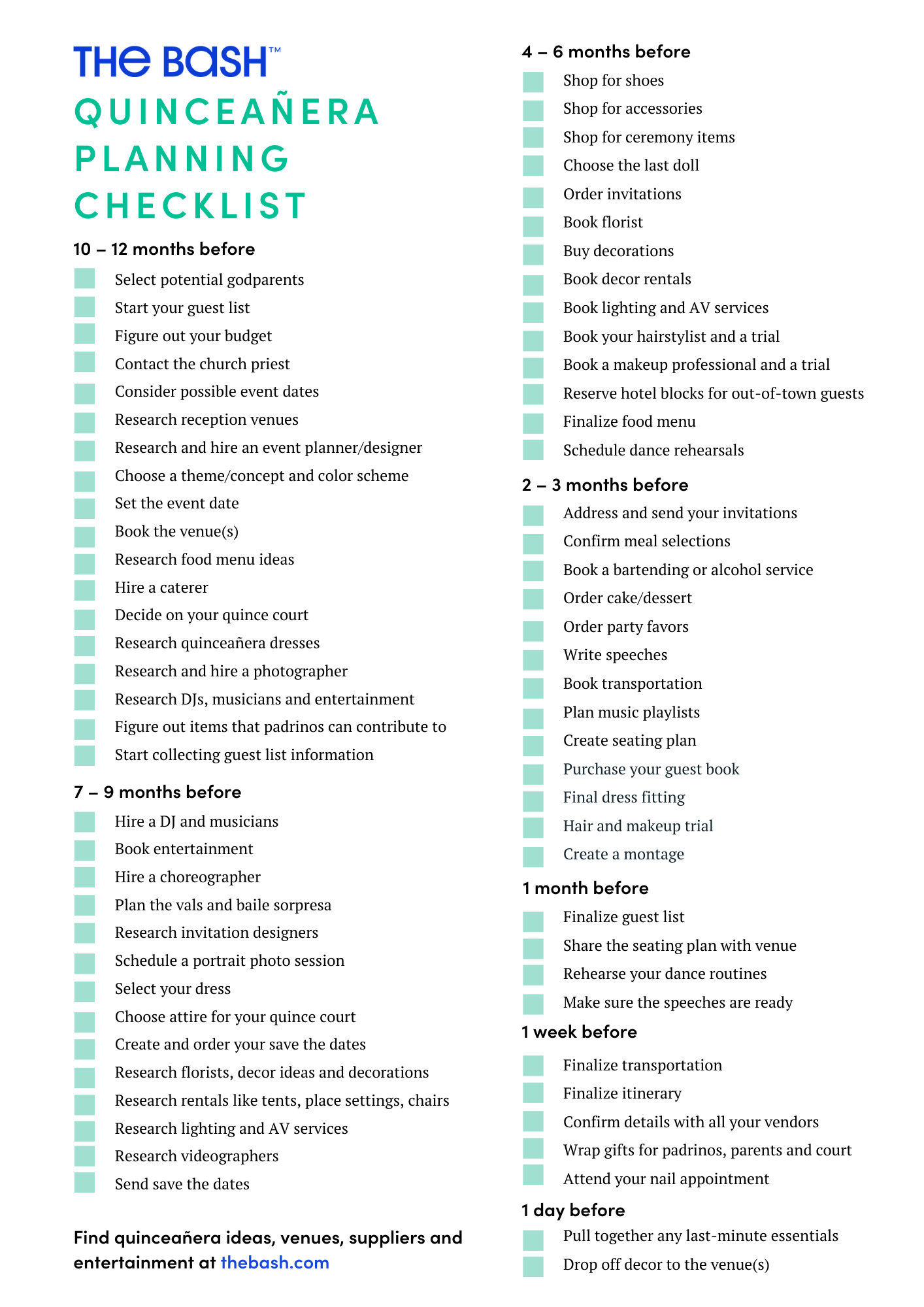 Pro tip:
Access and make your own copy of The Bash's FREE Quinceañera Planning Worksheet to plan your budget and keep track of your progress.